Today, I opened The Cwtch at 11 am. For the next month I will likely be doing split shifts, with some Steem in the afternoon.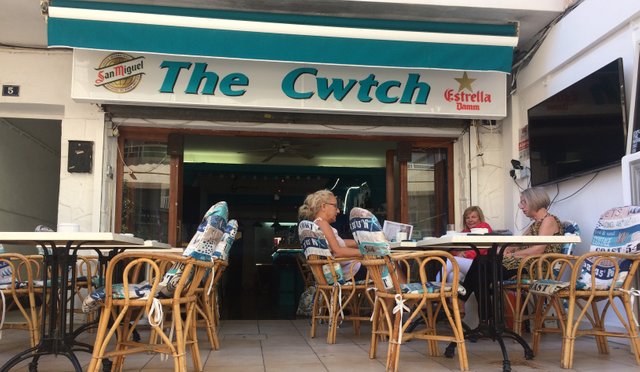 June has been drafted in to open another bar, which has recently sacked a staff member for being 'unreliable'. The Cala Millor gossip train is always at full speed, and if you want to keep a secret you need to adopt the tell no-one policy. I recently heard that the previous owners of The Cwtch, or Bar Bamboo as it was back then, picked up the licence for 'a song'. I also know that on the day the current owner came to check the place out, the old owner was give away drinks for free to ensure the place would be nice and busy. I guess that's what they call 'business'.
This morning, the promenade was buzzing with people. I say buzzing because of the noticeable increase in the number of mobility scooters. As the season draws to a close at the end of this month, the number of older visitors increase - presumably in the knowledgeable that the place is quieter, and 10-15 degrees cooler than the summer highs. From a business perspective, this could be in the bars favor, I'll just have to deal with scooters doing 6 km/hour on MY bike lane. That and the general lack of awareness of people, walking along an orange track with a painting of a bicycle present every 10 metres. Fail. When is a good time to ring the bell to let people know you are coming? In the past I would ring in advance, but now I prefer to get close behind and ring it like mad. Who said old white people can't jump?
Opening the bar includes the additional tasks of sweeping the front, carrying the TV out, and setting up the tables and chairs. At present, this is a nice start to the day as the temperature is still 20 degrees or more come 11 am. It's also nice to make a few more coffees with the funky machine, I had to make one for myself as a test, of course. There is also a chance I could be making more hot drinks as October, or 'stoptober', or 'go sober for October' was mentioned to me this morning. I thought this month was for the smokers to try to give up, but it seems that there are also campaigns for people to attempt to go dry for a 30 days too too. Personally, I think most of the ex-pats and tourists wont last the month, or even consider a month off. I've not asked my mum or her partner if they are getting involved, I doubt it :P
Down at the beach today there would have likely been more sunbathers, but the winds are up for the next day or two and this has forced a high tide. The red flags are out, something I've not seen much of this year, and so I didn't spot anyone going against the lifeguards wishes and taking a swim this morning.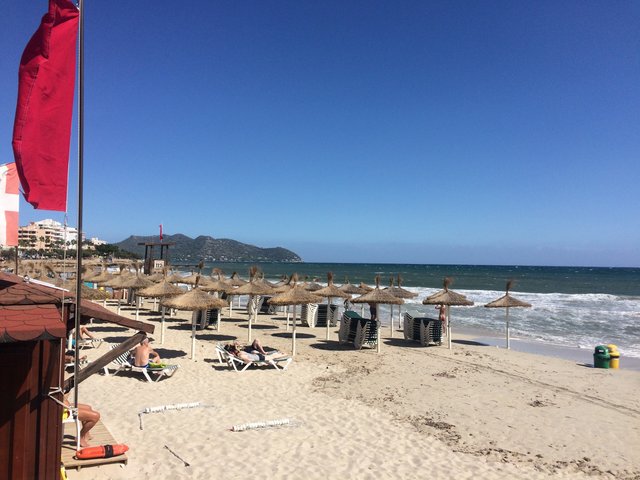 The stretch of beach between Cala Millor and Cala Bona is sandy and one of the best on the east coast of Mallorca. It is a kilometre-and-a-half long and backed by a promenade perfect for walking, cycling, browsing the gift shops or taking refreshments in one of the many cafés, bars or restaurants. This promenade will take you all the way to the fishing harbour at Cala Bona. The sea is initially shallow and quite safe – appropriate for children. source
It would be perfect for cycling if people would staff off the bloody cycle lanes!
Shortly, I'll be heading back to work for the early evening shift. Tonight is quiz night, which hasn't proved that popular so far, even though it runs during happy hour (which is 2 hours) where all drinks are half price. I've noticed a few couples arriving most days of their holiday not long after 8 pm, and then heading off somewhere else at around 10 - when the cheap drinks end. Fair enough, I'd probably do the same.
Last night, the owner had a lock-in until 5 am, and met me at 11 am to open this morning. She asked me if she looked tired, I smiled and nodded. Some of the best business is done out of hours and so far, the black curtains have worked well in disguising the fact that people are drinking after the bar should be closed. Fortunately, I'm in bed by that time most nights, and if forced to work that late, I would be looking looking for some unsociable hours bonus. Actually, I should have asked for a pay-rise before agreeing to open the bar for the next month. Perhaps later.
I'm actually enjoying working at the bar, probably more than any of my jobs in IT. It's giving me something to do, and some extra cash so I don't have to consider powering down here. And at present, I'm looking to power up SBDs too.
Hopefully this is a good time to be earning STEEM, ready for a price move in the coming months. A repeat of last year would be nice, and even better, a rise and hold of STEEM at 3/4/5 dollars. Perhaps then, I could retire from being a barman, although if still in Cala Millor, I would probably continue pulling the occasional pint.
Alright, thanks for reading today, and have a nice day :)
Cheers