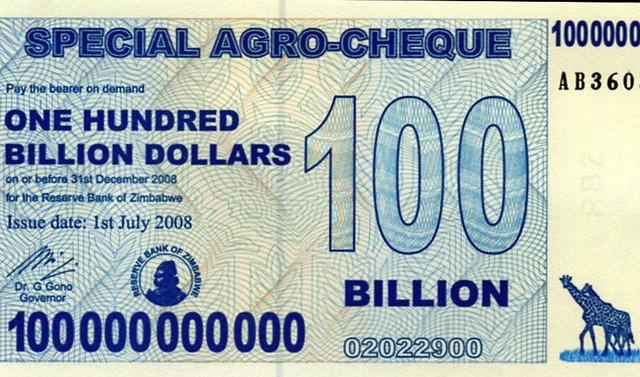 Look at this nice stock exchange index graph below, the orange line, 892 percent yield in seven years, really fantastic. That's 38,8 percent p. a., better than most yields of Warren Buffett, the Guru. But wait, isn't that meant in Argentinian Pesos? Yes.
Pesos or dollars
This week an Argentinian drama shaked emerging markets, so I wanted to see how stock market have performed there, over the ocean. It depends, like always: This week, the Merval index was 16 percent up, and in 12 months, 24 percent. But all this in local currency, so how is the picture in dollar terms?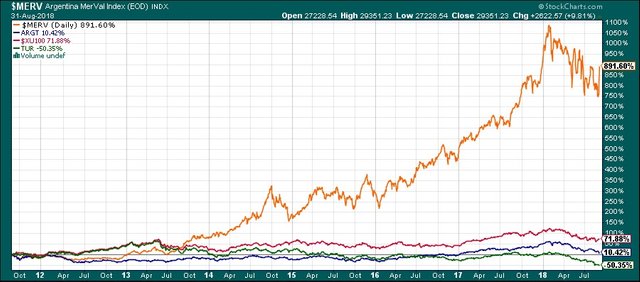 Chart courtesy of StockCharts.com
The Global X MSCI Argentina (ARGT) Exchange Traded Fund (ETF) for example, denominated in US Dollars, blue line on the chart, has had an one-year-change of –13 percent, a slightly negative yield. (Some dividend also was paid out, but less than 1 percent in December.) The MSCI Argentina (MIAR00000PUS) is 45 percent down in one year.
Fake rising
Most part of the advance in the Merval index came from the high inflation, from the effects of peso devaluation. (This week the peso index surged because the peso fell sharply, so Argentinian stocks were cheaper in dollars.)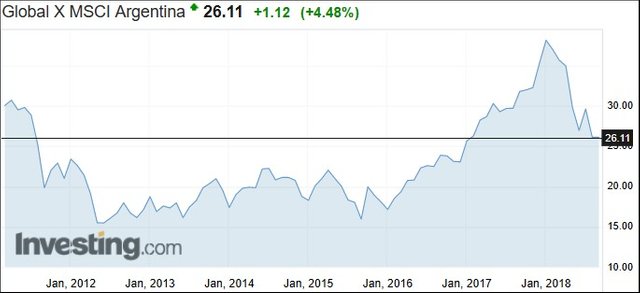 Chart: Investing.com)
In the years 2012-2016, ARGT stocks were much lower in US dollars than today, but in 2011, much higher. In seven years, the inflation in Argentina also ran to some hundreds – may be 350 – percent, difficult to say how much, because authorities tried to hide it. I don't know if the data is reliable.
("Don't lie to me, Argentina" – wrote for example The Economist in those times.)

Huge risks
The ARGT ETF, on long term, seems to be on neither very high, nor low levels now. It's good news it's lower than in 2011, but I don't see why it should be higher than in 2013, 2014, 2015 or 2016, in this situation. Next year, elections will be hold and the nationalist "peronists" can come back.
That can be bad news for investors. IMF-aid means mostly austerity measures and lower growth, often social unrest. We should investigate carefully the indicators like P/E, P/BV and compare with other emerging markets. Calculating with a huge risk premium.
Far from 2009 low
Something similar happens with Turkish companies: shares are up in Turkish Liras (red line, BIST 100 index) on linger term, but down, on many years lows in USD terms (green line). Actually, Turkish stocks are moving on 2008-2009 levels in USD. I wrote about it earlier Argentinian index, isn't. See this USD index: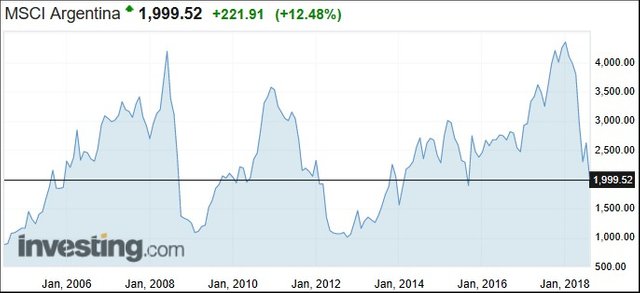 USD, Chart: Investing.com
But the best stock exchange index, in local currency terms is… The Caracas Stock Exchange Index, Venezuela! (IBVC). By Bloomberg, the index has a one-year-return of 397,173.90 percent, 26,156.45 percent year-to-date, 52 week range: between 233.91 and 458,793.09 points. Crazy. So funny – or, so tragic – can be hyperinflation.
Better go, by some gold and bitcoin. Or, a ranch in a safe country.
Motto:
Bottoms in the investment world don't end with four-year lows; they end with 10- or 15-year lows. Jim Rogers in Investopedia
Other posts in this series:
Disclaimer:
I am not a financial advisor and this content in this article is not a financial or investment advice. It is for informative purposes only, or simply to make you think, entertain, increase testosterone and adrenaline level. Consult your advisers before making any decision.
Info:
You can message me in Discord.
(Photo: Wikimedia Commons)