PixelProperty.io - Introducing The Evolving Blockchain Canvas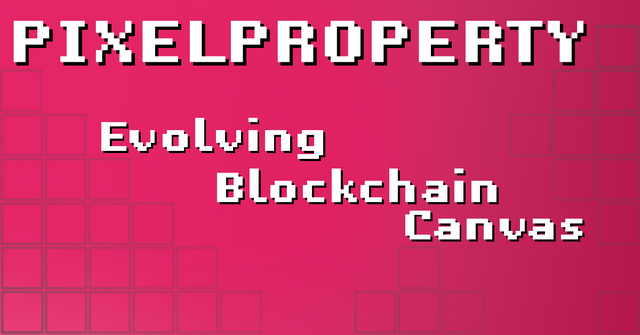 Hello Steemit! We're a Canadian blockchain & cryptocurrency company releasing our first decentralized application (DApp) very shortly. We wanted to talk to the Steemit community today about who we are, what we want to do, and the type of content we plan to post around here on Steemit.

Vision
Our vision is to present PixelProperty to the public outside of the boundaries of the digital world. We plan on accomplishing this vision by bridging the digital cryptocollectable world with the real world through various products and services. The first and primary product for our ecosystem is PixelProperty.io, The Evolving Blockchain Canvas. Upon completion of PixelProperty.io, PixelProperty will be integrated into a live updating billboard to showcase the Evolving Blockchain Canvas. This billboard will be the first of many steps in bringing a real world representation to digital blockchain Properties.

The Evolving Blockchain Canvas
PixelProperty is a decentralized application which powers an evolving digital canvas, where users determine the organic growth of the canvas. Digital Properties in PixelProperty are tradable cryptocollectable tokens powered by Ethereum. Each Property is a unique token which can have its appearance altered however users desire. These Properties store small images determined by users, while advertising the messages and website of their owners. The cryptocollectable Properties are powered by PixelPropertyToken (PXL), the underlying ERC20 cryptocurrency of PixelProperty. Properties can generate PXL, which are then distributed to the active users and property owners of the platform. Setting the display for Properties can be free, allowing for anyone to participate in advancing the evolving canvas, however larger PXL rewards are given to users who contribute more of their PXL.

Steemit Content
---
Announcements
First and foremost, Steemit will be one of our primary locations to discuss public announcements. We intend on being very transparent with the community, communicating frequently with our users for all noteworthy news that will arise. We will also release news on our Instagram, Twitter, in our subreddit /r/pixelproperty and on our BitcoinTalk announcement thread.
---
Giveaways
We will host multiple promotional giveaways to help kickstart our users experiences. We plan on hosting two types of promotional giveaways, Property giveaways and PXL giveaways. There will be a limited number of Property giveaways, limited to the number of properties reserved for marketing in the smart contract. However, there will be multiple ongoing PXL giveaways. These PXL giveaways will be self-sustaining from the PXL earned with the Properties held for marketing. Once the last Property is given away, the PXL giveaways will also end.
---
Time Lapses
With the canvas' display evolving indefinitely, documenting its growth will be a fascinating phenomenon. We plan to record the changes the canvas goes through over time, creating visual time lapses of changes that occur. These time lapses and similar content will be documented over time, shared with the public frequently.

About Us
PixelProperty is run by three Canadian entrepreneurs: Carson Roscoe (@carsonroscoe), Jaegar Sarauer (@jaegar) and Arthur Pankiewicz (@coca861). Two of the lead members, @carsonroscoe and @jaegar, are both undergoing separate year long blockchain research projects as the final task in achieving their software development degrees, of which currently @carsonroscoe blogs the progress of on Steemit. A fun fact about @jaegar is that he had been on the set of Dragons Den, a CBC Television show, for a previous entrepreneurial adventure when he was twelve years old. Arthur is currently working as a professional software and full stack web developer.

Release Announcement
We will be announcing our release date sometime in the near future, so stay posted!
We'll keep you informed here, however we'll also be keeping our BitcoinTalk announcement thread up to date too if that's more your style.

Thanks for reading! Feel free to ask us anything in the comments.