Greetings, Steemit! I'm taking the plunge, and posting for the first time!
Hello! My name is Jessica, and I'm a 32 year old jack-of-all-trades: Aunt, graduate student, Feldenkrais practitioner, knitter, dancer, and dreamer, to name but a few. I have been a social media lurker on many sites for a long time, but Steemit is the place that intrigued me enough to actually post!
To be honest, I'm not entirely sure exactly where I will fit into the Steemit community, so maybe I will start by telling you a little about myself…
Past
I grew up in northern Illinois, near the border with Wisconsin. I had the luxury of a huge back yard, and loved playing all kinds of imaginative games with the neighborhood kids in the nearby forest preserve.
I have always been a creative person, and thus was naturally drawn to the arts. I grew up performing musical numbers with my sister in that back yard, which eventually translated into performances on stage (both singing and dancing).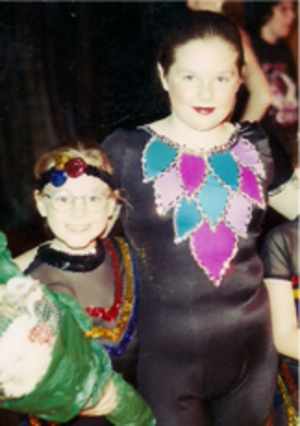 Why not start off with an embarrassing picture! My first dance recital at the age of 12, trying to keep up with my little sister.
When I decided to purse a liberal arts undergraduate degree in Theatre, I also fell in love with the production aspect. After graduating, I worked professionally in a variety of capacities: assistant technical director and adjunct dance instructor at a small university, scenic artist, carpenter, and AEA stage manager.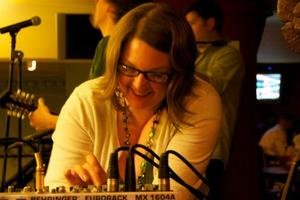 And sometimes, an unofficial live sound mixer for my roommate's Irish band
But after a few years working in the industry, my job became less and less enjoyable—I almost dreaded going into the theatre each day. I could not separate myself from the stress of the job, and the demands began to affect my health. I lost the sense of fun and imagination that is such a big part of the arts. So it was time for a change.
Present
So when I felt my life needed an overhaul, what's the most logical thing to do? Move across the country and enroll in graduate school, of course!
So my significant other (of 13 years, who introduced me to Steemit) and I packed up our house and two cats, and moved to southern California.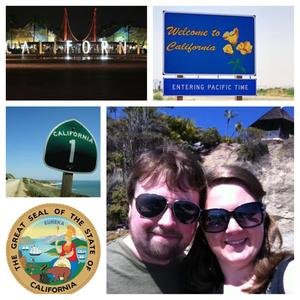 Our moving announcement
I enrolled at Pacifica Graduate Institute, pursuing a Ph.D in Somatic Depth Psychology, and am just a couple of weeks shy of finishing my graduate course work.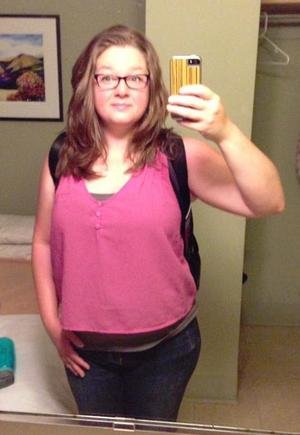 Obligatory first day of school picture, September 2013
You may be asking, "a Ph.D. in what?!?" Answering that is a whole post in itself (which I have already starting crafting), but let me give you my short answer: it is an integrative approach to human health, attending to body (somatics), soul (depth), and mind (psychology).
So where do I want to go with all of this? Why this degree? Is it worth it?
Future
To me, it is not only worth it, but necessary. Of course, having some fancy little letters after my name will feel good (I've already told my closest friends I will probably make them call me Dr. for a short time), but I am pursuing this degree for other reasons.
First of all, the personal journey has been amazing. Difficult, but life changing. Because of the unique field of studies I am pursuing, the structure of our program asked us not only to learn the theories, but to embody them as well. Our focus on lived experience helped me gain a unique understanding of the complex human nature.
And also, I love education. I love learning, and I love teaching. I have been involved in education as either a student or a teacher for the vast majority of my life: aside from my time as a traditional student, I also worked for 4 years at an small midwest university, and spent 4 years as a student of the Feldenkrais method (a form of somatic education).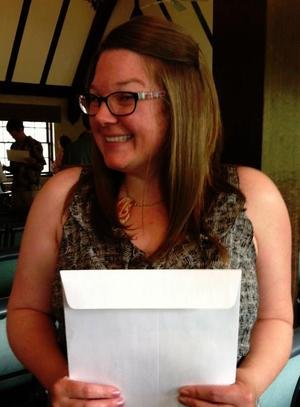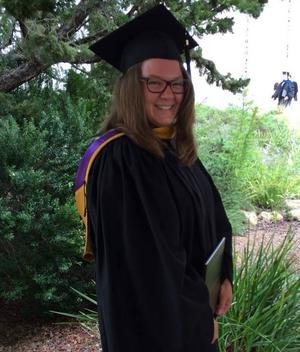 Graduation Days! Feldenkrais graduation 2013, and Master's degree graduation 2016!
However, as I have become further engaged in the academic community, I also see there are issues with the current structure (too many to explore here). As my field of studies is on the fringe anyway, I don't see my future in traditional academia.
As I have been exploring Steemit over the past few days, I have been excited by this new way to share information, and intrigued by the idea of open-sourced academic material. I am excited to see how the academia community progresses.
For now, I want to write. I really enjoy writing, and have been experimenting with ways to use language to convey somatic experiences. So I am going to figure out how to make that happen here on Steemit. I don't know if that will take the form of personal narratives (my explorations of somatic depth psychology over the past three years), or fictional pieces. And I'm not sure how my dissertation research will fit in to the larger picture yet, either. But I am here, I want to explore, and I want to contribute. So thanks for welcoming me!