Bonjour Steemians, I'm healthykitty, a French girl soon-to-turn 25, living in what I honestly think is the most charming town in the world: Strasbourg. I've worked in a centenary theatre in France, in the Ravoux Inn, known as "the House of Van Gogh", and I'm now working at "Django", a concert hall in my native city!
I've been posting on Instagram for a few years now, but the lack of written content on that media led to my loss of interest.
Here is a link to my Instagram : https://www.instagram.com/healthy.kitty/?hl=fr
Steemit seems to be the perfect place to share with you my healthy, food-centered lifestyle, take you to exciting places all over France and write about my trips in Europe, and also share my homemade recipes and new food discoveries.
I'm really excited to post here for the first time and I honestly can't wait to start this new adventure in the Steem Community! I hope you'll enjoy this first post!
But should I explain how I got here first?

I've been introduced to this platform by my beloved cousin @louishugo and his steemians friends @ekitcho and @siavach. Even though they both write about topics which do not sound familiar to my ears, I've been led to believe that this platform is full of supportive people and hasn't been yet flooded by an infinity of promoted, empty contents, like most of nowadays' social medias.
I will mostly be posting about, well, food.
Food always had a major place in my life: from my gourmet South-American father, to my half Italian mother, it's always been in the family. I had the chance to travel a bit and I got to discover food from all over the world. The first thing I do in every country I set a foot in? Running to the first market I see, buy local ingredients, and then sit in a restaurant to discover which edible treasures this place have to offer me.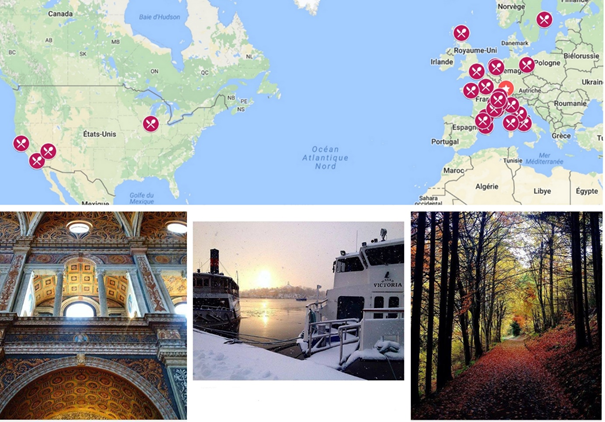 I'm in love with simple, colorful plates. I tend to work with local seasonal products, and I am here to prove you that cooking in a little kitchen and on a low budget can still lead you to eating delicious meals.

I also have a fetish on wild flowers, the smell of hot coffee in the morning, bright skies and fierce clouds, little gemstones, landscapes in every season, inspiring books, live music, the sound of a fresh baguette's crust under my fingers, colorful nail-polishes, the freckles on my boyfriend's shoulders and, kittens because well, you know, kittens.
I will finish this introduction by two quotes that I think summarize well my feelings about food:
"The discovery of a new dish does better for the human kind than the discovery of a new star"
Anthelme Brillat-Savarin (well that guy wasn't joking, right? You'll never find a better tribune than an old French man when it comes to food…and women. And there's actually a wonderful French cheese named after him, so we can say he must have been an expert.)
"I will have poetry in my life. And adventure. And food. Food above all. No... not the artful postures of food, not playful and poetical games of food for the amusement of an evening, but food that... over-throws life. Unbiddable, ungovernable - like a riot in the heart, and nothing to be done, come ruin or rapture. Food - like there has never been in a play."
…. That quote might come from an old cheesy romantic teen movie. And it might have been about love instead of food. But, well, everyone has its own interpretation of what love is, right?
Credits photo : healthykitty
Hope you enjoyed this post, can't wait to get your feedback in comments!
Vote up, Follow and Resteem! @healthykitty