The "Greedy Podcast" - Genesis
A podcast not only aimed at cryptocurrency but also at education, health and well-being, nutrition, technology, conspiracy theories and much much more.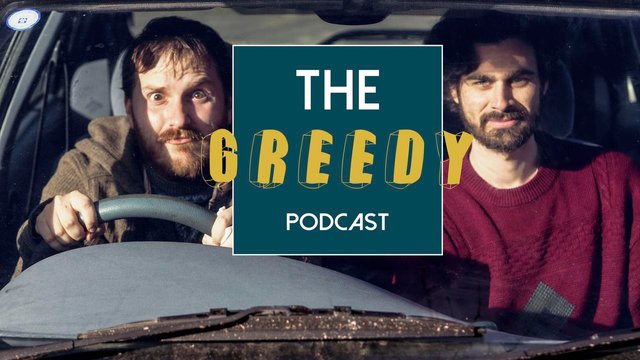 @delged and @thomaskatan are the hosts and creators of this podcast.
The concept behind the "Greedy Podcast" came to us while going throw gigabytes and gigabytes of footage from the documentary on cryptocurrencies, and realising that this would not be sustainable. As independent filmmakers, we could not afford the time nor the manpower to go through it all. Also, it became increasingly obvious that shooting for approximately an hour to then edit it down to a couple of minutes was completely redundant.
We also felt gutted that we could not use the rest of the interview as the format was too one-sided. So, between the need for time efficiency and our desire to share the conversation of our subjects, we decided to bootstrap a podcast on the go!
Our first recording, episode 1 part 1 and part 2, was completely unintentional as we were simply traveling to see a friend who had returned from Thailand, and was struggling to fit back into the social "norms" of western society. After Ed recounted his experience with the Yogi community, the feeling of being in the flow of things, and the expectation that he carried back home. I knew that a lot of people living in a fast-paced society while having their hearts wide open would be able to relate to Ed's experience and struggle.

After a few endeavors with technical equipment and picking the right location, as per example episode 2 where there was a pretty loud humming noise in the background, we can now focus more on the creative and content side of things.
Creating this podcast has been a great tool to release the bottleneck in our production line as we have established a double edge and practical tactic. Using the podcast, a more intimate and social format, as a pre-interview set-up, we are able to find more personal and interesting stories to capture on camera without going throw insane amount of footage. Transitioning from a podcast format to a documentary recording, is seamless for us and for the interviewee. The break between the two formats allows for both parties to comment what has been said, stretch the legs, and participate in the project.
Now that we are able to connect and easily share our material with you, we are mooning with happiness. There's still extra work to be done, however, it is more satisfactory and quicker than editing 4k footage.

But why called it Greedy?
How did the 2008 bubble pop? Too much greed perhaps? When did Bitcoin come out if not from the ashes of our current corrupt financial greedy system?
Greed, if harnessed wisely, can be a very powerful tool. However, from childhood, we are discouraged to engage with emotions like greed, fear, and anger as they are deemed bad by society, favoring others like love, contentment, and calmness.
Emotions are neither good nor bad, as they depend on our intentions. People kill for love, yet love is deemed positive. So why see greed, fear, and anger as lesser emotions? Just like water in a pressure cooker, emotions build up inside of us if we are not allowed to express them and therefore understand them. We are human beings driven by impulses of emotions, and this makes us irrational and volatile. Suppression of emotions, of knowledge, of freedom, is not a wise thing to do.
Greed collapsed the faith
in the fiat monatery system.
In doing so, it gave spark to
cryptocurrency and blockchain.


It started a movement
that believes in co-operation
and decentralisation.


Is that a bad thing?