You will love your nice Steemit MemberCard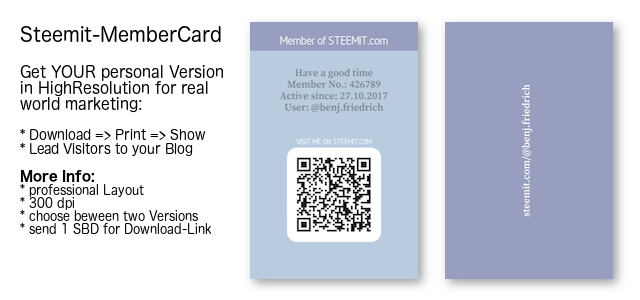 You may already know that MemberCard?
Since a few days, we are giving away a personalized Steemit-MemberCard for free. And we love seeing that huge positive feedback for it. Thank you a million :)
Some people asked for a higher Resolution, so they could print it in high quality. To use it as a kind of Business-Card. Which is a very clever idea for real-life-Marketing.
"That helps, leading more visitors to my Steemit-Blog?"
It is not that easy, to explain someone you just meet in Real Life what you just found: Steemit.com and your neat Blog there. Maybe they listen for a minute and then tell you 'I will look at that later…' Hmm… Heard that too often.
At that moment, you can give that person your professional looking Steemit-MemberCard with your personal Data on it. How neat would that be?
Plus: That QR-Code leads directly to YOUR Blog on Steemit. How cool ist that?
How can you get that personlized MemberCard?
Just so easy: Send 1.0 SBD to benj.friedrich and you will recieve a Download-Link shortly after. You can choose between two Versions:
US-Version: 2.5 inch wide and 3.5 inch high.
EU-Version: 5,5 cm (~2,16 inch) wide and 8,5 cm (~3,34) high.
So: Just get your very own personalised MemberCard
Just 1.0 SBD for your HighQuality personalized Steemit-MemberCard. How does that sound? Great, huh :)
Go to your Steemit-Wallet
Transfer 1.0 SBD to benj.friedrich
Input US or EU into Memo-Field for the Version you like
That's all. Watch your wallet for a Transfer from us with a 24h Download-Link. In that downloaded Package you will find all you need for printing your Steemit-MemberCard. Either on your own printer, or (better) you give it a professional Printing Service (Copyshop). All the needed Instructions are included in that Download-Package.
Happy Steeming and have a lovley day,
Ben.
---
Disclaimer: I am just a regular member of steemit.com as you are (I guess ;) In no way, I'm something 'official', part of Steem Inc. or something like that. It was and is the same journey for me as it is for you. I just want to help with some Tools, to make it easier for you to be succesful with your efforts here on steemit.com.
---