Cham tower (Chăm or Chàm), is a type of building belonging to the Champa temple architecture, belonging to the religious and belief architecture of the Cham people (living in the South Central Coast, Vietnam today). The location of the temples is where the Champa people lived, and beyond that there are towers that can be considered Champa towers in Cambodia such as Damray Krap tower. In contrast, Java or Khmer elements are also found on Champa towers in Vietnam.
The Cham towers are an architectural block made of dark red burnt bricks taken from the local soil, above which are enlarged and slender in the shape of a flower. The tower surface is mostly square with a narrow interior space, usually with a single door opening to the east (the direction of the rising sun). The ceiling is composed of arches, in the heart of the tower is a stone altar. The art of carving, whittle carefully make the flowers, birds, dancing-girl, deities is shown on the outside wall of the tower. The bricks connected together are very solid and durable for tens of centuries.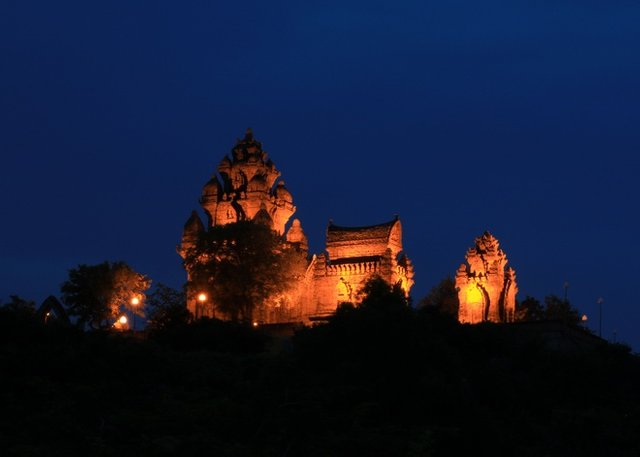 Images of Po Klong Garai tower at night - Source photo tapchikientruc
The Cham tower of the ancient Champa Kingdom is typical of Hindu architecture. In Vietnam, there are about 50 Cham towers scattered along the central coast. Historians say the newest towers are 5 to 6 hundred years old and the oldest might be thousands of years old.
See more about the uniqueness of the Champa tower at vovworld.
Posts on the same topic
☞

If you're less online and don't want to miss curated rewards. Please join my curation trails, Sincere thanks.
☞

Follow @haccolong to get minimum 1 follow from @anhvu & daily random upvotes from the My Curation Trail
☞

If you want to earn more rewards with your Steemit account, you can refer to the ways from this post.