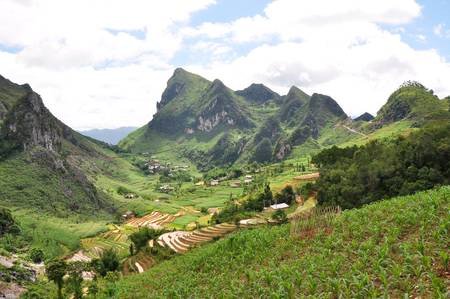 Recognized by UNESCO as a global geological park, Dong Van Karst Plateau Geopark, Ha Giang province, is located in the northernmost part of Vietnam. Impress with limestone peaks in lush green valleys where there are many beautiful natural landscapes with rugged and majestic rocky mountains.
Dong Van Karst Plateau Geopark, though coming and coming back here, you still find it strange, because it is beautiful, wild beauty, from people (there are 17 different ethnic minorities here - very diverse :) ) to the scenery. The beauty that when you experience it, is still something very interesting.
=> See more photos of Dong Van here
The UNESCO Global Geopark is located at an extension foot mount East of the Himalayas. Geoheritages date from the Cambrian (about 550 million years ago) to the present in seven different stages and include palaeobiology, stratigraphy, geomophology, tectonics, karst, caves and also important faults. The geology in this UNESCO Global Geopark reflects important events in Earth history, like of two mass extinction boundaries of Frasnian-Famennian (360 million years ago) and Permian-Triassic (250 million years ago). This includes 3 groups of sedimentary, igneous and metamorphic rocks, as well as stratigraphic, lithostratigraphic and biostratigraphic specificities. Its paleontological diversity shows 19 groups of valuable ancient organisms like ancient fish, ancient flora, brachiopods (eurispirifer tonkinesis), bivalves, trilobites, foraminifera, corals, conodonta, crinoidea and fossilized paths of molluscs.

The Geopark has two natural conservation areas rich in fauna and flora species such as conifers, Asian black bear, Southern serow (a solitary mountain goat) and many species of bird. Moreover, the unusual and mysterious Tonkin snub-nosed monkey is one of the 25 most endangered species of primate in the world. It is only found in Ha Giang province and was believed extinct until its rediscovery in the early 1990s.
Posts on the same topic

Source of shared Link
---