These last few days I've been badgering you, dear reader, with the subject of free speech, media influence and the Trump presidency in the U.S., and I'd like to explain why that is.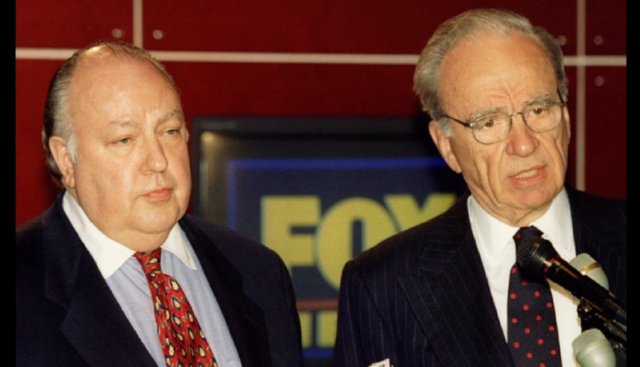 Roger Ailes, left, is pictured in January 1996 with Rupert Murdoch, right, announcing that the Republican adviser would head Fox News - source: Wikimedia Commons
It's actually strange that my posts focus on the news and current affairs, as I don't watch the news; everything I know from mainstream media comes from my visits to YouTube. And it's clear to me that YouTube has changed its algorithms, as a much larger number of videos from mainstream outlets occupy the "recommended" section. Even videos from channels I'm subscribed to don't appear there anymore, as they're mostly alternative and independent channels that bring alternative viewpoints and opinions, opinions not shared in the mainstream media.
The reason that's often given for the suppression of alternative viewpoints is that we, the public, need protection from "fake news." Channels are then demonetized or removed completely, or treated by the algorithms in a manner that videos are buried in the bottom regions of the search-results. This happens on both sides of the political spectrum, although it has to be said that right-wing extreme views are more likely to be hit, as there's a lot more of them to begin with, and lately there's a lot more racist and white supremacist views being expressed on that side, especially since Trump's election.
Traditionally the political right wing has been the protector of the status quo. That's what "conservatism" is; the will to "conserve," to not change things too much, which also means not changing the hierarchical class system in which the elite have a comfortable spot somewhere near the top. In the mainstream the news has become an industry, a product to be sold. And sensationalism sells, clashing opinions sell, violence sells, boring facts don't. There are many aspects of our modern culture and it's economical state that contribute to the increased proliferation of extreme viewpoints on both sides; on one side nationalism and all it's extremist variations grow in popularity, on the other side there's a renewed popularity of socialist viewpoints, as espoused by Bernie Sanders for example. The footnote I would personally make there is that socialism isn't extreme at all; socialist principles are implemented throughout the entire world, and Bernie Sanders' proposals are not extreme but extremely popular for good reasons.
What I'd like to remind you of, dear reader, is that the increased rift between the opposing political wings isn't something new; like I said before, the polarized political discourse we experience today has been in the making for a long time. To get a good insight into how the media massively influence political discourse and opinions, please watch the linked documentary "Outfoxed", about how Fox News has been designed specifically to support one side of the political spectrum; you know which side that is... The only slight criticism on this documentary is that it focuses on Rupert Murdoch, Fox's owner, when in fact the channel is much more the brainchild of Roger Ailes, who was the chairman and CEO of Fox News and Fox Television Stations until he resigned in 2016. Watch it, and listen carefully how today's political climate has been carefully prepared. What's in this documentary is some of the reasons I quit watching tv news, reading the newspaper, just generally avoiding mainstream brainwashing; it's not just Fox, unfortunately, although Fox is an extreme example of news turning into propaganda...
Outfoxed • Rupert Murdoch's War on Journalism • FULL DOCUMENTARY FILM exposes Fox News
---
Thanks so much for visiting my blog and reading my posts dear reader, I appreciate that a lot :-) If you like my content, please consider leaving a comment, upvote or resteem. I'll be back here tomorrow and sincerely hope you'll join me. Until then, keep steeming!

Recent articles you might be interested in:





Thanks for stopping by and reading. If you really liked this content, if you disagree (or if you do agree), please leave a comment. Of course, upvotes, follows, resteems are all greatly appreciated, but nothing brings me and you more growth than sharing our ideas. It's what Steemit is made for!





I am a proud helpinaut! @Helpie is looking for new members! Helpie has been growing nicely and we are always on the lookout for new valuable members. We are very supportive and community oriented. If you would like to be scouted for @helpie , please drop a comment on THIS POST or contact @paintingangels on discord at paintingangels(serena)#3668.




Just for Full Disclosure, I'm invested in these crypto-currencies:

Bitcoin | Litecoin | EOS | OmiseGo | FunFair | KIN | Pillar | DENT | Polymath | XDCE | 0x | Decred | Ethereum | Carmel | XYO





@helpie is a WITNESS now! So please help @helpie help you by voting for us here!