All institutions have been co-opted by capital. Earlier this week I wrote about how the public schooling system was designed for the benefit of industrial capitalism in School Debunked, and today it's the police and the justice system in general; we don't need either of them in their current form.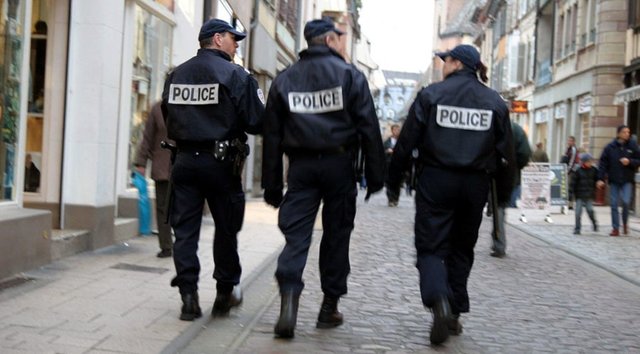 source: Wikimedia Commons
Years ago we had this government sponsored ad on Dutch television telling us how the police is everyone's friend, and how everyone could become an honored servant of the populace by joining the police force; if there's any Dutch readers who are also old enough, you'll remember the slogan "die pet past ons allemaal!" There's no end to the number of novels and movies that revolve around the "renegade cop" (remember Dirty Harry, anyone?) who breaks the rules to set things right by his own rules. The police and the army have been idolized for as long as I can remember, and I'll tell you why: these are the institutions through which the state exercises its unique right to the use of violence.
Now, don't take this as a critique on government in general, but as a critique on the government in service of big capital. The police and the army are the organizations that guard and progress the status quo set up by capitalism. One needs to look only at the prison-industrial complex, a multi billion dollar industry that gets payed by the number of people they incarcerate. This ensures that prisons are not incentivized to enable rehabilitation in any way, or to try to prevent recidivism, but the exact opposite. When punishment was designed to retaliate as well as rehabilitate, the latter has vanished. This industry lobbies for minimum sentences and stupid rules like the three-strikes law. More than half the sentences in drug-related crimes in the U.S. are for the possession of marijuana. This shouldn't be a crime in the first place, but things get worse when you realize that these normal, non-criminal people get to spend some quality time with real criminals; many of them leave the prison a criminal themselves, when they weren't criminal going in... And let's not even talk about the statistical fact that you're much more likely to get arrested for possession of marijuana when your skin color happens to be one of the darker varieties...
Talking about marijuana, capital and the police, I learned fairly recently that marijuana was made illegal after a propaganda campaign by newspaper mogul William Randolph Hearst with help of the Du Pont family, because Hearst saw in hemp (a strain of the Cannabis sativa plant species) a cheap replacement for the wood-pulp used to make paper. Funny how a couple of billionaires are responsible for the bulk of the income generated in the billion dollar industry that is the prison-industrial complex... Marijuana is completely harmless to society and illegal, yet alcohol damages society greatly and is legal; if you think there's something wrong with that picture, I can't disagree. Is it an indication of a failing justice apparatus when possessing weed gets you imprisoned, and defrauding society for trillions of dollars doesn't, even scores you a bonus and your bank saved by our sweat? Well... yes, it is. There's different rules for rich and poor people, colored and white people; the police are just here to ensure it stays that way.
This all might sound extreme, rebellious or revolutionary even, but it really isn't; capitalism is just a continuation of the vertical, top-down class hierarchy that has plagued the masses for millennia. There's nothing new or surprising about the 1% versus the 99%, it's just that they used to be called royalty and serfs in the old days. The kings had their knights, the CEO's have the police and the government. For an anarchist's view on the police, watch the video (and ignore the title; the problem is the institution, not all individual police-agents); I hope that afterwards you'll agree that there are better and more egalitarian ways "to Protect and to Serve" our communities:
All Cops Are Bad
---
Thanks so much for visiting my blog and reading my posts dear reader, I appreciate that a lot :-) If you like my content, please consider leaving a comment, upvote or resteem. I'll be back here tomorrow and sincerely hope you'll join me. Until then, keep steeming!

Recent articles you might be interested in:





Thanks for stopping by and reading. If you really liked this content, if you disagree (or if you do agree), please leave a comment. Of course, upvotes, follows, resteems are all greatly appreciated, but nothing brings me and you more growth than sharing our ideas. It's what Steemit is made for!





I am a proud helpinaut! @Helpie is looking for new members! Helpie has been growing nicely and we are always on the lookout for new valuable members. We are very supportive and community oriented. If you would like to be scouted for @helpie , please drop a comment on THIS POST or contact @paintingangels on discord at paintingangels(serena)#3668.




Just for Full Disclosure, I'm invested in these crypto-currencies:

Bitcoin | Litecoin | EOS | OmiseGo | FunFair | KIN | Pillar | DENT | Polymath | XDCE | 0x | Decred | Ethereum | Carmel | XYO





@helpie is a WITNESS now! So please help @helpie help you by voting for us here!