Disagree Without Being Disagreeable
Debate. The open and unrestricted exchange of ideas and opinions, sharing pros and cons about the topics that interest us; this is what platforms like Steemit, Trybe and many others are founded on, it's why they exist.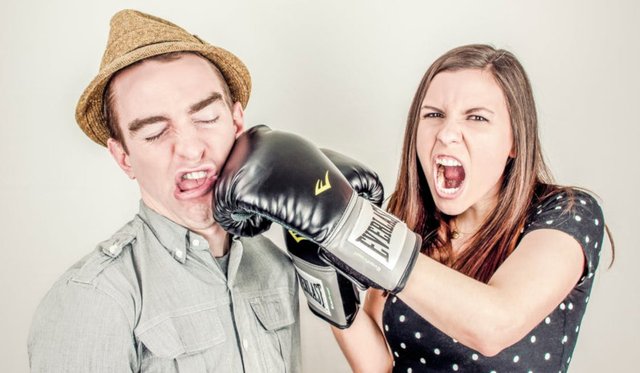 source: Pexels
I have to say something about this, because lately I've been getting a fair number of downvotes on my more politically charged posts. I must say that on Steemit it hasn't happened for a while now, but on Trybe I've seen the number of downvotes, or one star ratings, increase. And I'm puzzled as to why this is happening.
It's widely acknowledged that more mainstream platforms like Facebook, YouTube and Twitter are rapidly and effectively making it harder to voice dissent. While I yesterday included Sargon of Akkad in my piece about Social Marxism, saying that he's one of the many who are fighting an imagined far left, I earlier wrote in defense of him when YouTube demonetized his videos and Patreon stopped funding him over a ridiculous free speech issue; it's easy to support free speech when the speech supports your own ideas and ideals, you're only really for free speech when you let individuals whom you do not agree with have their say too. I also wrote a post, outraged by what YouTube did with Alex Jones' channel; I disagree with 90% of what the man has to say, but I'll defend his right to say it. Dissent develops understanding. Dissent develops democracy; when opposing ideas aren't allowed to be discussed openly and without redacting, we're stuck and we stop growing as a society and as a species.
Even when you believe the others' ideas to be dangerous, it's best to have them in the open, rather then let them organize in the shadows and one day surprise everyone because, hey, it wasn't just a fringe group after all, but a significant portion of the population who thought the same; I wasn't surprised by Trumps'election because I had my surprise earlier here in Europe, where these populists going for the anti-establishment vote of a disillusioned electorate are old news really.
It seems that disagreeing, especially when talking about firmly held convictions of the political nature, is difficult for some people, or at least to do so in a respectful and constructive manner. Sites like Steemit and Trybe rely on their users' ability to have this open and respectful discussion, and in addition give them the tools of up- and downvoting content, so we can collectively safeguard somewhat a level of quality. Now, anyone can use their votes as he or she sees fit, we're all free individuals here after all, but I'm going to give you the one and only reason why it's not okay to downvote content you don't ideologically or politically agree with, especially keeping in mind why these platforms exist and why they are built on, and ideologically closely tied to a public decentralized blockchain.
Why Is FREE SPEECH Important?
Disagreement about any topic at all, is cause for discussion. When I write about the disaster that is capitalism, or talk about the things capitalists can learn from socialists, or how Social Marxism is a conspiracy theory used by the far right, I'm happy to hear or read why you see things differently; that way I might learn something. If something I wrote has offended you, please tell me how and why I offended you so I might think of a better way to express myself, or we can come to a better understanding of our respective opinions and clear the air right away. This way we can both grow. And comments like "you're stupid" don't qualify.
Content that's clearly meant to offend, or content that's plagiarized, or content that clearly took zero effort and is only made to score a quick buck... now that's when you use the power given to you with the voting, as well as posts you deem exceptionally good, informative or otherwise valuable. Up- and downvoting are used for trash and high quality content respectively, that's how I see this working.
Downvoting content you don't ideologically or politically agree with is essentially the same as censoring; it's the very same thing we tried to escape when leaving the mainstream platforms. Downvoting, hurting people in their wallet, is actually discouraging dissent, when dissent is what a thriving democracy is fueled by. So if I write something you think is just wacko or conspiratorial, or offensive to your sentiments, come talk to me; there's an entire comment section for you to show the world why what I'm saying is wacko. But do not downvote my posts or anyone else's just because you don't agree; this is not how you disagree respectfully, it's a virtual slap in the face.
Having said all that, I'm not planning on quitting anytime soon; I'm just having too much fun formulating my thoughts in the hope others will actually understand what I'm talking about. Maybe I failed, maybe I did offend someone... If so, I hope you'll let me know.
Disagreeing Without Being Disagreeable
---
Thanks so much for visiting my blog and reading my posts dear reader, I appreciate that a lot :-) If you like my content, please consider leaving a comment, upvote or resteem. I'll be back here tomorrow and sincerely hope you'll join me. Until then, keep steeming!

Recent articles you might be interested in:





Thanks for stopping by and reading. If you really liked this content, if you disagree (or if you do agree), please leave a comment. Of course, upvotes, follows, resteems are all greatly appreciated, but nothing brings me and you more growth than sharing our ideas. It's what Steemit is made for!





I am a proud helpinaut! @Helpie is looking for new members! Helpie has been growing nicely and we are always on the lookout for new valuable members. We are very supportive and community oriented. If you would like to be scouted for @helpie , please drop a comment on THIS POST or contact @paintingangels on discord at paintingangels(serena)#3668.




Just for Full Disclosure, I'm invested in these crypto-currencies:

Bitcoin | Litecoin | EOS | OmiseGo | FunFair | KIN | Pillar | DENT | Polymath | XDCE | 0x | Decred | Ethereum | Carmel | XYO





@helpie is a WITNESS now! So please help @helpie help you by voting for us here!