My Response to - Challenge: What are you doing to claim food sovereignty for yourself or your community, and why?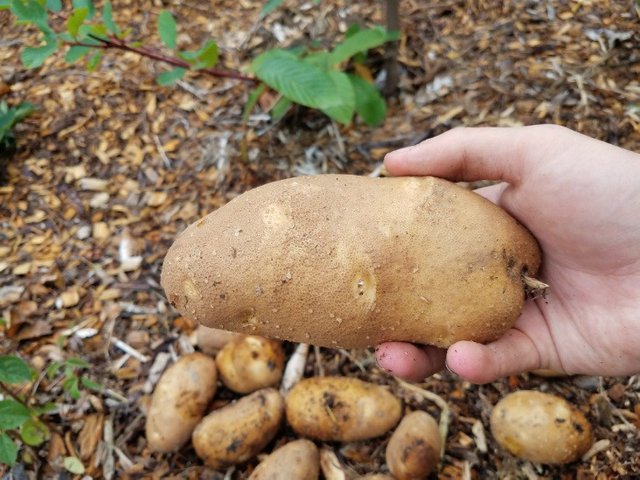 What am I doing to claim food sovereignty for myself and my community? Why? These questions were put forward by @homesteaderscoop in their post a couple days ago.
In answering these questions I'm going to break my response down into a few sections to better share what I'm doing to claim food sovereignty but also help others do the same.
How I'm Claiming Food Sovereignty for Myself and My Family
How I'm Helping the Community that Lives Near Me Claim Their Food Sovereignty
How I'm Helping My Online Community Claim Their Food Sovereignty
How I'm Claiming Food Sovereignty for Myself and My Family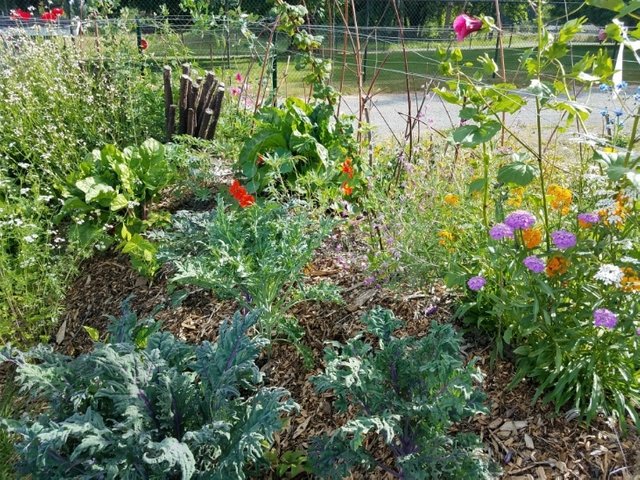 As a homesteader growing food for my family and I is at the core of what I do on a regular basis. Harvesting my own vegetables, fruits and berries is one of my favorite parts of being a homesteader.
Plus, it is so fun to watch my son race out the door yelling "berries" on his way to pick fresh berries from our various bushes and vines. He is not even 2 yet but already he loves running around picking his own food and not just berries. He ran over the other day and grabbed a kale leaf and ran around while he happily munched it.
Not bad for a kid not even 2!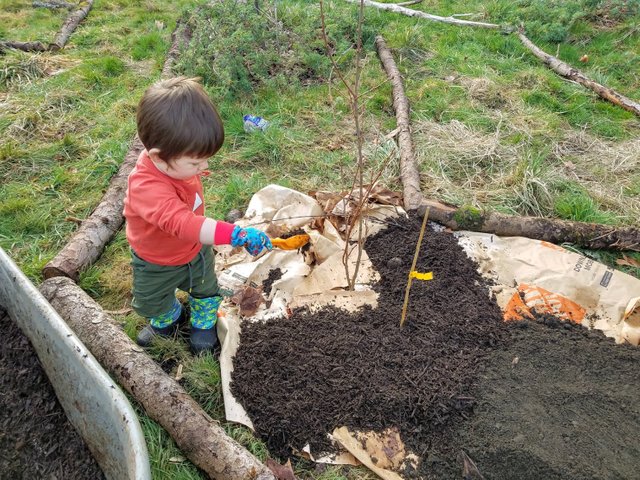 Plus he loves to help me plant new plants - here he is helping me plant a goumi berry.
But we have only been on our homestead for about 2.5 years. While we have planted a lot and each year results in more harvests there is still much more to plant.
I have been mixing in my vegetables with my perennials (native and non-native) which works but makes harvesting a bit of a pain.
To make things easier I'm building a new dedicated vegetable garden just out my backdoor that will be a kitchen garden. This garden will have a gathering area with a picnic table inside it so my family and I can enjoy being outside while being surrounded by food.
I really can't wait to have this new kitchen garden. But this garden is just the start - it is the first of 4 planned gardens with future gardens focusing on other produce. For example one will focus on staple crops that can provide a high percentage of my families calories.
Beyond the gardens I'm also planting fruit trees and berries. Each year I plan to add more and more to my homestead until I eventually have a 100 or more fruit trees and probably 2 to 3 times as many berries.
All of this will be on less than 3 acres of land.
If you want to learn more about how to grow your own food you can check out that section on my blog. My site is relatively new (started in Nov 2018) but I post weekly so watch Steemit and my site for future posts.
I'm still getting my site connected with Steemit but in the future every post and most pages will link back to Steemit.
How I'm Helping the Community that Lives Near Me Claim Their Food Sovereignty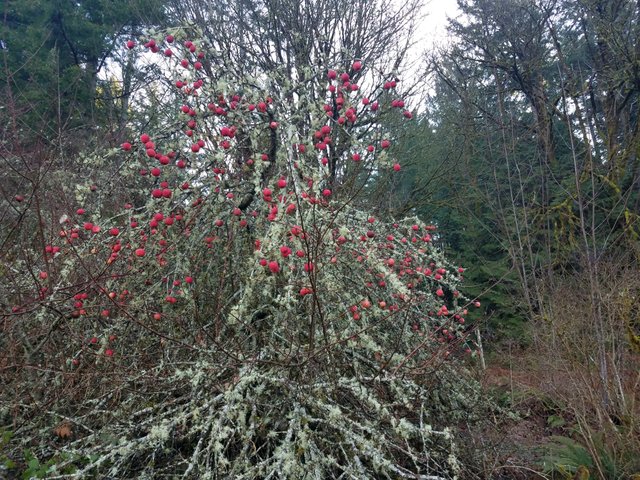 A wild apple tree at an old homestead site that I have been restoring
Beyond trying to claim food sovereignty for myself and my family I have been doing what I can in a small way to help my local community.
I'm the Restoration and Public Access Manager for a local non-profit that conserves and protects land for wildlife and nature in general. But we have recognized that without connecting people to our lands that our mission to conserve land would not work.
A big part of my job is to manage how people access our lands and setup the infrastructure to enable them to come and be comfortable on the preserves.
But beyond that I'm also trying to help people learn what they can do on their own properties whether that is a small backyard or a few acres or more.
One of my current sites used to be a homestead but was abandoned years ago - now I'm restoring it for wildlife habitat. But there are a lot of old and amazing fruit trees growing wild on the property. The above picture is one of these trees.
This site will be opened to the public in the future as part of what we are calling the Inspiring Kids Preserve. It will be a place for kids, families and the community in general to come and learn and reconnect with nature.
But I also want them to connect with the idea of growing their own food.
So to help with that we have teamed up with a local fruit tree group to run free workshops to teach people how to prune and take care of their own fruit trees by practicing on our wild fruit trees.
The workshops will focus on the trees that used to be managed as part of the old homestead. There are a number of truly wild fruit trees growing that came up from seed. We are not pruning these and I'm using them to teach people that seed grown fruit trees can still produce yummy fruit - even apples!
We will also be hosting harvest festivals where we harvest the fruit for people to take home and we will also be making apple cider during the festival.
But beyond that I'm currently designing 2 - 1 acre food forests. One of these will focus on native edible plants and the other will focus on non-native edible plants such as fruit trees and berries.
Both of these food forests will be places for kids and adults to come and learn about growing their own food - both native edible plants and non-native edible plants.
I'm very excited to be working on this project and I hope that it will one day help my local community claim their own food sovereignty.
How I'm Helping My Online Community Claim Their Food Sovereignty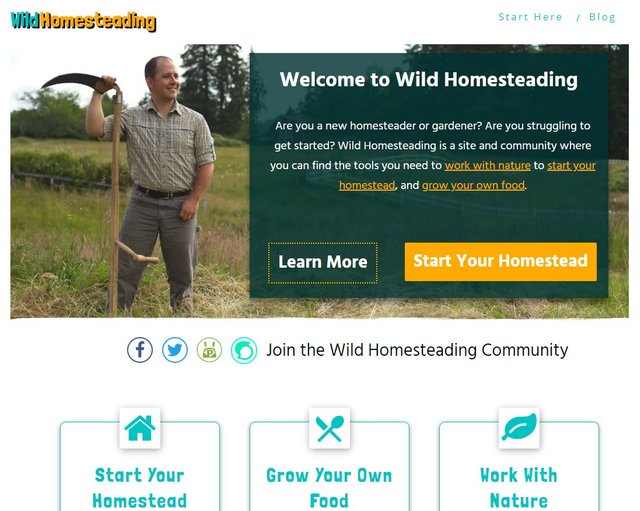 Screenshot of the homepage of my blog - Wild Homesteading.
While helping my local community is important to me I know I can reach even more people by going online. For the past few years I have been very active on permies.com which is a permaculture and homesteading forum with a thriving community. I'm currently a volunteer staff/moderator on that site.
But I also wanted to have my own site where I could share what I know and help others directly. So after working on it for almost a year I launched my own blog called Wild Homesteading at the end of November 2018.
I post weekly on Wild Homesteading in 1 of 3 categories: Start Your Own Homestead, Grow Your Own Food, and Work With Nature.
All the posts are related to homesteading in one way or another.
And I just started sharing this all with the awesome community here on Steemit!
My goal with Wild Homesteading is to reach as many people as I can and help them start a homestead, grow their own food and do that while working with nature.
The site is new and my audience is not huge but I hope that by posting quality content and sharing it online that overtime I can reach more and more people and do my part to help people claim their food sovereignty.
Claiming Food Sovereignty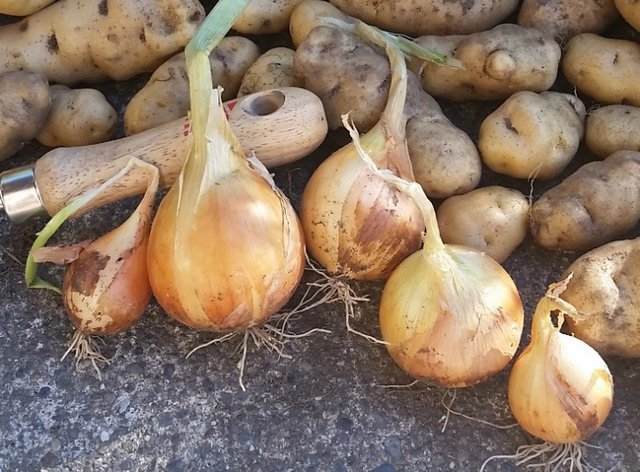 I fully believe that everyone should be growing at least a small portion of their own food. That could be a few herbs in the window in an apartment or a homestead that provides the majority of the food for family.
Not only does this make each of us individually more free and resilient to shocks, it also does the same for our communities. Plus, it lowers our impact on the environment which is important for me.
I'm doing what I can to claim my own food sovereignty and I hope that my efforts both in person and online can help others do the same.
I would love to hear from you all - what are you doing to claim your own food sovereignty? Why do you think this is important? Please leave a comment and if you want to take part in the challenge don't forget to check out the original challenge post by @homesteaderscoop.