Cleanliness is Next to Godliness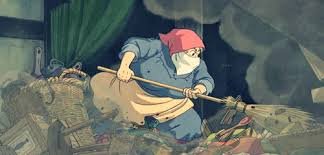 I HATE cleaning.
I DESPISE cleaning.
In fact, when I see homes I'd like to move into, or spend sometime into, the first thing I check for is how much cleaning I'd actually have to do and how often I'd have to do it.
BUT
I enjoy cleanliness.
There is a lingering sense of hipocrisy in the superposition of these premises.
I'd like to step on spotless floors with my socks. I'd like to wear white socks around my house and have them still be white by the time I take them off at night. I'd like to feel comfortable enough to sit on the bathroom floor and play boats with my son while we shower together. I'd like to breathe comfortably in the kitchen without worrying for the not so nice fumes that sometimes remain after a long day of intense cooking.
BUT
I'm a working mom, a stay-home mom, and, by the end of the day, a very tired mom. I like writing fiction, writing non fiction, painting, drawing and enjoying time in the garden; I even long for the eventual youtube spiral of useless video to easy my mind. I have a husband who needs attention, and a family who likes to talk over the phone, and, overall, I feel lazy when it comes to touching humid stuff to clean. Humid is not fun.
BUT
I know I could if I tried. I know I'd go through my little cleaning hell with clenched teeth and it will be awful and painful and I'll be pissy and I'd cuss at everyone around me for two hours, but it'd be done. And then it'd be the same for two or three days in a row, and then it'd become a habit and I wouldn't be able to live without it. Then I'd probably arrive at friend's houses and clean my way in because I wouldn't be able to stand any visible signs of dust.
BUT
I don't want to.
And this is just a rant to find alike minds and kindred spirits. And maybe, just maybe, we could help each other.
Because I do believe there is a spiritual component to cleanliness. I do believe the home and the mind are one, and this pet peeve of mine is something that must be faced.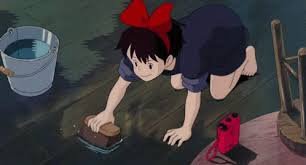 MAYBE
Dealing with humid cloths and touching them with my bare hands is not so... bad? icky? terrible? Maybe, just maybe, it'll pass like a kidney stone.
MAYBE
Once everything becomes a few degrees cleaner on a daily basis I could find new faces of myself that had been buried under piles of dust and dead cells and cat fur.
MAYBE
With some practice and training it'll be easier and easier as days go by and the house will be more beautiful with less effort, and will feel cozy and homey and will attract friends and family to come for a nice cup of coffee every afternoon.
MAYBE
I haven't been doing my best.
MAYBE
I should.
Have a good day, wherever you are :o)
Image credits: Studio Ghibli, the first one from Howl's Moving Castle, the second one from Kiki's Delivery Service.