Steem Cameroon Poetry Contest Season 9 - (Marriage)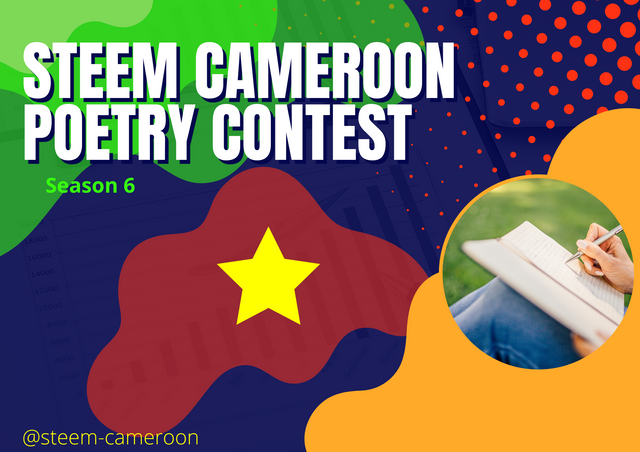 Introduction
Poetry has been one of the best ways by which people express their feelings and emotions and point of views about an issue. Most of the times writers are not talkatives and prefer to speak through letters than words. The aim of this contest is to reveal the hidden poet in us as we look into particular topics every week.
How to Create your Post

Title:
Steem Cameroon Poetry Contest Season 9- (topic)
Example : Steem Cameroon Poetry Contest Season 9 - (Marriage)
---
Body
What you understand by Marriage Define in your own words
What is your experience as far as Marriage is concerned ?
In not less than 200 words, write a poem about Marriage
Tags:
#kmerpoetrycontest-s9 #creative #poetry #yourcountry #steemexclusive #contest #marriage

Rules:

Be creative
Upvote and resteem this post
Number of entries per week is restricted to 1
Tag your friends to add constructive comments and gain a 10% upvote from the @steem-cameroon Curating Account
All authors should be part of #club5050 #club75 #club100 (Don't use the tag if you are not a member)
Images must be sourced in your post in case you use any
Set 15%, 20%, and 30% payout to @steem-cameroon is an added advantage to benefit upvote from @booming account via community support program from the Steemit Team
Share your entry on your WhatsApp status and show proof (screenshot)
Comment with your entry links
You should include #kmerpoetrycontest-s9 #poetry #creative #yourcountry #contest #steemexclusive in your tags.
No Plagiarism!!! No Plagiarism!!! No Plagiarism!!!
Subscribe to the Steem Cameroon Community
Interaction on other posts is compulsory
---
Cameroonian newbies and undelegated authors are expected to set 30% post rewards to @steem-cameroon.
---

Rewards
Three authors will be selected every week and will receive juicy booming upvotes.

Contest begins Monday 18th July to Saturday 25th July at 23:59pm GMT +1

Stay tuned.


The weekly contest, Done for @steem-cameroon by @majerius
CC:
@steemcurator01
@steemcurator02
@thegreens
@saxopedia
@fombae
@majerius
@wase1234
@b-naj
@chant

Thank you,
Steem Cameroon Team
Steem Cameroon Discord Server
Steem Cameroon Telegram Channel