SPUD4STEEM needs help to be marketed by you personally, can you do it?
What is SPUD4STEEM (SPUD) and how will it help?
SPUD stands for STEEM POWER UP DAY, (SPUD) takes place on the first day of each month.
On this day:
We ask that Steemians who are able to POWER UP what amount STEEM they have on SPUD day.
We ask Steemians, who are about to turn off, to stop turning off for that day
We ask those who trade or sell Steem not to sell or trade Steem on SPUD day, Also to cancel all types of sales orders on the stock exchanges.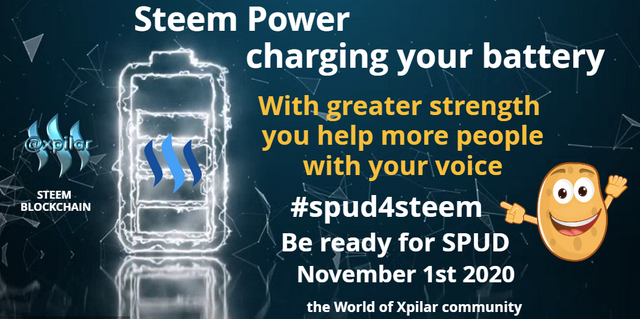 SPUD4STEEM is also a competition with its own rules where you can win great prizes.
The prizes are intended to stimulate the smaller Steemians, planktons, minnows and aspiring dolphins out in Steem Ocean to participate in hitting SPUD, and hopefully create more understanding of why Steem Power is important for user account growth as well as a show Steem Blockchain -support.
Back to your help with marketing SPUD4STEEM (SPUD) until November 1st 2020.
You are free to use all text, images and videos from @kiwiscanfly and me @xpilar, but remember to put Image search under the image or video so that you are not flagged by others.
And remember that you can market SPUD4STEEM even if you are not in the competition yourself
You must leave a link here in the comments field that shows that you are marketing SPUD4STEEM and you must also use the tag #spud4steem
For marketing SPUD4STEEM (SPUD) you will be rewarded from
World of Xpilar Community Curation Trail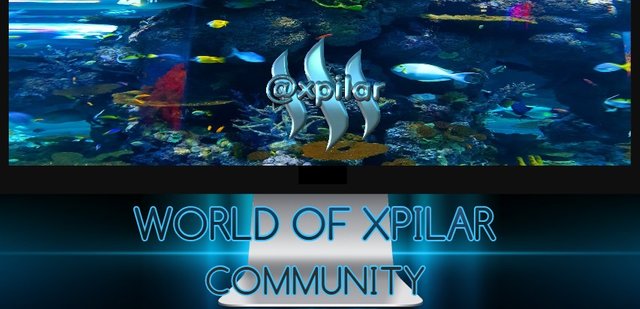 join the World of Xpilar Curation Trail, info can be found here
Are you ready to market SPUD4STEEM. Help us spread the word SPUD4STEEM to everyone in the Steem community
The initiator for SPUD4STEEM is @kiwiscanfly
Video made by @xpilar

Here's all about the SPUD4STEEM competition
The next SPUD4STEEM competition is November 1st 2020
Will you be the winner in the next competition?
Are you ready for the competition? You can win great prizes

Image search @kiwiscanfly
If you would like to sponsor spud4steem contact
@kiwiscanfly or drop a message below :)
Here are the Bonus votes that are very impressive!

Image search @kiwiscanfly
We have more!
@stephenkendal is also running a competition along side #spud4steem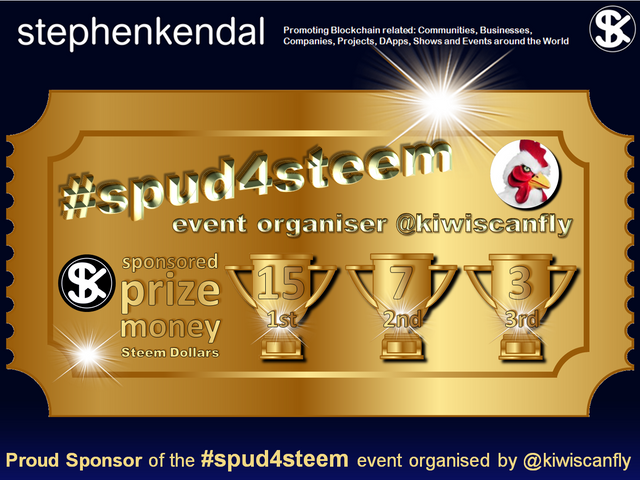 How do i enter?
#spud4steem guidelines
1, To be eligible for prizes Steemit users MUST NOT BE POWERING DOWN 7 days before the competition starts on the 1st day of the new month, remember this competition is about powering up and not powering down. Any prize winner who is found to be powering down while in possession of a delegated prize will have the delegation removed – checks are done 😊
2, Steemit users must have more than 100 Steem power in their wallet before #spud4steem & no more than 20,000 Steem power. Delegated Steem power (in or out) does not count towards any % increase.
3, Steemit users must have a reputation of over 40 & under 75 to be edible for prize pool
4, Participants must have at least 1 post before the 1st of the month talking about this contest & their intention of participating. A clear picture of their wallet showing account balances must be included before starting the contest. The tag #spud4steem must be used.
5, Power up must be done on the 1st day of each month in your countries TIME ZONE. One power up per account per #spud4steem day.
6, Your post on the 1st of the month must also show CLEAR screenshots of your wallet before & after power up, so that it is clear & easy to calculate the % increase of your powerup. Daily claimed rewards are not included.
Notes
Remember that you must use the code # spud4steem - please note that daily rewards are not included in calculations of increase in %
If you meet the six criteria above, you can consider how you are stated, how we will work out prize winners will be based on % increase in your Steem power, not how much you powered up
Example:
User 1 has 100 Steem and power's up 15 more Steem power which will be a 15% increase User 2 has 200 Steem and powers up 15 Steem Power more, which is an increase of 7.5% - so in this scenario user 1 has a higher % and is more likely to win a prize compared to user 2
These awards and gifts are designed to promote the launch of the Steem Blockchain to provide a better understanding of how Steem power supports the Steem Ecosystem.
Winners duties
We now ask all future winners to make a post corresponding to the October winners below with (Selfie), this is done to protect our kind sponsors from accounts that do not act in the spirit of the # SPUD4STEEM message.
https://steemit.com/spud4steem/@kiwiscanfly/5-awesome-worldwide-winners-spud4steem-october-2020
Thanks to @kiwiscanfly and everyone who supports SPUD4STEEM
---
Here you can read the whole post about SPUD4STEEM from @kiwiscanfly
---
Sponsors
@xpilar @steem.history @reflektor @hingsten @bippe @kiwi-crypto @steem-supporter @stephenkendal @steemchiller @kiwiscanfly @randulakoralage @steemcurator01 @steemcurator02 @steemitblog
---