Steem Entrepreneurs Program : Cryptomission
The opportunities that exist to create new dapps that work with Steemit are striking. In the midst of this, we were impressed with the Steem Entrepreneur Program at Steemit. We believe that the more projects with interesting ideas on Steem, the more valuable Steem will be. Thanks to the Steemit team. link: Steem Enterpreneurs Program
Our team is developing a Steem mobile dapp called Cryptomission. We hope this service will help the Steem community become more active.
---
---
Table of Contents
a succinct outline of the idea
details of who would be involved in the project
who the intended audience is
how the project is to be set up and developed
current state of cryptomission
what resources are needed to get the project up and running
how the project will be marketed
how progress and success will be monitored and measured
what the plan is to make the project/service sustainable
1. A succinct outline of the idea
Cryptomission is designed to create good habits through the compensation system of Steem block chain and help these habits develop into potential daily behaviors to improve the quality of life.
The compensation policy is one of the useful policies to induce strong motivation and goal-oriented behavior. Participants in the Cryptomission perform missions, form good habits, and are rewarded if they succeed in the mission. The proportion of the individual participation fee of the total amount of the failed participants is calculated and the amount is distributed as compensation.
You can participate in the mission by depositing Steem, and at the same time as the mission certificate is automatically posted on Steem Blockchain for additional upvoting.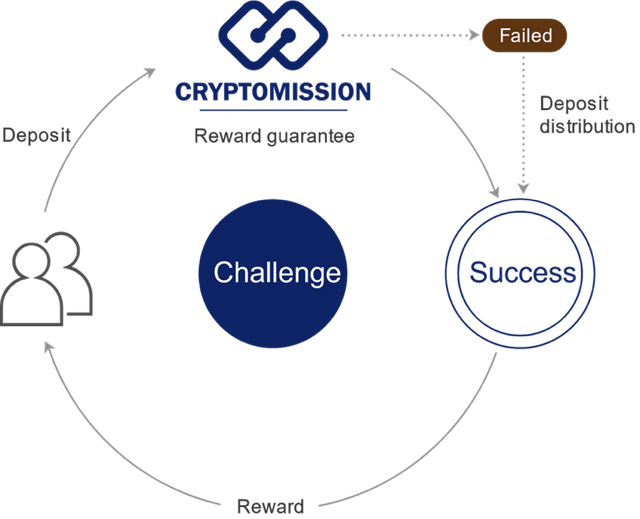 When you achieve your mission completely, your participant fee will be refunded and you will get reward and prizes. The more money you bet, the more you take out of the prize pool.
For example, 3 people participated in the mission "Wake up at 6 am 3 times a week". Felix paid 30 STEEM, Terry 20 STEEM and Jacob 10 STEEM. Felix completed the mission with 100% success, Terry 100%, and Jacob 50% success. Since Jacob only completed 50% of the mission, 5 STEEM, which is 50% of the participation fee, becomes a prize money distributed among the other participants.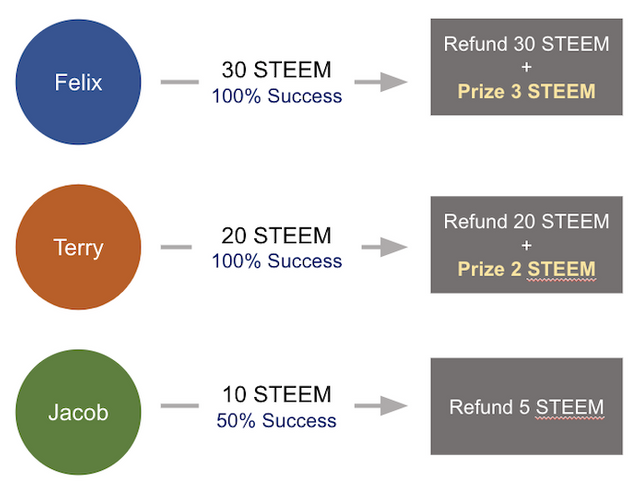 2. Details of who would be involved in the project
Our team is made up of team members with excellent skills in fields such as business, marketing, and development. A total of 8 people are in Korea and Vietnam.
B2C, B2B ecommerce expert
Developed various blockchain dapp, exchange market
Steemcoinpan(sct) team member (sct is one of popular Steem community)
CEO & Professor in IT field
Steemcoinpan(sct) team member
New Business Developer
MBA, International Business
Felix
Full stack developer
Developed 3d graphic projects
Software maestro program trainee
Samsung software membership
Terry
Masterchain Project Planning and Management
Planning & Strategy of cryptocurrency
Blockchain BM Consulting
Executive member of the Fintech Blockchain Association
Linh Ho (Louis) - CEO of Runi Solutions
developed Blockchain Core, dapp, E-learning Platform
Research Assistant in KIST
Lecturer of Ho Chi Minh University of Technology
MEng, computer engineering in Ulsan University
HOANGNAM BUI (David)- Runi Solutions CTO
Over 5 years of project managing experience in Smart Factory & Smart Ordering.
MEng, computer engineering in Chonnam National University
HCM University of Technology
Hang Nguyen (Helen), Ph.D - Runi Solutions COO
Ph.D Environment Engineering, Sejong University
Ehwa University - Post Doctoral Researcher
Research Professor, Dep. of Environment Engineering, Seoul National University of Science and Technology
3. Who the intended audience is
The three below are the main targets.
People who want to keep a habit and get rewards
People who want to keep a habit, even if they bet their money
People who want to write on Steem and get more rewards
Our application is aimed at users who want to maintain their habits. Currently, less than a month has passed since we launched it, and we are very excited to know that it is already being used in several countries.
What is impressive is that users from countries like India, Venezuela, Pakistan and Colombia are participating in the missions. Our application not only can help all our users to maintain good habits, but also they receive a compensation when using our application.
We want to target users in Southeast Asia and countries on the continent of Africa, as well as countries in Latin America. In particular, we are planning marketing activities in Southeast Asia, focusing on Vietnam.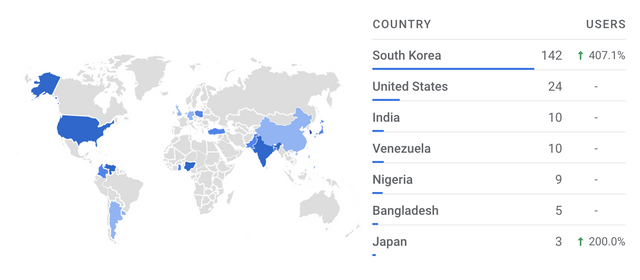 4. How the project is to be set up and developed
Our roadmap is as follows. The goal is global targeting and support for multiple platforms and cryptocurrencies.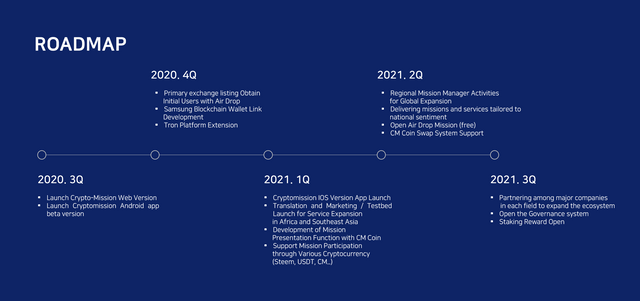 This is what has been done so far. We launched iOS and Android app. It also opened the Steem community and discord channel. If you have any questions, you can come to discord and ask.
5. Current state of cryptomission
We have started cryptomission for about one month. we would like to report the state of cryptomission based on google analytics and Steem blockchain history. We have received valuable feedbacks from these users. We are improving user experience based on those feedbacks.
The number of missions we provide : 11 missions
The number of users who participate missions : 181 people
Accumulated participant fee : 4,090 STEEM
6. What resources are needed to get the project up and running
1. Marketing resources
We need resources to promote our service. It would be great if the Steemit team could help promote Twitter and Steemit posts.
2. Steem power
We need Steem power to motivate our users. There are two ways of motivation.
Mission prize money
To attract users, the higher the mission prize, the better. We have no profit, but we are using our money to support prize money for promotion.
Voting to mission participants
To further motivate users, We would like to vote. This helps users consistently complete the mission.
7. How the project will be marketed?
The reason we applied to Steem Entrepreneurs Program is for marketing and support.
We are also looking for several ways to promote. we participated in the dapp hackathon (Jeju samsung blockchain hackathon) and have plan to launch our app to samsung blockchain store. In addition, like challenges on Steemit, we plan to stimulate the interest of users by placing big prize money on the missions.
We are currently communicating with the @project.hope team and receiving feedback from users. we plan to promote it to a wider variety of communities. What is cryptomission? | Achieve missions and get rewards
8. How progress and success will be monitored and measured
Cryptomission can measure the success of the project as the number of participants and the larger the participation fee gathered, the more consistently users do. It is measured in two ways.
Cryptomission is a mobile app service, and google analytics is attached to the app. Through google analytics, we can see the approximate location of participants and whether users are consistently using the app.

We transparently manage participation fees and prize money using the steem blockchain. As shown in the picture below, you can see the details of participation fee and distribution of prize. In addition, you can see mission photos shared by users in steemit blog. cryptomission mission photos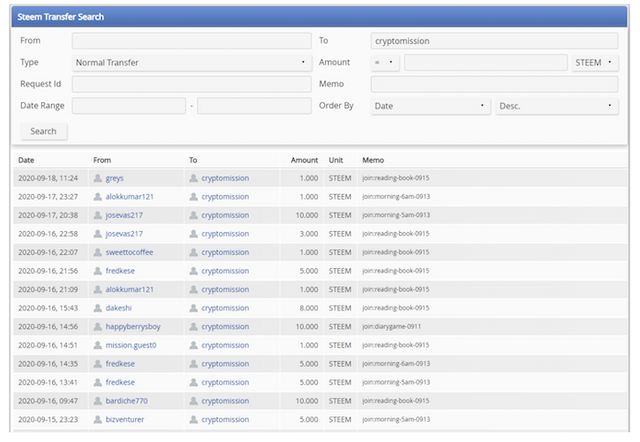 Using the data collected in two ways, we will register our app on dapp list sites such as dapp.com and stateofthedapps.com.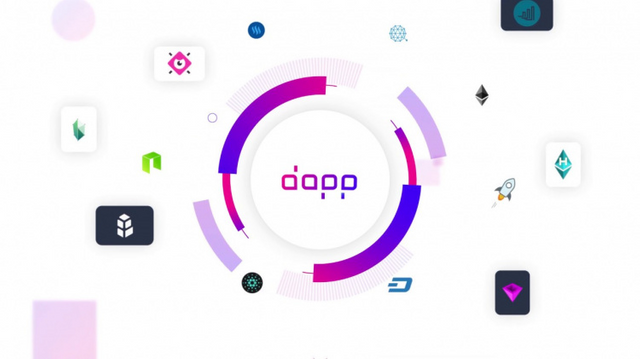 9. What the plan is to make the project/service sustainable
We should make our service sustainable. we are trying to do our best. There are three main things for it.
Expansion strategy to not only steem blockchain but also tron blockchain.
We will make a lot of fun and meaningful missions.
If enough traffic is expected, it will make profits with B2B in the future.
---
---
Thanks for reading this far. Cryptomission will try to become the representative dapp of the steem community. If you have any questions, please feel free to contact us.