Achievement 6 Task by @msharif: Understanding Curation and Community
Hello Everyone,
How are you all? I have already completed all the events of my Achievement 5 with great success. So today I will try through this post to complete my Achievement 6 and Last Achievement. I hope I can complete the panties I'm very successful. I will discuss here some important things that I think a Steam account holder needs to know.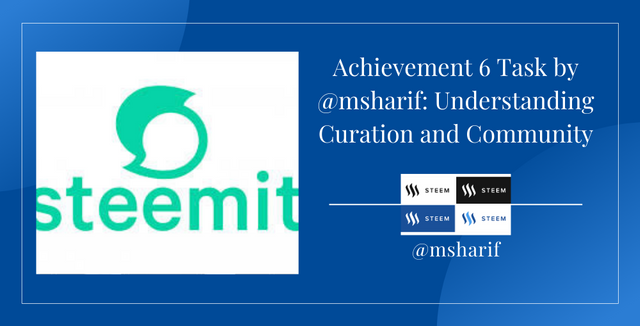 VOTING & CURATION :
Voting and curation work together on steemit. Curation is created when an account holder upvotes a post of another steem account holder. We usually upvote posts that are completed original and quality. Whenever we see a quality post and find some important information there, we upvote it. This upvote depends on the account holder's steam power. The higher the steam power, the higher the upvote power. There are two types of systems in a post, one being upvote and the other being downvote. Downvote is not usually given, but when a user copies and pastes a post or reverses a post, other users are forced to downvote that post. This process of reward distribution is known as curation. The ability to cast votes and influence rewards depends on the voting mana you currently possess. All of us must know these processes, otherwise we will not understand what is happening.
VOTING MANA :
An important thing is that if you have a lot more steam power and if you vote for a post on your power, it will be very useful. It usually has 100% reduction if you want. For every 100% vote you cast will use 2% of your remaining voting mana. It gets recharged by 20% each day. If you want to keep your voting power and increase it, you must UPVOTE other people's posts. When your steem power is less than five hundred, you can't increase or decrease your power. If you always vote for someone, it will be 100%. When you are entitled to 500 steem power you will find your voting power option from where you can increase or decrease the voting power. If you want to be able to vote for someone 60% then if you want to be able to vote for someone you can select all of them yourself. And you get half of the post you upvote for, and the other half you get for owning the post.
What happened if you vote a post before 5 minutes mark after posting?
If you upvoted a post after 5 minutes of posting, 100% of the curation reward goes to the curator.
| | | |
| --- | --- | --- |
| Time | Curator Rewards | Rewards that goes to the pool |
| After 1 minute | 20% | 80% |
| After 2 minutes | 40% | 60% |
| After 3 minutes | 60% | 40% |
| After 4 minutes | 80% | 20% |
| After 5 minutes | 100% | 0% |
Who will you vote for Steem Witness ? and Why?
The Steem blockchain requires a set of people to create blocks and uses a consensus mechanism called delegated proof of stake(DPOS). Steem blog requires a number of people to create and maintain a blog,There are 20 full-time witnesses, producing a block every 63-second round. You can vote up to 30 witnesses. There are backup witnesses that are determined in proportion to the amount of approval from the shared community
I will already voted for @steemchiller for create #SteemWorld.org , @justyy who have created #Steemyy.com and @futureshock who has made #Steemscan. This is because they created these amazing tools and still produce blocks for the blockchain.that are very important to each of our users are the websites that I voted for.
COMMUNITY
Community is a platform where users can post. Users usually post their posts in many communities. steem There are different types of community that will post the type that is usually posted in the end type Community. Below I discuss a few different community activities.
Newcomers' Community:
Those who want to add new steam will post to this community first. First they will discuss their first achievement which is their resume. Then all the other achievements from 1 to 6 that they will do in this community. Here new users will get all kinds of information about how they will work here and where and how to do everything in this community.
Steem Bangladesh:
This is a community of Bangladeshis. Where mostly Bangladeshi users post and also users from other countries also post and anyone can post here if they want. The community moderators here and everyone in charge of this community are very helpful. Anyone in this community can post and post any type of contest. There are many types of contests.
Music For Steem 🎵:
Everyone in this community usually publishes videos of their songs. There is a weekly contest where you can participate in the contest by videotaping your songs. And the steem team will help you in your participation.
zzan:
All kinds of posts are made in this community. Koreans usually post more in this community. Anyone can post to the committee if they want, there are no hard and fast rules.
DTube:
It's a community much like YouTube. Here you can share your created videos and your creativity to this community.
WORLD OF XPILAR:
This is a very popular community. Where art and photography are usually the most posted. Anyone can post here. The users here and everyone in charge are very sincere. You can post any type here if you want.
In addition to all these committees, there are many other types of communities on this platform. There is a separate community for you to post about the game. There is a separate community for you to post about any movie you want. There are also many more beautiful communities where you can post.
I would like to thank @cryptokannon, @steemcurator03, @steemcurator01, all those who have helped make it a success.
Thank You
@msharif