1000 DAYS OF STEEM : Steem Crypto Challenge Month - Big Prizes to be Won!
We know a lot of the communities on Steem are interested in cryptocurrency, which is why we want to bring more crypto-related content to Steemit!
We also know a lot of the communities like Challenges.
So we've put them together and have come up with the Steem Crypto Challenge Month. The goal is always to onboard new users, excite and engage everyone, create and curate the best content, and reward! Now let's focus on all things crypto!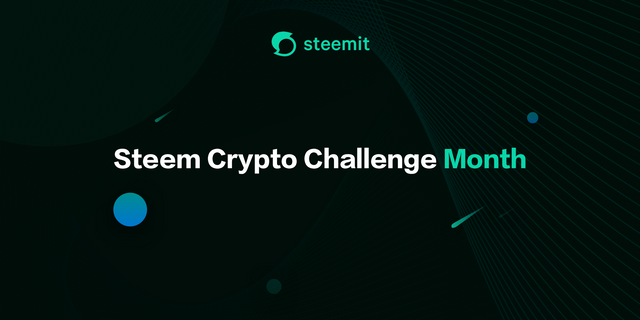 As October is a 31 day month we are squeezing in five weekly challenges into the month. Each with great big daily upvote prizes.
So get your crypto pencils sharpened and get ready to write and win every day throughout October...
---
---
The Crypto Challenges


There will be five different Challenge themes - one a week throughout the whole month of October.
To enter all you have to do is write a post on the current theme.
You can enter more than once for each theme - but no more than once a day.
---
These are the themes - there should be something for everyone…
Challenge #1 (September 28th - October 4th) : My favorite Cryptocurrency, how can we get businesses to accept it as payment?

Challenge #2 (October 5th - October 11th) : Diving in DeFi world

Challenge #3 (October 12th - October 18th) : The best exchange

Challenge #4 (October 19th - October 25th) : The future of cryptocurrency

Challenge #5 (October 26th - November 1st) : I love Bitcoin because...
---
Posts should be a minimum of 400 words, and can be in any language.
Challenge entries should include the tag #steemcryptochallenge and a tag for your country like #india or #italy in the first five tags.
All posts must be your own original work. Any evidence of plagiarism will result in a banning from the Challenges.
Any images used should either be your own or from a stated copyright free source.
---
The Prizes


There will be three winning posts selected every day.
The top post will receive a 50% upvote from @steemcurator01 (10M SP) and a 50% upvote from @steemcurator02 (4M SP).
The second post will receive a 50% upvote from @steemcurator01.
The third post will receive a 50% upvote from @steemcurator02.
---
The prize votes will be increased to 60% for any winning posts set to Power Up 100%.
---
We reserve the right not to award all three prizes on any given day if there are not enough posts of sufficient quality.
---
Twitter Sharing


We will also be giving upvotes for sharing your Challenge posts on Twitter - make sure you include the hashtags #steem and #steemcryptochallenge.
Put a screenshot AND the direct link to the Tweet in a comment on your post to be in with a chance of winning an extra upvote.
---
The One Percenters


The One Percenters system will also be in operation during the Challenge.
@steemcurator01 will be awarding 1% votes to good, relevant comments on Challenge posts.
Make sure you include the tag #onepercent and also a tag for your country like #india or #italy.
There is no limit to how many OnePercenter votes you can receive, so if you are a good commenter you can be a big winner too!
---
We hope you will all enjoy this Steem Crypto Challenge Month.
There will be almost $10,000 worth of upvotes being given out in prizes.
We really want to tell the crypto world about this. So please do tell your friends and share it on your social media.
Get writing, have fun and enjoy the prizes.
Thank you,
The Steemit Team