Introducing myself on steemit 03/09/2021 achievement one Kafete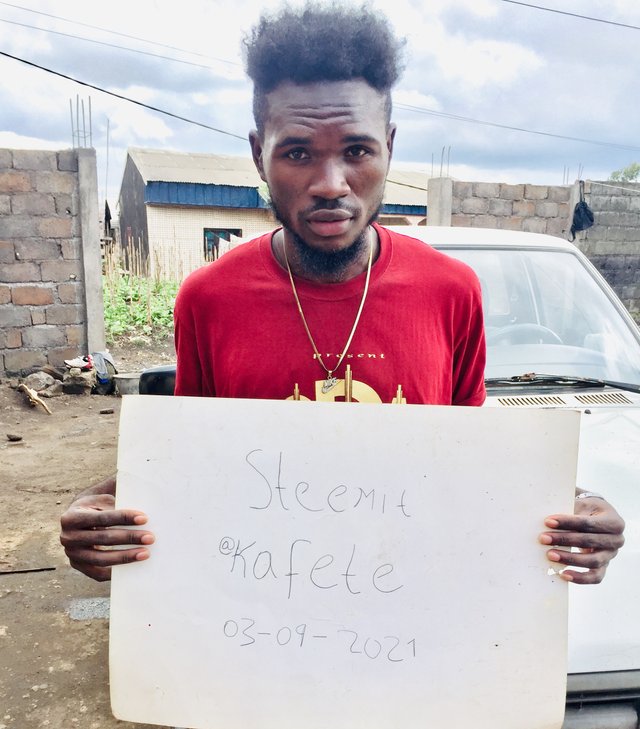 My names is Bonkung Junior Kafete , I'm 25years old. I am of a Cameroonian nationality born in the north west region precisely Bamenda. I am the second born of five . Presently am in Yaoundé in thecentre region of Cameroon.
I am a singer, specifically rap. I rap both professionally an stage wise, I can rap in English pigin and my mother tongue
I belong to a music group call HIGHEST PRAISE INTERNATIONAL.they have given me a great platform as far as my rap life is concern
I have a few songs on YouTube at (TRM)@THE RAP MINISTER
I am also a dancer and I'm versed with dancing hip hop dance, Afro, Contemporary and African cultural dances like makone ,Njang , sangmale, Mbole bikotsi and Bfia.
I also play instruments like drums
Am also in to photography
I am a dance choreographer ,an I do choreographies for music video and Dance video covers
I also do choreographies for occasions like weddings graduations etc and dance performances.
I work with a dace crew call Lux Armiger Dance Community that is base in Cameroon and have branches in Yaoundé, Buea, Duala,Dschang and the head quarters is in bamenda. an I am the president of the lux branch in Yaoundé of this dance group an I am based in Yaoundé the Centre region of Cameroon.
I am in charge of the lux dance academy in Yaoundé
I am the main drummer in my home church here in Yaoundé Cameroon call Patmos Baptist Church (PBC) since 2018 and I train other instrumentalists from other International churches through zoom
I love to listening to Music and watching music videos; jazz music, dance video , gospel dance , instrumental music. I love reading and studying . I love nature and most times I just sit around and have a nice view of nature and get inspired to take some pictures of nature has I love photography too .I love doing challenging thing because they help me to be stronger and creative and they keep me thinking of getting myself to another level .
I love gyming too, going for a walk and soccer. I love movies; cartoons,actions and educative movies .
I love being around people because am funny and I love making people smile even when not familiar with them . I love standing on high places so I can meditate well. I do like great outing with friends and family .
I will be looking forward to viewing posts by others on dance, music, nature, news around the world and love to get some great people who will inspire me with their great post
I will be creating posts on Raplines , dance cover ; Drumz , live performance on stage me taking nature pictures and music concerts playing instruments .
Thanks to @darrellbass and @kingbow @nunubozcanem who talked me into realizing a good platform like steemit does exits. Being here I know I will get to meet great people who will be here to inspire me with great post thanks for also having me in to Steemit