SEC-S6W6 : About your relationship with your loved one.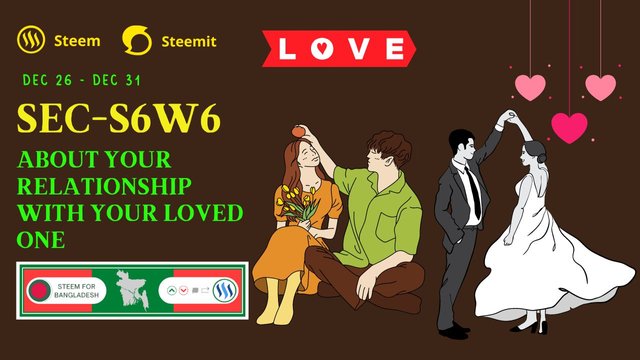 Cover Created On Canva
---
Hello,
This is the Sixth-week contest for the Steemit Engagement Challenge Season 6 on behalf of the Steem for Bangladesh community. We hope you enjoy this week's contest as much as you enjoyed the Fifth-week.
We all have loved ones and loved ones. In this contest, you will write about that topic. Because there are many things to write about our loved ones and we have given some specific things to say, hope you can understand them.
Contest Tips
How do you express love and affection for each other?
What are some of your favorite memories together?
What have you learned from your relationship? How do you handle disagreements?
What do you do to keep the spark alive in your relationship?
What are some meaningful ways you use to connect with your partner?
How do you keep communication open and honest?
---
GENERAL RULES📌
You must be subscribed and post in the Steem For Bangladesh community.

Resteem and upvote this post and invite 3 friends to participate.

The title of the post should be: SEC-S6W6 : "About your relationship with your loved one."

Your post must contain a minimum of 350 words.

We are allowed all languages.

Use Tag: #steem4bangladesh-s6w6 #steemexclusive, yourcountry and #club_status in the first 4 tags.

Be creative, and write in your own words because we do not allow plagiarism. If anyone is caught doing Plagiarism he/she will be disqualified from the contest.

Participants do not use any auto-vote services

Be sure to share copyright-free images and consider using the image source.

The link to your entry post should be commented on below this post.

Only one entry per user.
---
The contest starts at 00:00, on the 26th of December, and ends Saturday at 23:59, on the 31 of December, 2022
---
---
Details of the community's current policy for checking and commenting on posts
| Category | Remark | Score |
| --- | --- | --- |
| Verified User | ✅ or ❌ | 1/1 |
| #steemexlusive | ✅ or ❌ | 1/1 |
| Plagiarism Free | ✅ or ❌ | 1/1 |
| Bot Free | ✅ or ❌ | 1/1 |
| Club status | ✅ or ❌ | 2/2 |
| Quality Content | | 2/2 |
| Markdown Style | | 2/2 |
| Total | | -- |
| Category | Remark |
| --- | --- |
| Support #burnsteem25 | ✅ or ❌ |
| Voting CSI | 00.00 ( 0.00 % self, 00 upvotes, 00 accounts, last 7d ) |
| Period (Club Status) | Date to Date, Year |
| Transfer to Vesting | x.x STEEM |
| Cash Out | x.x STEEM |
---
---
| | |
| --- | --- |
| RANK 1 | 10 TRX |
| RANK 2 | 8 TRX |
| RANK 3 | 7 TRX |
---
---
---
---
Best Regard,

@msharif | ADMIN - FOUNDER
@ripon0630 | ADMIN - FOUNDER
@mostofajaman | MOD
@solaymann | MOD
DELEGATION
We are invite everyone to receiving delegations who wants to support the community.It's will be helpful to grow up.If you are interested in becoming a delegator of Steem4Bangladesh you can give any delegation you like :
Easy Links to delegate @steem4bangladesh quickly