5 MOST UNDERVALUED-TOP POST OF THE WEEK! [20 STEEM GIVEAWAY]
50% of rewards goes to @vicky.dodeng27 for community outreach/ Actofkindness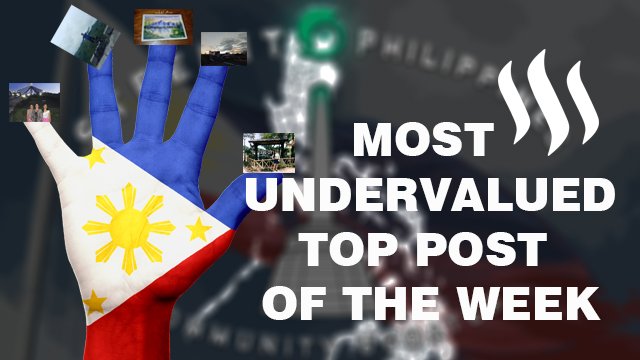 With the growing members of this platform so does the Steemit Philippines community doing the mirror effect of it with current 616 subscribers and regular quality posters. I think most of them were undervalued so this way of selecting the most undervalued-top post of the week is a way of showing and encouraging them to continue to try their best to produce quality content here on steemit.


I hope to get a regular support from steemcurators for the sustainability this as all my giveaways and contests are coming from my steemit earnings. I also commend these steemians that are in the list because they showed that passion first before rewards, I am also hoping for Filipinos to make noise with the advancement of steem and the promotion of it in the near future.Without further ado here are your most undervalued-top post of the week.
THESE 5 ARTICLES WILL RECEIVE 4 STEEMS EACH
| https://steemit.com/hive-119463/@caydenshan/sunset-mountainscape | |
| --- | --- |
| Sunset Mountainscape by @caydenshan | "I would like to share to you my new finished art landscape. This painting technique was used by one of my mentor named "Bob ross". He was the creator and host of The Joy of Painting. He learned the "wet-on-wet" technique which allowed him to complete and finished paintings in less than an hour. When you know the fundamental techniques and style in painting, you create your own masterpiece. In this painting the color tone, the texture and the composition are quite important." |
| https://steemit.com/hive-169461/@amayphin/dairy-game-or-june-9-2021-or-simple-joy | |
| --- | --- |
| by @amayphin | "That morning was bright and I was thankful for Gods blessings through the night. I opened the door early and welcoming a new day with gladness in my heart. I thought about the word grace. What was it in me this day? Looking up a calmed skies, I reflected. Grace is something we need to sustain our daily lives. We need grace to still carry on no matter what lies ahead. Life is grace in itself. I smiled to the thoughts of it receiving it in my heart." |
| https://steemit.com/hive-169461/@nhyxel/the-diary-game-season-3-06-11-2021 | |
| --- | --- |
| by @nhyxel | "I woke up early about 3:00am in the dawn to get ready for the long ride .As my uncle send me a chat to go then I go out and get the bike with me . today we are going to explore the south. We started at 4:00pm and when we got to minglanilla my uncle's bike got flat because for some thumbtacks. We look for a vulcanizing shop to fix it it takes almost an hour." |

cc: @steemitphcurator , @loloy2020, @steemcurator01
You can also comment the links of your friend who you think deserved to be in this list for my next week post!