How To Get A Membership Badge of #club5050-Philippines?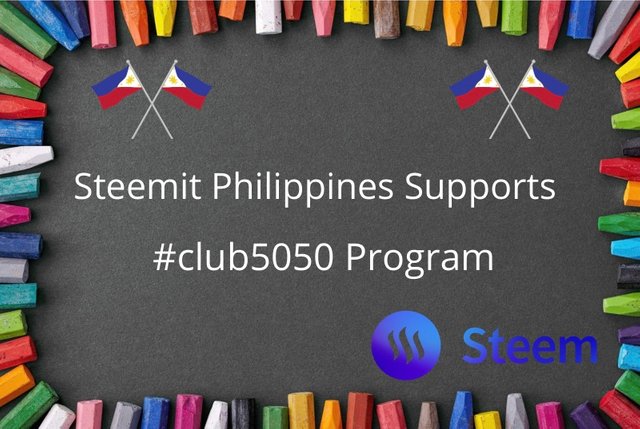 Mabuhay Filipinos! The highlight of this post is focused on the recent initiative of the Steemit Team which is about the #club5050 tag. For those who have not known it yet, please refer to this link for complete information. We also decided to have an exclusive #club5050-philippines tag so that we can easily check those individuals who committed to this.
In addition, we come up with an idea to do some verification and give a #club5050 badge to our members who have joined this program. As of now, only a few members have committed yet. We understand that maybe some of our members are still adjusting to this. Yet we are informing you that those who have this #club5050 badge and use #club5050-philippines in one of their tags will be prioritized for any support. Furthermore, we are expecting all your support on this program. For sure this will benefit all of us if we help maintain a healthy Steemit ecosystem.
To have a quick guide of that said program, please read the summary below from @steemitblog' s post.
Club5050 - How it works
Club5050 is all about encouraging people to invest in their Steem future.
We want more people to power up more of their earnings rather than continually cashing out.
This will help grow the Steem economy which will benefit everyone on the platform.
With Club5050 we are looking to give extra rewards to people who make a commitment to power up at least 50% of the liquid rewards they earn.
This should be an ongoing commitment, not a one-off, post-by-post event.
To take part in Club5050, anytime you cash out or transfer away any STEEM or SBD, you must power up an equal (or greater amount) at the same time.
For us to easily check your power-up or if you follow the rules please comment down below your power-up updates or a screenshot of your wallet proving that you have powered up within 7 days. Please be reminded that you can only use the #club5050 tag if you power up 50% or more of your income upon withdrawal or transfer to the exchange. You may refer to my postabout it. But please do not use the #club5050 tag if you power up less than 50% of your income upon withdrawal. Be reminded that the curators will check on your wallet and might support you then, but as always there is no sure upvote on this. I hope you are now clarified on whatever doubt you have in mind. If you have some questions please do not hesitate to reach us.
20% payout of this post goes to Steemit Philippines.
Thank you,
Admin @juichi