Regular saving on the STEEM blockchain with SPinvest - RESTEEM bounty open to all

Hello and welcome to this SPinvest post
.
About SPinvest...........
SPinvest is a tokenized investment fund/club for all users of the STEEM blockchain. Everyone is welcome! The concept of SPinvest is to get rich slowly by using time tested methods of earning, saving and compounding long term. We encourage long term investing on and off the STEEM blockchain. We hope someday everyone will HODL some SPI tokens that can be bought directly from @spinvest are through the steem-engine are dex.steemleo exchanges.*
.
SPinvest are SPI tokens are not to confused with SBI shares. It's like comparing chalk with cheese. SBI is a complex untokenized upvoting bot. SPinvest is a different beast altogether. We power up every STEEM we get from SPI token sales and use that STEEM POWER to produce earnings of upto 20%. As all SPI tokens are backed 100% with STEEM POWER there is no risk to investors capital and cashing out can be done instantly using our 99.99% buyback wall. STEEM earned the @spinvest STEEM POWER balance is used to invest off-platform which provides SPinvest with a balanced portfolio of safe time tested investments currently including bitcoin, precious metals, stock funds, and more. Full details about SPinvest can be found here
.
100% BuyBack Liquidity offered
Buy and sell back SPI tokens on the Steem-engine are Dex.steemleo exchange's
---
(RESTEEM this post and receive a 0.2 SPI token bounty)
Yes, anyone and everyone that RESTEEMS this post within 96 hours of it being uploaded will get a 0.2 SPI token bounty. Let's get as many eyes on this post as we can while rewarding those that help with wonderful SPI token.
---
Saving on the blockchain with SPinvest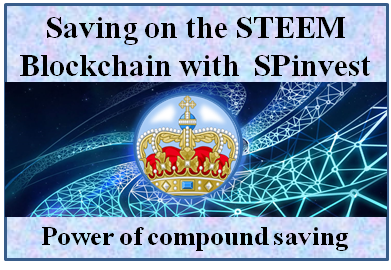 In today's post, we will be looking at why and how you can build a savings fund on the STEEM blockchain using SPinvest. We all know that we should be saving for whatever the reason, be it for a holiday, new car, kids education are retirement. SPinvest promotes and teaches the importance of regular saving and how putting away a little can turn into a lot.
Intro
I may seem like a daunting task for some of us to think about saving for the future as most people think they don't have enough at the end of the week to set anything aside. Everyone can save something no matter your budget and once you understand this, you'll be blown away with the results you can make for yourself. Little and often is the key to building a nest egg for yourself.
We all know that time goes by us quickly and 5-10 years is not long going in. Hours and days can drag in but months and years fly in on us. Don't be someone that thinks to themselves, i wish i started this back then are i shoulda, woulda, coulda done this back then and I'd have this today. It would have been nice to buy $1000 of BTC back in 2011 because you'd be a millionaire today but i didn't so I'll take advantage of the opportunity today. Today, BTC is at $9300, gold is at $1550 per oz and the SP500 is around $3200, do you think each of these investments will be worth more are less in 10-20 years? We all know the answer is more as fiat cash is pumped into the system in its trillions so never think it's too late are the timing is not right now to invest in something. Get out of the way of thinking i cant, look and plan action on what you can do today right now. The sooner the better.
Regular Saving
Spinvest's good friend and club member @taskmaster4450 wrote a post a few weeks back showing the potential of saving and compounding SPI token for 10 years. His results and figures were real eye-openers and i think they are worth sharing to show just what can be done when you save something regularly.
Regular saving is the best way to get started, you can start with any amount from only $5-10 per week and what you are trying to do is build a routine and make saving a thing to do every week without thinking about it. The best time to do your saving is when you get paid, most people have a tendency to spend all their money and have nothing at the end of the week. Take out your savings before you start spending, removing $5-10 from your pay will most likely not alter your lifestyle but will yield results. Please see the chart below showing the first-year of figures saving $5 per week and how they compound and add up over time. This technique can be applied to any investment, not just SPI tokens.
Things i have factored into these numbers
STEEM $ price starting at $0.15 rasing $0.0125 every 13 weeks (5 cents per year). This is very conservative i think.
SPI token prices increase by 0.05 STEEM every 13 weeks to still inline with our projected 20% yearly ROI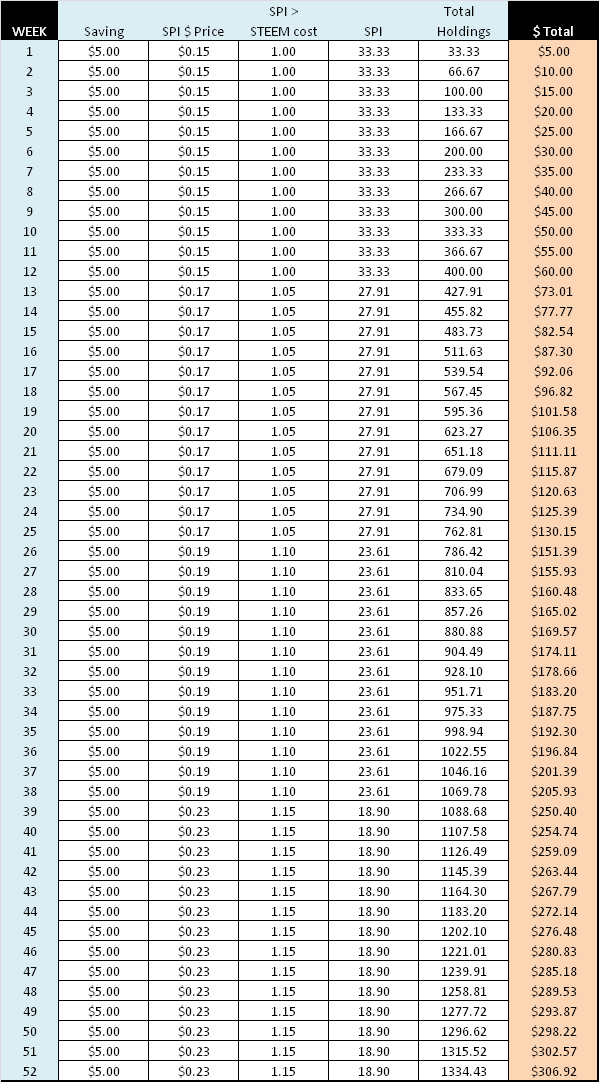 Saving just $5 per week for 1 year could grow you a fund worth $300. Saving in the bank would have saved you $5 x52 which is $260. Based on STEEM increasing 5 cents per year and SPinvest continuing to earn a minimum of 20% per year, you can expect to earn 15.3% on your total holding. You might be thinking if the price of STEEM is up and SPinvest earns 20% per year, why have i earned less than 20%? This is because only the tokens you bought on week 1 earned you 20% as you have held them for 1 year, tokens you bought on week 26 have earned you 10% as you have held them for 6 months and tokens you bought in week 51 will have earned you 0.38% as you've held them for 1 week. Another factor is the price of STEEM increase by 0.0125 cent every 13 weeks meaning you get less for your $5. Think of year 1 as building your base.
After year one, things get a little more interesting as you'll start to benefit from compounding. Instead of posting the whole table, i have snipped out every 13 weeks for the next 2 years bringing us to end of 3 years of regular saving which will have cost you $780 in weekly increments.









Pretty easy to see the benefit of compounding. Your ROI at the end of year 2 based on total dollar savings would be 30.7% and after year 3 it would be 39.7%. The reason your ROI keeps increasing is because as you start each new year, you are starting with more SPI tokens that are earning 20% per year. In dollar terms by the end of year 3, you will have saved $780 and hold a fund worth $1294.
Taking at looking at the next 2 years to by us to the end of year 5 and things only get better. Remember, you can do this sort of regular investing with any investment whether it be a precious metal, stock fund, cryptos are even just a regular saving account. Compounding is the magic dust of saving.








So after 5 years of saving just $5 per week with SPinvest, you would have invested a total of $1300 and you would own 3737 SPI tokens worth $2840 based on conservative increases giving you an overall ROI for 5 years of 218% are a 43.7% yearly averaged rate. Do you still think saving $5 a week is pointless?
I am not going to go past 5 years as i think this is enough to show you the power of compounding. $5 is not a lot of money and if you remove it as soon as you get it, you don't miss it. Just out of interest let us have a look at saving different amounts. There's nothing to learn here but its fun and interesting to see what results can we get by saving more than $5. These snips are results of saving different amounts for 5 years.
$10 per week - $2,600 invested



$25 per week - $6,500 invested



and $50 per week - $13,000 invested


Now you have the proof that even saving as little as $5 per week can make a difference, the longer you do it the more you save, the larger your fund. The larger your fund, the more interest you earn and compounding soon takes over as interest-earnings surpass your weekly investment. By this time, you have a passive income. Passive incomes are a different subject for another day's post. I hope you can see the benefit's of compounding and how SPinvest is set up to encourage and reward long term HODLer's of the SPI token.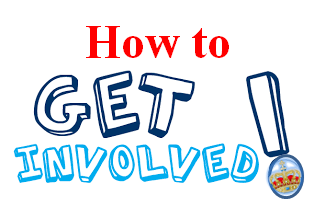 How can you get involved with SPinvest
Easy, buy and hold some tokens. You can buy them directly are earn them in many different ways. As an SPI token holders you will have the option to either HODL your tokens and be non-active within the club are you can become a member of the club and take part in investment voting and SPinvest structure. Both token holders and SPI club members earn the same ROI so do not think that club members are in it for an increased ROI. Each SPI tokens earns the same. Let's have a look at the different ways you can get SPI tokens by either buying them are earning them.
Thank you for reading through this Post
I hope that you have enjoyed this post. SPinvest encourages saving in all shapes and forms, today we have looked at the awesome power of compound saving using a cost avg method by investing weekly. If you have any questions about SPinvest please free feel to ask in the comments below.
If you take 1 thing away from this post please let it be.................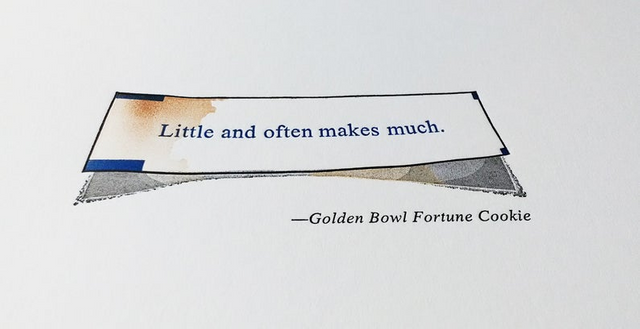 ---

Buy SPI tokens directly from @spinvest. Each token is currently priced at 1.00 STEEM and you can send any amount directly to @spinvest and i will issue you SPI tokens to 2 decimal places for the value of STEEM to send. All tokens bought directly will be sent to investors SE wallets within 24 hours but most likely much sooner.


---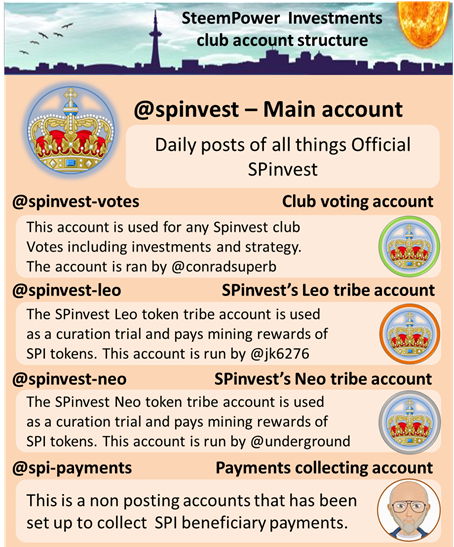 Important Information
| Information | URL Link |
| --- | --- |
| SteemPower Investments Introduction Post | Click HERE |
| SteemPower Investments Club Partnership Agreement | Click HERE |
| How to become a club member | Click HERE |
| How to convert SE tokens into SPI tokens | Click HERE |
| Join the SPI club Discord server | Click HERE |
| Join the SPI curation trail | Click HERE |
| What's best for the SPI Club? Centralized vs Decentralized | Click HERE |
| SPI tokens 95% buyback guarantee | Click HERE |
| SPI Club monthly Fiat to SPI token group buy | Click HERE |
| | |
| | |
All questions are welcome, please ask in the comments below


CLICK here for full details about SPI beneficiaries
Show support to SteemPower Investments through it's Patreon Page
Click here to join the SPinvest community over at beta.steemit.com (Steemit Communities)

(RESTEEM this post and receive a 0.2 SPI token bounty)
Yes, anyone and everyone that RESTEEMS this post within 96 hours of it being uploaded will get a 0.2 SPI token bounty. Let's get as many eyes on this post as we can while rewarding those that help with wonderful SPI token.

Posted via Steemleo