Steemit Engagement Challenge Season 2 (Week 4)| The Worst day and the best day of your life - A true life story!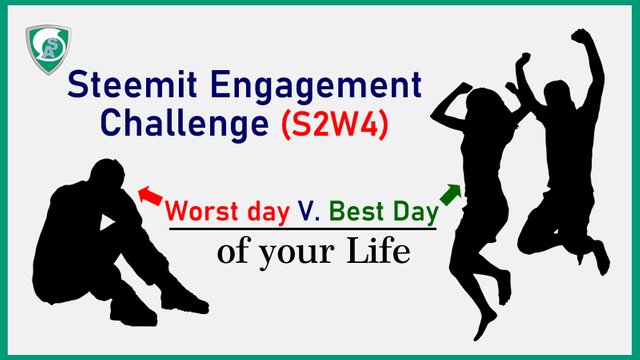 Introduction
This is the 4th week of Season 2, of the Steemit Engagement challenge. We are really excited to be participating in this challenge as a community. We thank you all for participating too. This is the contest for week 4 and we hope it will be something you find very interesting and would like to participate. This particular contest is all about true life stories that we wish to share with others. We would be happy to read your experience and learn from it.
So without wasting much time, Here is the contest details

About the contest
Life throws us up and down. There are times when everything is going great and other times when things are tough. We have probably passed through some great times in life and some challenging times too. Our story may be inspiring to other people that did not know about it. So in this contest, we would like to know What the worst day of your life and the best day of your life are
What you need to do
Write a detailed post and tell us what is:
1. The Worst day of your life. (e.g a terrible accident, death of a family member, lost a good job, etc) and
2. The best day of your life. (e.g wedding day, Got your first Salary, Bought a house, etc)
Your story should be detailed and try to answer the following questions:
What contributed to that worst/best day experience?
What did you get wrong or right on that day?
What lesson(s) did you learn from that worst/best day experience?

Rules of the contest
We accept all languages. So you can write in English or any other language
Make sure you are participating in club5050, club75 or club100.
Your post should not be shorter than 300 words
This contest will start on 00:00(UTC) Monday 27/6/2022, to 23:59(UTC) Sunday 3/7/2022.
Drop the link of your entry post as a comment on this post. Invite 3 friends to participate
Make sure to follow @steemalive. Vote and resteem this post
Plagiarism of any sort will be detected and you will be disqualified.
If you use original pictures, you will have an advantage
Include #s2w4-steemalive, #steemexclusive and your club status among your first 3 tags.
Note: Remember that the aim of the engagement challenge is to promote quality engagement. If you want to do well, visit other participants entries and engage meaningfully with them. We will check the engagements too when determining our eventual winners

Contest Prize - 10 Steem
We will distribute 10 steem to the top winners of our contest as follows
1st Position: 5 Steem
2nd Position: 3 Steem
3rd Position: 2 Steem
Note: Winners will be included as the best performers at the end of the week to receive additional support from SC01 or SC02. These positions gave the best entry, and engaged the most with other participants. So watch out and engage much with other participants.
How we grade your work
After checking if you are following all the basic rules, we will score your work based on the marking scheme below:
Compliance with Topic : your score/2.5
Use of Markdown: your score/2.5
Spelling and Grammar: your score/2.5
Content Depth: your score/2.5

Learn More about The Engagement Challenge Season 2
Learn more about the engagement challenge Season 2 from the link below:

Delegate to SteemAlive
You can support our community if you wish.


Subscribe:::Discord.
:::join trail