Team 4: Curation Report (Week 01), April 2023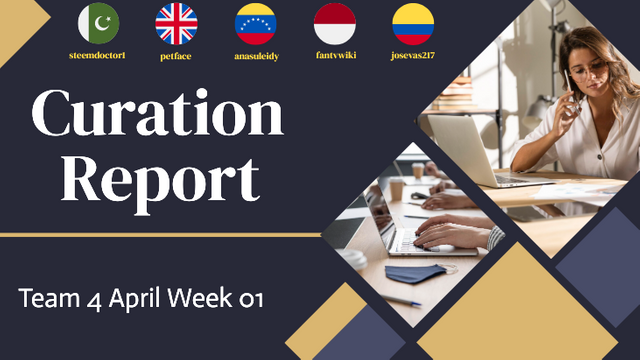 Thumbnail Created By WePik
---
Hello everyone, I hope that all of you will be doing well and enjoying the time with great pleasure. The first week of the curation from Team 4 ended successfully on the 07th of April 2023.
During the 7 days of week 1 of the month of April 2023, we successfully curated different posts by exploring different tags and visiting different communities on the Steemit platform.
All 5 members of Team 4 have curated the posts with the help of @steemcurator07 throughout the whole week. In total, 167 posts and 48 comments were curated by us this week. Now, I am here to present the weekly report for the first week of this month.
---
Statics of Our Curation
---
We have covered 17 different countries and the leading country which received the most votes is Venezuela and then Indonesia and Pakistan.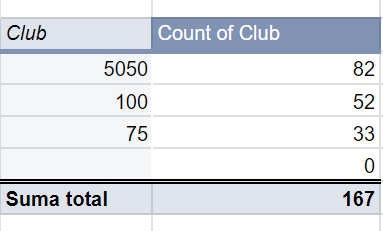 We have covered different club statuses and 82 are #club5050, 33 are #club75, and 52 are #club100.
There were 27 different tags that were curated this week and the top 2 tags were #thediarygame and #steemexclusive, respectively.
There were total of 40 communities that were visited by our curators throughout the whole week. The leading 2 communities were Steem Venezuela and STEEMIT HEALTH, respectively.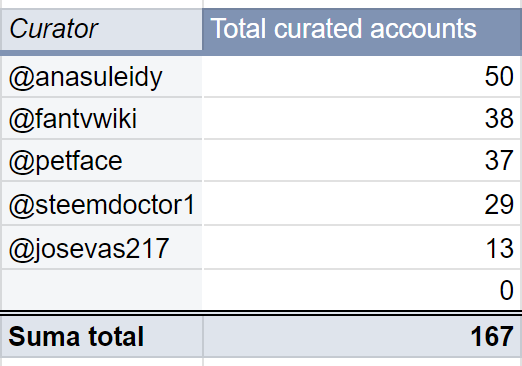 With the help of these 5 curators, we have successfully curated 167 posts and 48 comments throughout the whole week. This week, @anasuleidy and @petface did two curation duties.
---
Observations of the Curators
---
A good start at the beginning of April with a lot of options, 35 posts, and 7 comments that managed to find support on Saturday. Interesting tasks to keep working on, providing the best support for many users. There is an old community that should be able to get more support, but the least number of words written, and less interesting pictures. Making that a consideration is, in essence, a good start to the week.
This Sunday, April 2, was quite an exhausting but very interesting day for me, since this was my first healing in this new team project. On this first day I dedicated myself to searching for varied content and I focused on supporting little-known or motivated users, I even searched outside of the communities, however this search was quite complex since most of the publications do not meet the minimum requirements to be supported... However, I was able to achieve my goal and that fills me with satisfaction. I take this opportunity to thank the entire team for being receptive and for kindly explaining me since I am the rookie of the team.
The account reached 100% midday and this is exactly when I started curating. I supported a few articles and comments in the early afternoon and then the majority I chose later in the evening which actually turned out to be a great time as the platform was buzzing with new content. The engagement challenges on seemed to be a popular choice amongst the bloggers here. I did not come across many posts on the forthcoming Easter holidays though. Other than that the rest of the Steemians chose to write about food or their daily routine. I am really pleased by the selection of the photographs featured both own or properly referenced images from the web that illustrate the articles very well.
My curation day coincided with the day when the platform presented problems with the images, which made it quite complex, even if it doesn't seem so. Part of the details that we have to take care of when selecting a post to be voted are the images, to see that they are not using copyrighted images, so, without being able to see the images it was like "voting blind", so I focused my efforts on voting comments, that day I voted more than 20 quality comments. And of course, I also supported posts, but it was a challenge that first day of curation this month. You learn from everything, which is a gain.
It was the first curation day of mine in the new month of April 2023. It was really a good experience to curate on Wednesday because I have been curating on Fridays for the last few months so it was a new taste for me. I started my curation quite earlier and explored different communitues and tags to curate a total of 29 posts and 4 quality comments. The quality of content on this Wednesday was very good and I found many extra-ordinary posts. So, in overall, the first curation experience was quite impressive for me.
I started curating in the morning and I kept doing so till the early afternoon. Steem have gone up in value which certainly brightened up my day and I was not surprised at all to come across a few posts and comments about this. Many of the bloggers are getting ready for Easter but they seem never too busy to take part in a contest or two. Because it was my second day curating this week I was able to support even more authors who I haven't had the chance to interact with yet. They responded quickly and were pleased that they were noticed by my curation team and I.
This was my second day of healing so I was feeling a little more confident and calm, luckily I was able to enjoy quite a variety of content, including comments that complemented the original post. With each search I can also see that there is brilliant content that just needs a little help to shine, so this day was a pleasant and learning experience.
---
Top 7 Posts of the Week
---
| Reasons For Selection: | Seeing this post reminds me to be able to make things that are considered unusable, become useful again even if only with small parts contained in the object. Being creative starts from an idea that sometimes other people don't think about, but we can use it as a simple form of recycling. |
| --- | --- |
This post has already expired.
---
| Reasons For Selection: | On this day I selected a publication by the user @saulvargasman since through his publication he teaches us and explains how to install a screen on a cell phone, this type of content promotes the training and education of steemians. Something important about this type of content is that it is highly sought after by people who have some technological knowledge or like technology and are not part of the platform, so it attracts new potential users. |
| --- | --- |
This post has already expired.
---
| Reasons For Selection: | Today we all have the wonderful opportunity to join an art class plus we don't have to book anything or go somewhere for it. The artist hosted a workshop at her home coaching kids paint with watercolours on canvas. I like the vibrant photographs that she shared here which captured very well her love and passion about art and the young artists. She is proud of the workshop she organised which is even not the first one that she has done. The talented female artist is already looking forward to hosting another class and I wonder who the next character will be. |
| --- | --- |
This post will expire in 2 days.
---
| Reasons For Selection: | There is a reality in the modern world, and that is that there are many conditions that are increasing in terms of their presence in the world in statistical terms, I do not know if it is due to conditions that did not exist before or simply because detection has improved and therefore cases have increased. But autism is clearly on the rise, and the user @zorajaime has shared a very personal publication, from her own experience, in which she shows us another side of this condition, on April 2, World Autism Awareness Day. It is a post in which you can appreciate the wisdom that the user has been accumulating through her experience. |
| --- | --- |
This post will expire in 2 days.
---
| Reasons For Selection: | During my curation, I found this post very much interesting and of great quality and that's why I selected it for the best pick of the week. In this post, the author @pathanapsana has beautifully explained a recipe that she mostly cooks in the Holy month of Ramadan. The name of recipe is Chicken Dana and she has explained all the steps very well. Moreover, the quality of pictures and overall presentation of the post is also impressive. |
| --- | --- |
This post will expire in 4 days.
---
| Reasons For Selection: | The bright colourful images featured here caught my eye instantly. The homemade cake, doughnuts and cupcakes, all decorated to perfection, made my mouth water. The author is quite a creative soul having put such a lovely birthday box together, full of snacks, themed around the cartoon character Stitch exactly as her valued customer requested. Other than a brilliant baker she is also a keen gardener too. She is proud of the fresh produce which she picked that certainly impresses with its size. Last but not least she is glad that she was able to power up again and she is really looking forward to becoming a dolphin. |
| --- | --- |
This post will expire in 5 days.
---
| Reasons For Selection: | the post that stands out on this day of healing is a work of art, "a strange landscape" full of many colors, a simple drawing that highlights the talent of the user @rdp89. This type of talent must be supported since art is an extraordinary gift that few possess. |
| --- | --- |
This post will expire in 6 days.
---
---
Above is the summary of our 1st week of curation and we are very happy that we got an opportunity to serve Steemit with all our hearts in a professional manner. For more details, our spreadsheet can be viewed here:
https://docs.google.com/spreadsheets/d/1zADBZsLU14RyDvtJirENarNlTu1rT7GLr5ICuhlnKr0/edit?usp=sharing___
The Team 4 Curators: