Weekly report of Active Members from Indonesia in the @businesactivity community by Mod Indonesia representative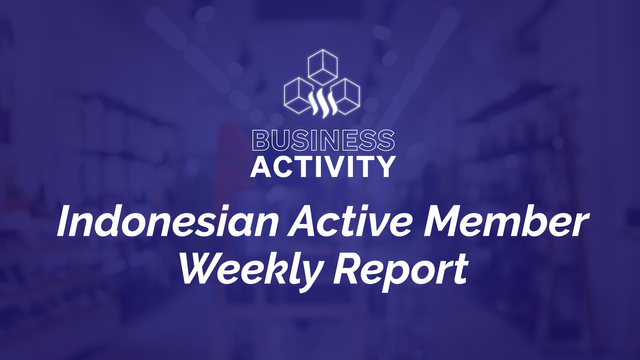 There is nothing happier for us than seeing the development of our community thanking the businessmen who have always been loyal to their communities in charge of various sectors, we feel happy and grateful with the current state of affairs, there are many things they do in help the development of the community with their amazing business publications we feel happy and proud of you continue to develop all the talents we have we believe you can go further in advancing your business.
Keep trying and working with all the talents you have, we are sure that one day even from now on your company will be able to lead the world market by attracting the attention of the audience in each company with the advantages of each sector because we believe every effort will not betray our results, moderators will do our best to keep motivating you because we love to see your progress.
In Indonesia for now also have some talented entrepreneurs they also publish their respective talents in their fields I
@riska-amanda
as moderator representative of Indonesia will report some of our active members in the community.
Here are some of our active users from Indonesia and their business names:
USAHA RUMAH TANGGA (URT) by @riska-amanda
---
---
Bengkel las jaya indah by @humaidi
That's all for our active user report this week we hope for the next meeting more of our active users from Indonesia who promote their business and are always active in the community we really hope that your cooperation and participation will continue to work and of course accompanied by prayer because everything or work accompanied by prayer and endeavor will gain success.
We encourage newcomers to learn more about community recognition so you are warmly and welcomingly welcomed the first time you promote your business in the community.
Do you want to be part of Steem Business Activity
Introduction to the community
Welcome to Steem Business Activity | General Rules
Community of business activity
We are now on Discord!
---
Business Activity Team

@oscarcc89 - Founder 🔹
@cindycam - Editorial Staff 🔹
@gensequini - Team SBA 🔹
@rjlv190 - Team SBA 🔹
@riska-amanda - Team SBA 🔹
Would you like to support our community with Steem Power Delegation?
@riska-amanda MOD Team SBA🔹