"Steemit Engagement Challenge S9-W5: "Seeing is believing" versus "Knowing is believing"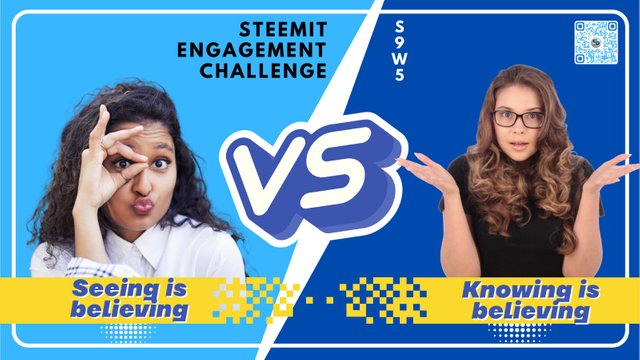 Graphics by @irawandedy
Season 9 Week 5 of the Steemit Engagement Challenge is ready!
"Seeing is believing" versus "Knowing is believing"
The concept of this topic in engagement is to explore engagement participants' information and understanding of the old adage "seeing is believing" versus the new adage "knowing is believing." Participants are expected to write in accordance with knowledge through personal expression of these 2 beliefs. Engagement participants can expand on this topic from a variety of perspectives, including science, philosophy, religion, art, or personal experience.Be creative.
"Seeing is believing" versus "Knowing is believing" contest tips
Write your understanding of the two short expressions above.
Give an example of "Seeing is Believing" vs. "Knowing is Believing", for example, it could be based on personal experience or can be written within the framework of science, philosophy, religion and art.
What is the moral message that can be taken from this expression
We want to enjoy reading your thoughts on this topic
Please pay attention to the rules
Write a post with no less than 350 words or above
Entries must be posted in the STEEM FOR BETTER LIFE community
Post must be Steemexclusive, use the #steemexclusive tag
All relevant languages are allowed
Use your own images, and if not you must use FREE images please kindly post the source of the images.
Use Post Title "Steemit Engagement Challenge S9-W5: "Seeing is believing" versus "Knowing is believing"
You must use the #steemforbetterlife-s9w5 #lifestyle, #yourcountry, #club tag, among your first 5 tags
Participants may not use any auto-vote services
Paste your entry link under this Contest post to make searching easier
Invite 3 other users
Actively comment on other engagement participants across the engagement community
AI content or any form of Plagiarism is not allowed.
DO NOT tag community Admin or Moderators in the name of thanking them for their Job, you will be disqualified
Please if you are a newcomer, attach your Introductory post to your entry.
Avoid this contest if you are an abuser, we would catch you!
Please answer as asked, don't bring in what you think if it's not in line with the contest guideline questions.
Avoid unnecessary long stories, just go straight to the point.
---
---
Our verification and scoring process Is shown below
Comments in the form of Post Review Results
| Description | Information |
| --- | --- |
| Plagiarism Free | ✅ |
| #steemexclusive | ✅ |
| Bot Free | ✅ |
| Status Club | Club5050 |
| AI Article | ✅ Original (Human text!) |
| Beneficiary | ❌ |
| Score | Range 1 - 10 |
History of Cash-outs and Power-ups :
- CASH OUTS: 0 STEEM
- POWER UPs: 5.636 STEEM
Verification Support Tool:
1. Determination of Club Status refers to the https://steemworld.org/transfer-search Web-based Application
2. Plagiarisme Checker: https://smallseotools.com/plagiarism-checker/
3. AI Content Detector: Writter, Corrector App, OpenAI/, CopyLeaks
I invite you to support @pennsif.witness for growth across the whole platform through robust communication at all levels and targeted high-yield developments with the resources available.

Click Here
---
Contest Team(@ubongudofot and @irawandedy)
---
The community will share 15 Steem Power among the best three winners for the week.
We do not guarantee that every participant will be supported by steemcurator01 or steemcurator02
The jury's decision cannot be contested
The main hashtag for this contest search is #steemforbetterlife-s9w5
Engagement: The post should get at least 10 upvotes and 5 quality comments from other users. (Comments like "great" "good" "nice" etc. Simple words are not eligible.)
Participating time is from 00:00 (UTC) on Monday to 23:59 (UTC) on Sunday 21st May 2023.
---
---
Note: Beneficiaries of this post are shared based on the performance of the team members during the past week.
---
---
Good luck!
Posted by
@ubongudofot