STEEMKIDS COMMUNITY WORD DEFINITION CONTEST SERIES WK #11|| DEFINE YOUR FUTURE WITH "CLUB5050, CLUB75 AND CLUB100"(DOLPHIN 🐬, OSCAR OR WHALE 🐋 ||50 STEEM PRICE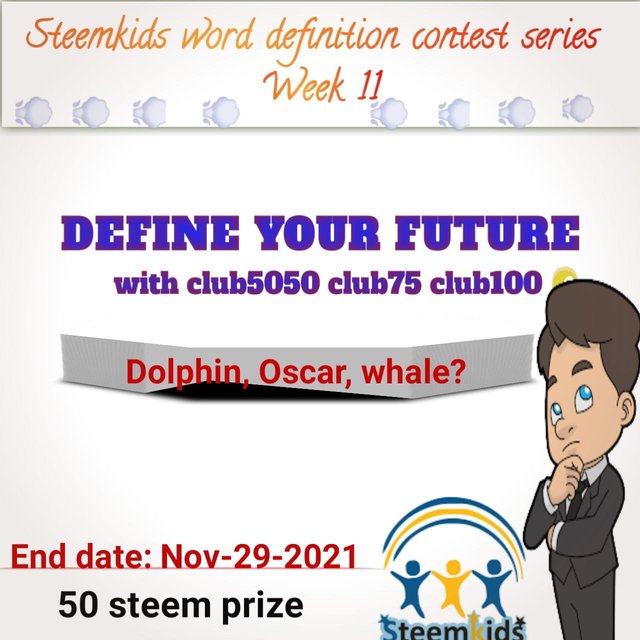 Hello everyone, trust you are all doing great? Welcome back to our word definition contest series for this week #11. I can't believe how time flies. I remember when we started this series. Since then till now, it has been great
The just concluded week received amazing entries and we have already announced the result. Check here in case you missed it. Congratulations to all winners.
WHAT IS THIS WEEK'S CONTEST SERIES TOPIC?
Well, we have all been battling with club5050, club75 and club100 for sometimes now. A lot of users have joined while some are yet to join. Have you ever sat down to imagine your future with club5050, club75 or even club100. It will be worth the efforts. You will be happy if you achieve that.
Now with club5050, club75 or club100, you can become a dolphin, an Oscar or even a whale but it all depends on your dreams. You can be any of them. But it is left for you to tell us what your future will look like with these clubs. So, tell us let's see how we can assist you get there.
CONTEST TIPS
° Define your future with club5050, club75 or club100, which one will help you rich your goal of becoming a dolphin, Oscar or even a whale.
° where are you now and at what rate will you like to journey to your goal
° what are your plans or road maps to getting to your destination
° what will you do when you become a dolphin, Oscar or whale?
° How can you encourage others to join you and achieve their own goals?
CONTEST RULES
✓ Be original, plagiarism will not be tolerated.
✓ join steemkidss curation trail here and set it at 100% to support the community
✓ vote, resteem this post and invite at least 3 of your friends to join this contest
✓ Use harshtag #steemkids-wordserieswk11, #steemexclusive #contest, #steemit #yourcountry
✓ Mention @steemkidss in your post
✓ Drop your entry post link under the comment section of this post.
✓ Set steemkidss as 20% beneficiary
✓ please apply all the rules
✓ duration is one week from the date of this contest Monday , (29/11/2021)(11:59pm Nigeria time). Please take note of the time frame. Some entries come well after the contest has expired and such will not be considered. Don't also wait until the dying minutes, you will have little chance of winning as most times, we have already made our choices of winners
---

Reward pool- 50 steem
---
1st place - 15 Steem
2nd place - 10 Steem
3rd place - 7 Steem
4th place - 5 Steem
5th place - 3 Steem
---
---
>The rest of the 10 steem will be distributed among other participants. You can see that it is a win win contest. Some participants can even stand a chance to be selected for booming. So friends, write in a way that you will win.
---
---
>**Winners will be those who apply all rules especially those who have joined club5050 and are detailed and make the most meaningful suggestions that will benefit the community. Remember to join steemkidss curation trail, don't forget, it is very important.** But if you were supported by the curators, you will not be selected as a winner again. We want to make sure we support as much people as possible.**
---
---
*I wish you all the best!*
Special mentions
@pennsif
@disconnect
@stephenkendal
We, at steemkids community are mostly grateful to @steemitblog and @steemcurator01 for all the supports given to us so far.
---

Support us by delegating STEEM POWER.

Best regards
@steemkids Community


Join our discord channel::::::Join our telegram group::::::subscribe to our community