SteemPower Investments - Weekly Holding Report #34
Hello and welcome to this SPinvest post
SPinvest is a tokenized investment fund/club for all users of the STEEM blockchain. Everyone is welcome! The concept of SPinvest is to get rich slowly by using time tested methods of earning, saving and compounding long term. We encourage long term investing on and off the STEEM blockchain. We hope someday everyone will HODL some SPI tokens that can be bought directly from @spinvest are through the steem-engine are dex.steemleo exchanges. Full details about SPinvest can be found here
.
---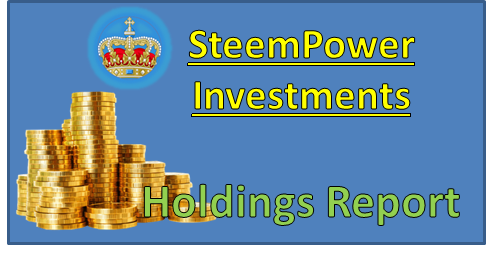 Holdings and Investments report
Below is a complete list of everything that @spinvest owns. This week looks good on table with a total fund growth of 1.3% but our tribe token holding and off-platform investments have taken a pounding due to STEEM's current price jump. It's not a doom and gloom, true SPI token value is up and we have about 1000 more tokens issued thanks to the introduction of the Royalty token.
Just look at Leo's token price. When we get back to good days of 0.2 STEEM, our holdings will be worth thousands of STEEM. Same for Neoxian tokens that have also been getting smashed hard.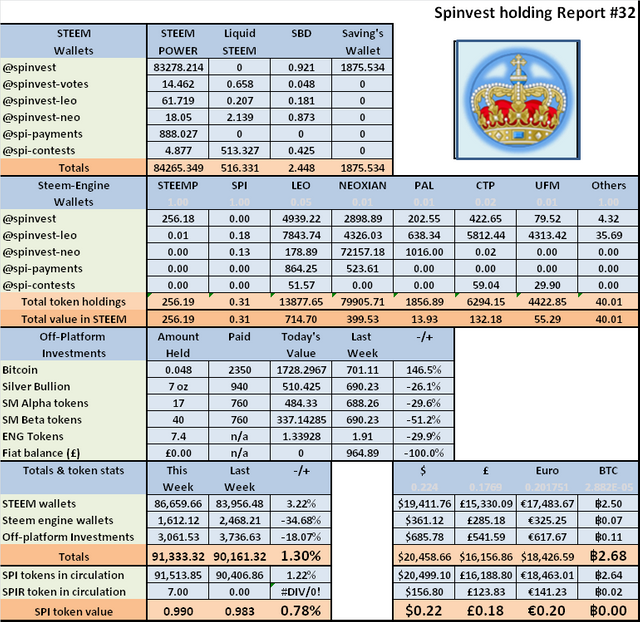 We can see that steem-engine holding dropped by a huge 34% this week and bear in mind that we hold more tokens this week then we did last week so the drop in value in really huge and slightly worrying. Off-platform investments have dropped by around 20% this week, this is fine and nothing to worry about because the price of STEEM has increased 22% from last week. This confirms for us that our off-platform investments are providing us with a good hedge against STEEM.
Fun Trivia - Last week, the total SPinvest fund was worth 1.7 BTC
.
.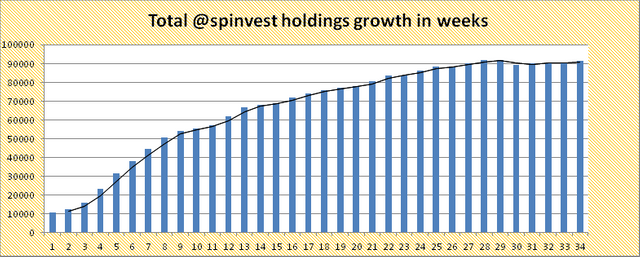 SPI token holders
A few people asked to see the SPI token holders list. It can be found on steem-engine's token explorer. I'm gonna assume that might be over some people's heads and i will baby feed a click here link to make it super easy.
https://steem-engine.rocks/tokens/SPI/richlist?page=1
.
JOIN SPI CURATION TRAIL and help to grow your investment. Just try it, it will take you 2 minutes and you'll get a nice feeling for knowing your good deed for the day is done :)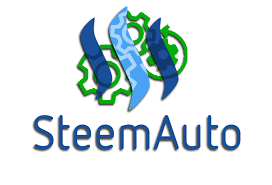 ---

Buy SPI tokens directly from @spinvest. Each token is currently priced at 1.00 STEEM and you can send any amount directly to @spinvest and i will issue you SPI tokens to 2 decimal places for the value of STEEM to send. All tokens bought directly will be sent to investors SE wallets within 24 hours but most likely much sooner.


---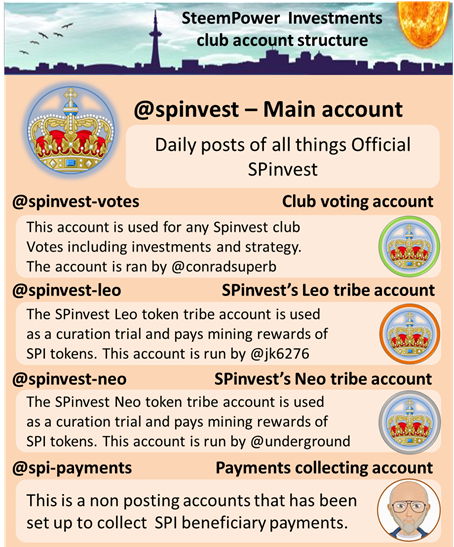 Important Information
| Information | URL Link |
| --- | --- |
| SteemPower Investments Introduction Post | Click HERE |
| SteemPower Investments Club Partnership Agreement | Click HERE |
| How to become a club member | Click HERE |
| How to convert SE tokens into SPI tokens | Click HERE |
| Join the SPI club Discord server | Click HERE |
| Join the SPI curation trail | Click HERE |
| What's best for the SPI Club? Centralized vs Decentralized | Click HERE |
| SPI tokens 95% buyback guarantee | Click HERE |
| SPI Club monthly Fiat to SPI token group buy | Click HERE |
| | |
| | |
All questions are welcome, please ask in the comments below


CLICK here for full details about SPI beneficiaries
Show support to SteemPower Investments through it's Patreon Page
Click here to join the SPinvest community over at beta.steemit.com (Steemit Communities)