Steemit Engagement Challenge S9W3 - Time is money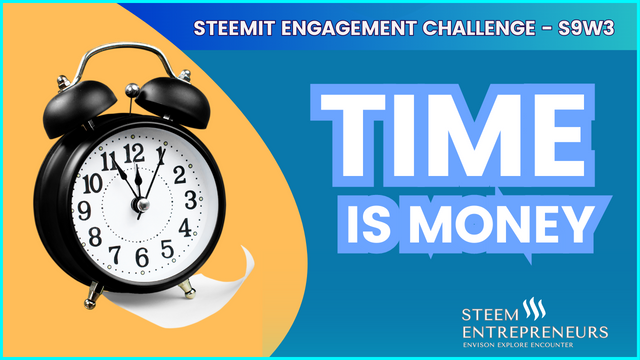 Time is the most valuable commodity in everyone's life. Many successful people say that we shouldn't just spend time but also have to be able to invest it. In fact, there is a term that says "time is money". Through this term it is concluded how important and valuable time is. Time goes on and will not be repeated.
Entering the third week of Steemit Engagement Challenge Season 9 – Steem Entrepreneurs invites contestants to share personal opinions about the term "time is money" and time management to stay productive especially in Steemit through the Contest: Time is money.
To participate in the contest, contestants are required to write a quality and original entry that includes the following statement :
Is the term "time is money" appropriate?, explain your reasons.
How do you value time?
How to manage your time to stay productive in Steemit in the past week?
And other information that is correlated with time that is considered important to be disseminated to readers.
---
Entries must be 300 words or more.
Add photos preferably your own or you can use photos with a common license.
Be creative! Presenting free content that is plagiarized and created by AI or other cheats is automatically disqualified.
Use the title : Steemit Engagement Challenge S9W3 - Time is money
Use the following as one of your primary tags #steementrepreneurs-s9w3 #steemexclusive and hashtag your country's name.
All entries must be #steemexclusive and posted only in Steem Entrepreneurs Community.
We recommend all contestants to support the #burnsteem25 initiative by setting 25% to @null.
Please comment on at least 5 contest entries. And respond responsibly to every comment on your entry
Mention at least 3 of your friends and share your contest entry link in the comments column of this post.
Note : The contest organizer recommends that contestants display original photos (at least 1) in contestants' posts/entries..
---
The participation time is between Monday, May 01st, 2023, 00.00 UTC to Sunday, May 07th, 2023, 23.59 UTC
---
| 1ST PLACE | 6 STEEM | POWER UP |
| --- | --- | --- |
| 2ND PLACE | 5 STEEM | POWER UP |
| 3ND PLACE | 4 STEEM | POWER UP |
Note : Prizes will be given in the form of power ups to the winner's account.
| Verified user | ? |
| --- | --- |
| Status club | - |
| Plagiarism-free | - |
| Bot-free | - |
| Tag #steemexclusive | - |
| Support #burnsteem25 | - |
| Voting CSI | - |
| Score | 0/10 |
| Time verification | - |
Determination of Club Status : https://steemworld.org/transfer-search
SC01 & SC02 would be checking on the entire 7 participating communities and upvoting outstanding content. Upvote is not guaranteed for all articles. Kindly take note.
---
Thank you to all parties who have helped carry out this contest and congratulations for all contestants to participate.
Cc : @steemcurator01


Open opportunities for useful contributions and collaborations with steem power delegates for community development.
Please select one from the link :
Thank you to all stemians who have supported and encouraged us to work hard to advance the Community and STEEM to reach wider people.
Kind regards,
Steem Entrepreneurs Team
---
---