Steemit Engagement Challenge 4 | STEEM GROWTH CONTEST - Theme : How many hours have you spent on steemit in the last week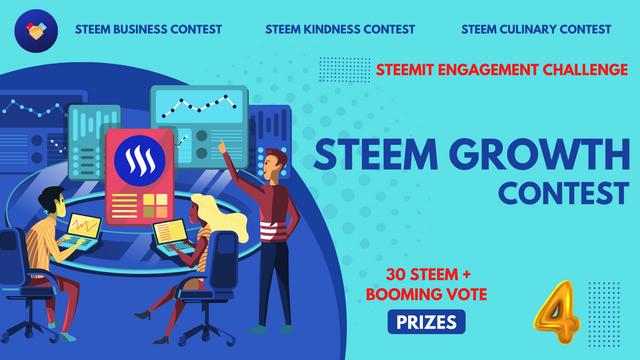 In the 4th week of the May Steemit Engagement Challenge - Steem Entrepreneurs Community is holding a Steem Growth Contest for all of you. This contest aims to find out how many hours of effective time you spent on Steemit on average in the last week. The organizers also ask for your opinion and suggestions for further improvements in the next Steemit Engagement Challenge.
To participate in the Steem Growth Contest, contestants can write concisely and clearly over the past week how you managed your time in between your busy schedule with work or other activities but are still productive with steemit.
Do you provide a special time for steemit? or just surfing the steemit platform when you have free time or has steemit become from your job to earn? Free! you can write anything about the time management that you allocate to steemit every day for 1 week.
Notes :`
Steemit activities over the past week are related to making posts, reading posts belonging to other users, reading messages, replying to messages, reading new steemit information, steem promo activities, attending steemit events or other activities that are valuable for steemit growth.
At the end of the post to participate in the contest, also write your opinion about the benefits of the Steemit Engagement Challenge and your suggestions to improve this challenge in the next period.
Contest Rules
Subscribe and post on the Steem Entrepreneurs Community page.
The writing is at least 300 words, there should be more words you can write for this contest.
Write in a language you understand well.
Use original photos and paste copyright free photo sources.
Use the hashtag #growth-engagement #steemgrowth in the four main hashtags.
Make sure to use the hashtag #steemexclusive.
Set of beneficiaries 20% to @steemkindness (charity account).
Share your contest post as early as Monday 00:00 (UTC). The last time to join is Sunday 23:59 (UTC).
Plagiarism cannot be tolerated.
Drop the link to your post in the comment section of this post.
Invite at least 3 of your friends to participate in this contest.
The judges' decision will be final.
Submit and obey the rules of steemit.com
Please carefully read each point of the contest rules to fulfill the requirements of your participation in the contest. We really appreciate participants who complete all the requirements properly and completely.

Please note that participants are required to visit other contestants' posts and provide relevant comments to increase engagement in accordance with the objectives of the Steem Engagement Challenge program. Involvement is an important point in the jury assessment in addition to the quality of the posts and the contest conditions are well fulfilled.
Prizes
The Steem Entrepreneurs Community provides 30 STEEM for 5 selected winners with distribution details :
| 1st Winner | Vote Booming | 10 Steem |
| --- | --- | --- |
| Winner 2 | Vote Booming | 08 Steem |
| Winner 3 | Vote Booming | 06 Steem |
| Winner 4 | Vote Booming | 04 Steem |
| Winner 5 | Vote Booming | 02 Steem |
The organizers congratulate you on your participation in the Steem Growth Contest with the theme : How many hours have you spent on steemit in the last week. Let's use our time for productive things by joining and increasing engagement on Steemit for a better life.
Cc : @steemitblog | @steemcurator01 | @steemcurator02

Open opportunities for useful contributions and collaborations with steem power delegates for community development.
Please select one from the link :
Thank you to all stemians who have supported and encouraged us to work hard to advance the Community and STEEM to reach wider people.
Kind regards,
Steem Entrepreneurs Team