Contest - Steemit Engagement Challenge Season4 Week #2 | Why Do You Like The Product ?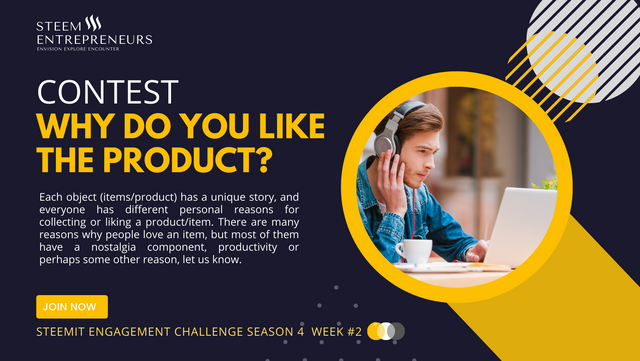 Each object (items/product) has a unique story, and everyone has different personal reasons for collecting or liking a product/item. There are many reasons why people love an item, but most of them have a nostalgia component, productivity or perhaps some other reason, let us know.
In the second week of the contest in the Steemit Engagement Challenge Season 2 - Steem Entrepreneurs Community provides an opportunity for steemit users to explore or describe their favorite items or products with us.
There are no product or item specific rules in this contest. You can describe one or more of your favorite items with interesting. However, it will be valuable if you share goods/products that can increase productivity and support your daily activities. Tell us why you like it.
Subscribe and post on the Steem Entrepreneurs Community page.
Write in any relevant language and at least 300 words.
Use at least 3 recent original photos of yourself and your favorite items/products.
Use the post title "Steemit Engagement Challenge S4-W2| My favorite product : .. your post title ...
Use the tag #steementrepreneurs-s4w2 #lifestyle #yourcountry among your first 5 tags
Make sure to use the hashtag #steemexclusive meaning it is never posted in any media.
Paste your contest post link in this post for easy search.
Upvote and resteem this post so that more people know about it
Invite at least 3 of your friends
Actively comment with other participants from various communities who joined the Steemit Engagement Challenge Season 4.
Participation times are between Monday, Sept 5, 2022, 00:00 UTC to Sunday, Sept 11, 2022, 23:59 UTC.
---
Participants will get a total of 15 STEEM prizes for the 3 best contestants.
The jury consists of Admins and Moderators of the Steem Entrepreneurs Community.
The jury's decision is irrevocable.
The main hashtag you should use is #steementrepreneurs-s4w2.
The contest organizer does not guarantee that every participant will be supported by SC01 or SC02.
The Steem Entrepreneur Community really appreciates the support of the contestants (not mandatory) for community growth by distributing 10% rewards to @steempreneurship.
Participants will get curation from the official @steempreneurship community account.
---
Contest Scoring Standards
All entries will be graded according to post quality and overall engagement pattern. The more interactions with comments and mutual support with other contestants, the closer your chances of becoming a contest winner.
| Description | Information | Score |
| --- | --- | --- |
| Plagiarism Free | ✅ | 0/1 |
| #steemexlusive | ✅ | 0/1 |
| Bot Free | ✅ | 0/1 |
| Verified User | ✅ | 0/1 |
| Markdown Style | | 0/2 |
| Quality Content | | 0/4 |
| Total Score | | 00/10 |
| | | |
We highly recommend following the @steemitblog account to get information regarding contests on the Steemit Engagement Challenge Season 4 - Week #2 from selected communities. Finally, we thank the Steemit Team for their support and to all participants : Happy participating!
Cc : @steemitblog | @steemcurator01 | @steemcurator02

Open opportunities for useful contributions and collaborations with steem power delegates for community development.
Please select one from the link :
Thank you to all stemians who have supported and encouraged us to work hard to advance the Community and STEEM to reach wider people.
Kind regards,
Steeem Entrepreneurs Team