A Walk through the National Cathedral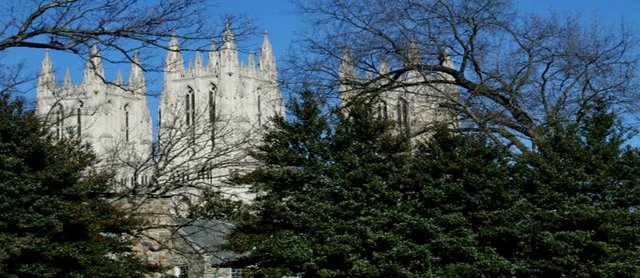 The Cathedral Church of Saint Peter and Saint Paul in the City and Diocese of Washington, is commonly known as Washington National Cathedral. It is a Cathedral in the Episcopal Church. It is located at 3101 Wisconsin Ave NW, Washington, DC 20016
Construction began September 29, 1907, when the foundation stone was laid in the presence of President Theodore Roosevelt, and a crowd of 20,000 people. Eighty-three years later, in 1990, the "final finial" was placed in the audience of President George H. W. Bush. On December 5, 2018, his funeral was held there.
I actually never knew that it was christened by another name until I was looking for dates. It is almost ridiculous because I go there all the time.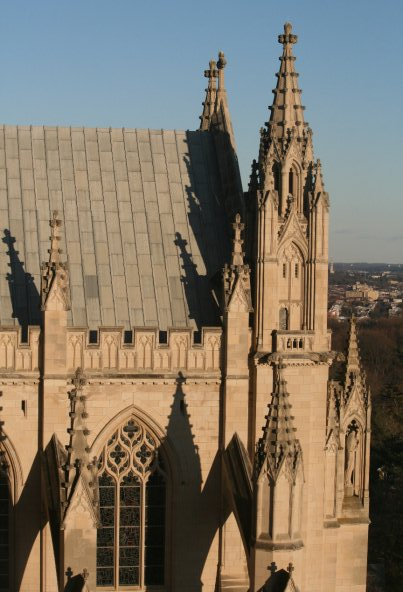 It is always and forever a pleasure to spend some time with some of my favorite people as we share our walks with each other. The idea is to get out for a short walk and get some shots of what you can see within a short distance of your home office or wherever you start. This will be my entry for #WednesdayWalk with @Tattoodjay. You can find his entry and an explanation of the rules suggestions for the challenge. You will find it here I will be taking my walk around the National Cathedral today. Oh, come on! Walk like an Episcopalian. You know you want to.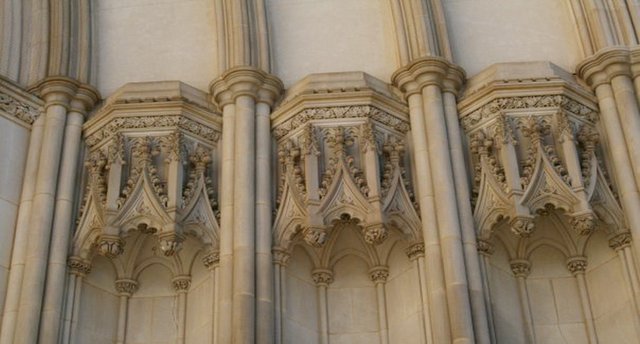 The entire building was constructed in 14th century English Gothic. There are three chapels in the crypt which are 13th century Gothic, Norman, and a blending of the two. A slight hint of Spanish gothic on the south portal, and a show of 15th-century fan vaulting in one of the chapels. It is distinctive and a true architectural delight.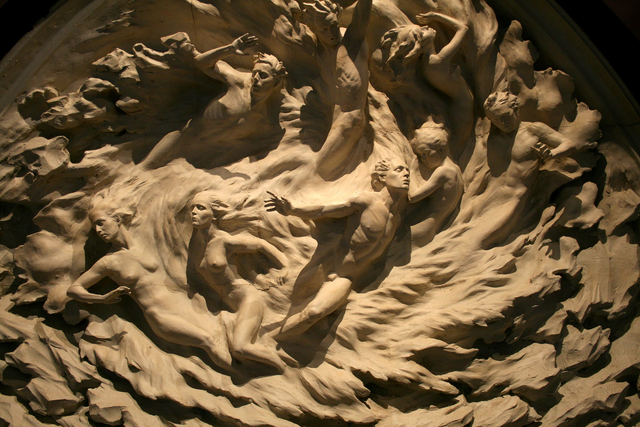 Making something out of nothing can be an emotion, artistic, religious, scientific, mathematical or a station in your life...it can be something awesome or show the trivial in human nature. Be all you can be.
This is a frieze over the West Doorway of the Washington National Cathedral named Ex Nihilo, which translates as "out of nothing," this carving dramatically shows life emerging from the void. Partially formed figures of men and women seem to be emerging from the swirling background — at Washington National Cathedral.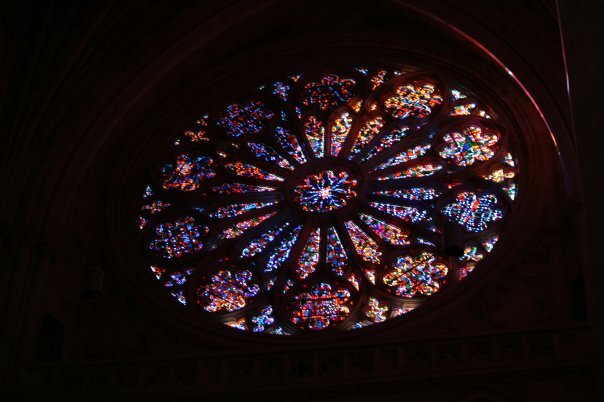 I love this window. There is something so beautiful in the fragmented art of stain glass. Did you know there are 215 stained glass windows in the Cathedral.

The stained glass has always been a challenge for me to photograph. There are no flash and no tripods allowed. Some places, no cameras allowed. It is a very dark church overall. Always the most incredible that you are not able to photograph.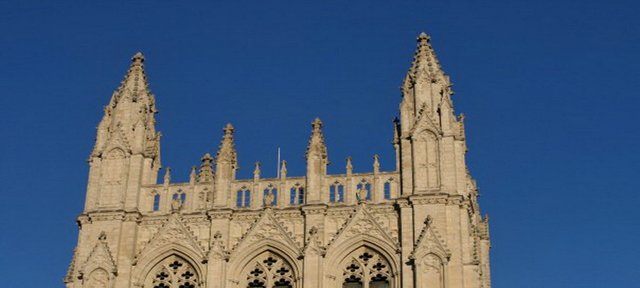 Elevator or stairs, you can make it to the top where you can view the opposite tower from the window. This is my view from the 7th floor. Tower to tower.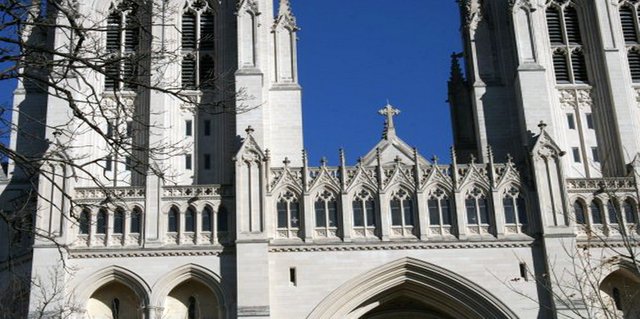 There are 112 gargoyles hanging out on the Cathedral. Let's climb up to the seventh floor and peek out the window. It gives me the best view of them.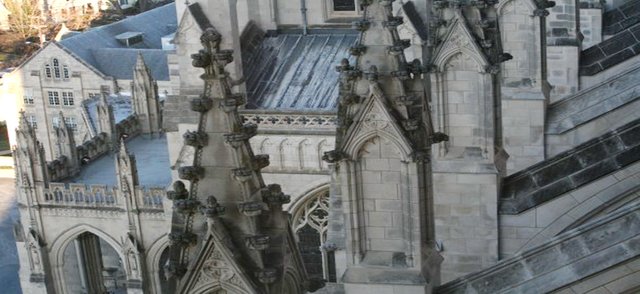 Did you know that they have a gargoyle on the West Tower of the Catherdral that is carved to look like Darth Vader? That is the rumor. The Cathedral held a nationwide contest for a design. Next time you go there, see if you can spot the Darth Vader gargoyle. Hint: Look high on the northwest tower.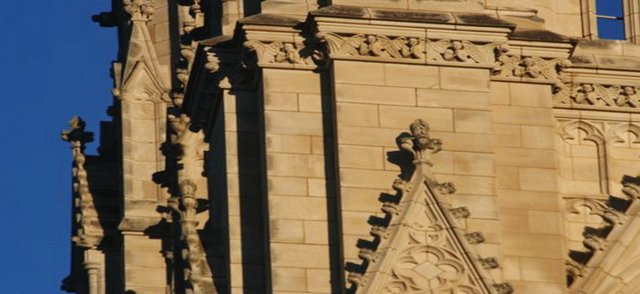 There are over 220 people interred inside the Cathedral. One of note is President Woodrow Wilson. Hellen Keller is also buried here.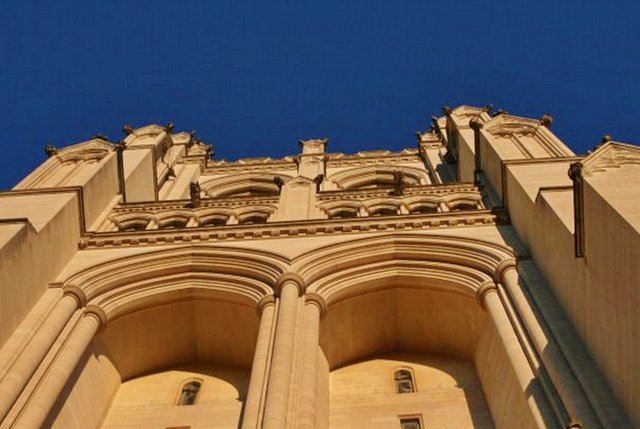 There are 288 angels atop the two west towers. Honest. If you don't believe me, you can count them. Good luck!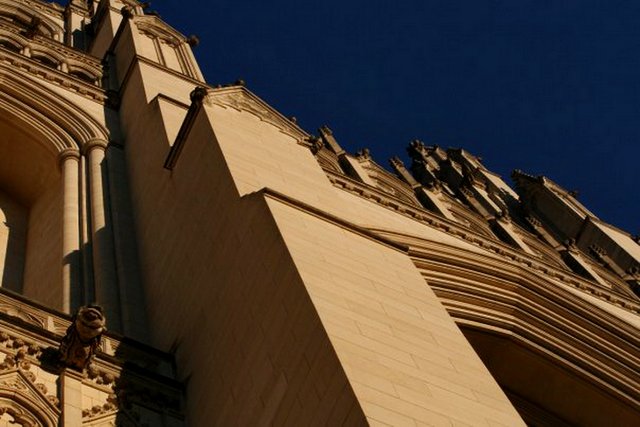 Washington National Cathedral is the sixth-largest cathedral in the world and the second-largest in the United States. Do you know the largest cathedral in the United States? The largest goes to Saint John the Divine in New York City.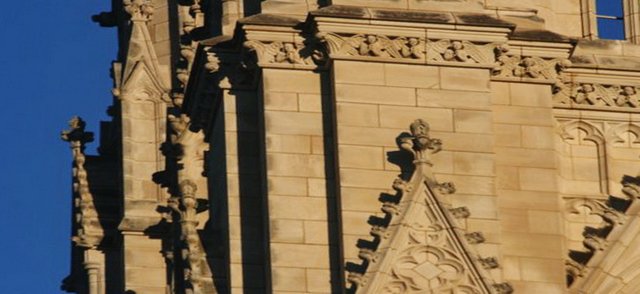 The Space Window on the south aisle of the Cathedral contains a piece of lunar rock. Truth. It is a stained glass window that has been nicknamed as such. Apollo 11 astronauts Neil Armstrong, Buzz Aldrin, and Michael Collins presented a seven-gram sample from the lunar Sea of Tranquility, five years after the landing after it was donated by the NASA director. President Nixon authorized the gift of the lunar rock, which is encased in an air-tight, nitrogen-filled capsule in the window.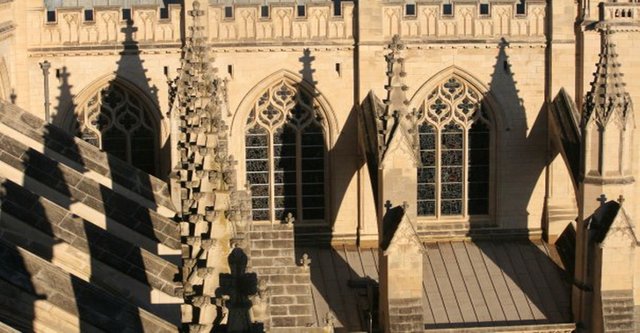 The Cathedral's central tower is the only place in North America to house both peal and carillon bells.
A "ring of bells" is the name bell ringers give to a set of bells hung for English full-circle ringing. The term "peal of bells" is often used, though peal also refers to a change ringing performance of more than about 5,000 changes. ... A set of bells rung in this manner can be made to strike in different sequences. source
A carillon is a musical instrument consisting of at least 23 cast bronze bells that are precisely tuned and arranged in chromatic progression so that music in any key can be played. Unlike other types of bells, carillon bells are fixed in a frame—the bells do not move. source

Flowers.There must be flowers. Always. In the midst of winter, I found there was summer lurking deep inside me. So, I dedicate this flower to #WednesdayYellow by @Kalemandra who colors my world, every day.
You can't have everything. But you can have a #WednedayWalk! And just like that, this post is over. Thank you for taking this #WednesdayWalk with me. There is nothing quite as refreshing as getting up and out early, seeing what the day has to offer! But, I promise to be back next week and we'll find somewhere different to use our steps! :) Have a great day and I want to thank @Tattoodjay for hosting a most wonderful challenge! Come back tomorrow and we'll do it all over again. Have a fabulous day!Life is good. Embrace it!
May the joy continue to radiate in your lives, long after the season is gone, gone, gone.
Love to all, Denise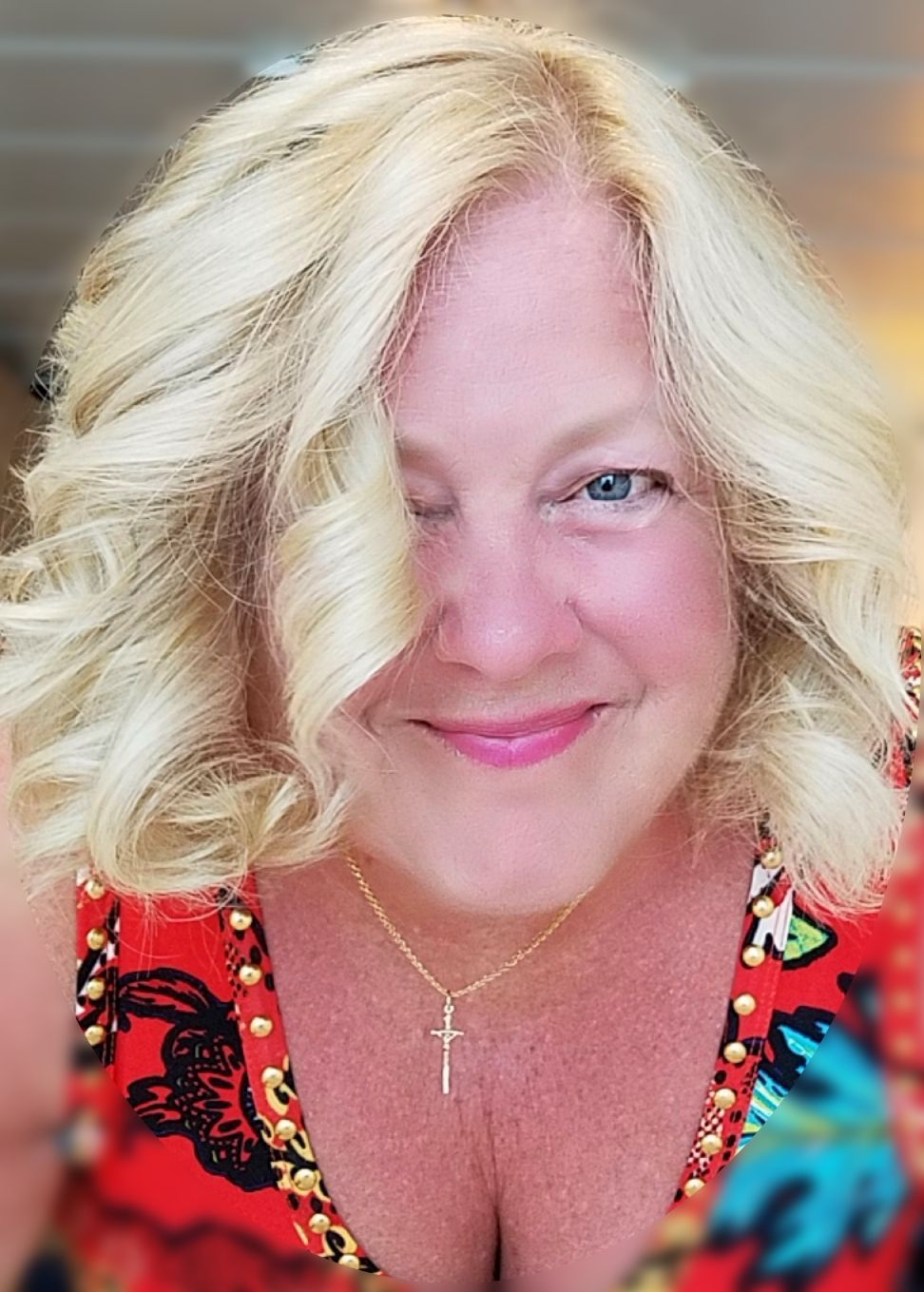 ---
I dedicate this post to all of you. You bring joy to my soul and spread your love across the world. For this, I thank you. And just like that, these musings are done...and just so you know, although we are throwing glitter around the globe, I can guarantee you that there is still a little left to take us through Christmas. Have a most fabulous day!
Thank you for visiting my post 💖 Because of you, I come back to post, again and again, I am encouraged by you, for the time you take to visit, comment or even upvote. For all of these reasons, I am eternally grateful. Don't ever forget what a wonderful world we live in, people. Some days, it is not as easy to see, how wonderful it really is. Kindness counts. Wherever you go, whatever you do.


they set my aunts house on fire
i cried the way women on tv do
folding at the middle
like a five pound note.
i called the boy who use to love me
tried to 'okay' my voice
i said hello
he said warsan, what's wrong, what's happened?
i've been praying,
and these are what my prayers look like;
dear god
i come from two countries
one is thirsty
the other is on fire
both need water.
later that night
i held an atlas in my lap
ran my fingers across the whole world
and whispered,
"where does it hurt?"
it answered,
"everywhere"
"everywhere"
"everywhere"
warsan shire

#Steemusa is a growing community of quality-content people from the United States or those living here. Check us out on Discord!