NEW CONTEST: Your favorite children's story 📖😊 / NUEVO CONCURSO: Tu cuento infantil preferido 📖😊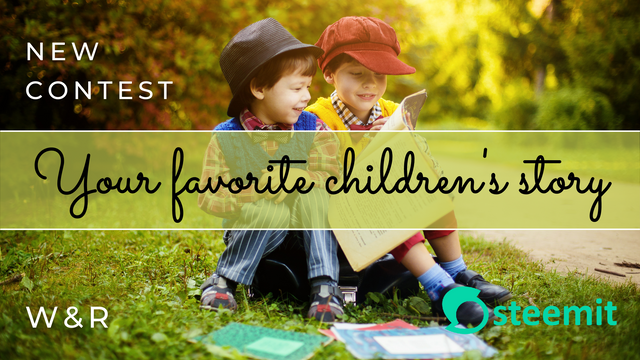 NEW CONTEST: Your favorite children's story 📖😊
We all have a story that filled our souls, right? Something that our parents or grandparents told us, a story that they read to us, a song that told a story that hid tremendous teaching.
Do you remember anyone in particular that has been in your memory since that moment?
This contest consists of you telling us what that story is. You can include:
Who told you
If you remember more or less how old you were
What teaching did it leave you
Summarize in a paragraph what the story is about
These items are for guidance, not a must
---
Rules are the following:
Any language is welcome. Your entry should be at least 200 words long.
Resteem this post, so that more people find out about this contest
Make sure to tag us! (@belenguerra, @writingnreviews & @fendit)!
Share the link of your post in a comment. We won't consider entries that aren't in this post or posted in other communities.
Share your post on Twitter, tagging @steemit, or on any social media you want (you should be able to show proof!)
---
Entries will be received until April 7th, 23.59 Argentina time
---
Prizes:
Prizes will be as follows:
1st prize = 9 STEEM
2nd prize = 7 STEEM
3rd prize = 5 STEEM
4th prize = 3 STEEM
5th prize = 1 STEEM
---
We hope you like this new proposal!!
Greetings,
Team Writing & Reviews

---
Español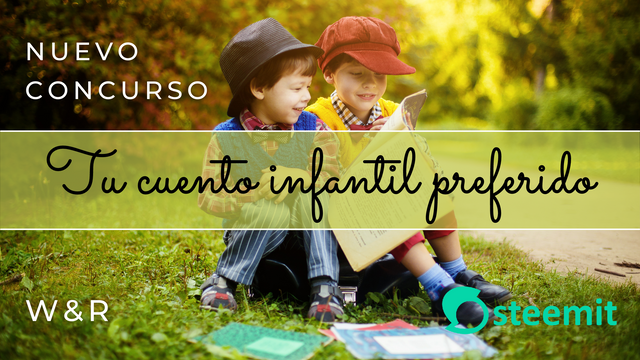 NUEVO CONCURSO: Tu cuento infantil preferido 📖😊
Todos tenemos una historia que nos llenó el alma, cierto? Algo que nos contaron nuestros padres o abuelos, un cuento que nos leyeron, una canción que narraba una historia que escondía tremenda enseñanza.
Te acordás de alguna en particular que te haya quedado grabada en la memoria?
Este concurso consiste en que nos cuentes cuál es esa historia o cuento. Podés incluir:
Quién te lo contó
Si recordás mas o menos cuánts años tenías
Qué enseñanza te dejó
Resumir en un párrafo de qué se trata la historia
Estos ítems son a modo de guía, no obligatorios
---
Las reglas son las siguientes:
Aceptamos publicaciones en cualquier idioma. Tu posteo deberá contener como máximo 200 palabras.
Resteemea esta publicación, así más personas se enteran del concurso.
Asegúrate de etiquetarnos (@belenguerra, @writingnreviews & @fendit)!
Comparte el link de tu publicación en un comentario. No tendremos en cuenta las entradas que no se encuentren anunciadas en este posteo o que estén publicadas en otra comunidad.
Comparte tu publicación en Twitter, etiquetando a @steemit, o en cualquier red social que prefieras (deberás mostrar prueba de ello!)
---
Las publicaciones se aceptarán hasta el 7 de Abril, 23.59 hora de Argentina
---
Premios:
Los premios serán dados de la siguiente forma:
1er lugar = 9 STEEM
2nd prize = 7 STEEM
3rd prize = 5 STEEM
4th prize = 3 STEEM
5th prize = 1 STEEM
---
Esperamos les guste esta nueva propuesta!!
Saludos,
Team Writing & Reviews