Steemit Engagement Challenge Season3 Week #1 |All About My Job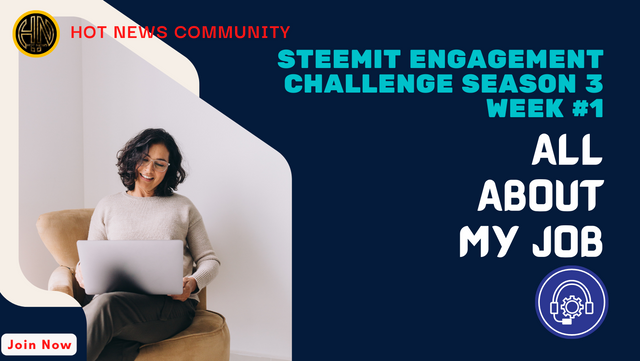 As you know, the hot news community has been selected as the community for the Steemit Engagement Challenge Season 3. This opportunity is very valuable for the community and all members to contribute to the development of this platform in the future and for this we thank the steemit team for their trust and support for the Hot News Community.
---
We hope that through the contest we hold will increase the participation of steemians around the world, where we can share various themes that are expected to increase knowledge and also friendship through this platform.
For the first week, we chose the contest theme "All About My Job".
Contest Theme: All About My Job
We chose the theme of this week's contest with the tagging #lifestyle where we think this theme has a wide reach so that it is hoped that many steemians in various countries can follow.
Everyone has exciting activities to tell according to their respective professions. In this contest you are expected to tell about your routine activities, whatever your profession, be it teacher, doctor, student, even a housewife and various other professions.
But the important point of the contest is that every participant will share its own activity. Original content is very much important.
Highlight the following topic/Points in this contest
You are free to be creative in telling daily activities in your profession and make posts as good as possible. As a help maybe you can tell some things like the following:
What are your daily tasks at your place of work or your daily activities?
What is the biggest obstacle you have ever experienced while doing this activity?
What is your greatest hope in the future related to your activities?
Mandatory Rules to Follow
Must be posted in the Hot News Community

Write in any relevant language

Write at least 300 words

Use a maximum of 8 recent original photos of your own (because of your work, photos from the internet are not allowed)

Plagiarism is not allowed so it will automatically be disqualified which means the post must be #steemexclusive

Use the post title "Steemit Engagement Challenge S3-W1|All About My Job : Your Title Post

Use the tag #hotnews-s3w1 #lifestyle #yourcountry among your first 5 tags

Include what3words.com map as your activity location

Participants are not allowed to use any auto-vote services

Paste your contest post link in this post for easy search

Upvote and resteem this post so that more people know about it

Mention at least 3 other users

Actively comment on other engagement participants from various communities that are included in the engagement community

Put your Steemit Engagement Contest link in other communities in the end of your post.

The participation time is between Monday, July 18th, 2022, 00:00 UTC to Sunday, July 25th, 2022, 23:59 UTC.
The grading of all the entries will be done according to this pattern, the more score you get the more support you will get.
| Verification Date | Month Date, Year |
| --- | --- |
| O'clock | 00.00 PM/ AM |
| Get Upvotes | 0 |
| Valid Comments from Other Users | 0 |
| Description | Information | Score |
| --- | --- | --- |
| Club Status | ✅or❌ | 2 |
| Plagiarism free | ✅or ❌ | 1 |
| #steemexlusive | ✅or ❌ | 1 |
| Free bots | ✅or ❌ | 1 |
| Markdown style | | 2 |
| Quality content | | 3 |
| Total Score | | 10 |
| Club Status Verification Period | Month Date to Month Date, Year |
| --- | --- |
| Transfer to Vesting | xxx.xxx STEEM |
| Cash Out | xxx.xxx STEEM |
| Results | clubxxx |
| CSI Vote | 00.00 (0.00 % self, 00 upvotes, 00 accounts, last 7d) |
Determination of Club Status refers to the https://steemworld.org/transfer-search Web-based Application
| Notes | Verefier's Development Notes |
| --- | --- |
---
---
We do not guarantee that every participant will be supported by steemcurator01 or steemcurator02
The jury's decision cannot be contested
The main hashtag for this contest search is #hotnews-s3w1
---
Conclusion and Expectations of the Contest
Participants can tell the daily activities in their respective professions as interestingly as possible which is expected to trigger readers to interact with the poster.
July, 17th 2022
Regards
The Hot News Community Team