JOIN HEART FARMS, AND BUILD YOUR OWN PARADISE.⛳SUMMARY

In recent years, online games have played an important role in an audience that takes time for distraction, and it is that the advancement of technology, the change in society, has led us to keep up with the requirements .

There are endless farm games, using different forms and technological resources, however, Heart Farms has been created with special purposes.The use that we give to our projects is directly related to the purpose, the vision that one has, we believe that this project that has begun with a land auction in Coast Esmeralda will be extended in a few months to a productive game for the whole family, and that in turn will be used in the real world to build physical projects and bless the earth.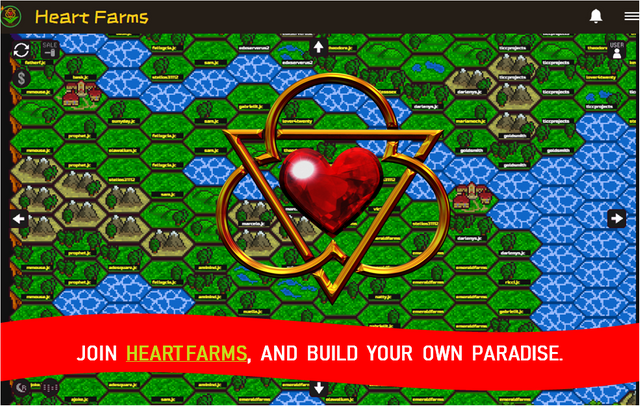 On the other hand, we are open to all types of public, and we want many people to join not a game, but a vision of life.We know that not everyone is familiar with what HeartFarms is and will be, how to get a plot, pay it, etc., for this reason, I have compiled some blogs that will be of great help to everyone.
Author
Blog
steemchurch
https://steemit.com/hive-108514/@steemchurch/launch-of-heart-farms-seeks-the-massive-adoption-of-blockchain-technology-to-strengthen-communities-april-10
cripto-investor
https://steemit.com/hive-108514/@crypto-investor/heart-farms-virtual-land-auction-feature-upgrades
crypto-investor
https://steemit.com/hive-108514/@crypto-investor/heart-farms-virtual-land-auction-auction-launch-recap
rubenmedina182
https://steemit.com/hive-108514/@rubenmedina182/eng-esp-shortly-after-starting-hart-farms-what-would-the-land-auction-look-like-tutorial-poco-despues-de-comenzar-hart-farms
marcelo182
https://steemit.com/hive-108514/@marcelo182/creating-a-jc-account-using-heart-farms-heartfarmsio
felixgarcia9
https://steemit.com/hive-108514/@felixgarciap/my-experience-at-heart-farm

With these publications, you will have a guide for your journey that begins in:




https://farm.heart-church.org/live/

You can watch @goldsmith.money videos for better understanding.

If you are a new Steemit user or simply want to know more about the organization and Ministry, you can consult our

HearChurch landing page.

Join our telegram channel

https://t.me/steemchurch_telegram

We cannot forget the benefits that we can obtain with these initiatives, not only in the virtual world but also in the real world, the family as a fundamental part of our vision is immersed in these types of activities, values ​​can be promoted from childhood in a virtual way, and Then in a real space, this is a great task for us in the project of children and families in Venezuela, the resources are available to everyone, we hope that technology will always be used with a good purpose: to leave the world better.

We officially welcome all people who want to participate in this beautiful initiative: individuals, families, ministries, organizations.

Websites of Interest.

HeartChurch
Goldsmith.money
TLCC Consultants Pte. Ltd

---