Topic III: Comparing and Contrasting between Decentralized and Centralized applications
Last week we majorly focused on decentralized applications and were able to explore their potential in impacting today's economy. For this week we are going an extra mile by comparing Decentralization applications and Centralization applications. Which ones will dominate the future?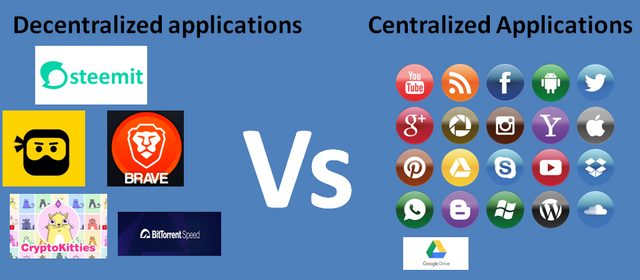 Plenty of people out there still prefer using Centralization applications to the newly emerging decentralized applications. Part of the reason is that blockchain technology is not yet fully accepted and incorporated in the systems of the current popular mainstream service platforms like Google, Apple, Youtube, Facebook. These are very popular apps that are still operating on traditional centralized models.
Centralized applications are applications software with different client nodes running and controlled on a central unity/client-server whereas decentralization applications are open-source software applications that run on a peer to peer network connection with no central server.
The following are the various categories and examples of Decentralized and Centralized applications
---
Social media category
---
| Decentralized apps | Centralized apps |
| --- | --- |
| Steemit | Facebook |
| Somesing | Twitter |
| Ecency | Whatsapp |
| yup | Instagram |
---
Games Category
---
| Decentralized applications | Traditional Games |
| --- | --- |
| EOS racing | Need for Speed |
| Splinterland | Supermario |
| Gods unchained | Donkey kong |
| Crypto kitties | Minecraft |
| Ethermon | Streetfighter |
---
Storage/file sharing apps
---
| Dapps | Centralized apps |
| --- | --- |
| Storj | Google drive |
| BitTorrent speed | Dropbox |
| Blockbase | OneDrive. |
| Xcloud | iCloud Drive |
Centralized apps
Merits
Quick updates
Since decision making is by the single central authority which has control over other nodes. Updates about the system operations are easily communicated to the other nodes.
Easy detachment of a node from the system.
In case one of the nodes in the system is not functional, it can easily be traced and detached from the system.
Easy regulation and monitoring of the different nodes
A single central authority can easily monitor and regulate all the activities going on in the application ecosystem. By using the Central server, another corrupted node can be shut down just in case of any suspicious threats coming from that node. For example, Facebook can easily block an account of someone who is spreading highly sensitive content that would cause political instability in a nation.
Cost efficiency in small systems
Centralized applications can easily be started and run since they require lower costs to start up.
Demerits
Higher risk of failure.
Once the Central server shuts down, then also other nodes in the network will follow suit. In other words, the entire system shuts down since all other nodes are heavily dependent on the operation of the central server.
Insecurity
Centralized applications are often targeted by hackers. Therefore in case of any successful attack, it means plenty of losses to the company and its users.
High management costs
This is in term of hired personnel to manage the central server System plus all other client nodes that are connected to the Central server.
Scalability issues
These are highly affected by scalability issues. These cannot accommodate an overwhelmingly increasing number of user activity and transactions. They usually slow down or even shut down when there is a lot of traffic on the network.
Minimal user satisfaction
Due to the supremacy that one main server has over other different client nodes in the network, this affects user satisfaction in that the users enjoy limited benefits from the ecosystem. For example limitations on what people should view and search on the centralized browsers.
Use cases; Examples include Personal computers, Single-player Games such as Grand theft auto, Need for speed, Mainstream platforms like Google, Facebook, Apple, Amazon, Paypal
Decentralized applications
Merits
Highly Scalable
Many dapps are highly scalable. They can handle an ever-increasing number of transactions in their ecosystem. A case in point is those dapps built on the Tron Blockchain, a highly scalable blockchain with high throughput.
High user satisfaction
Since they are highly incentivized, these contribute greatly to user satisfaction. They engage the users in the developing, and in the utility contribution to the network system.
More effective control over resources
Because every single node in the network makes its own decisions and exercises control over every innovation in its circles, hence an effective control over a huge number of resources.
Highly active nodes
Since the various nodes in the network can operate and make decisions on their own without being dependant on any single central server, this makes each node to be very active in the network.
Demerits
Difficult to achieve collective tasks
In decentralized systems applications, it's difficult to achieve collective tasks since decisions on the modes of operation are made independently by the different client nodes in the network system.
No regulatory oversight
There is no central server to oversee and regulate any faulty actions by any of the client nodes in the network ecosystem. This is why it's quite tough to get rid of spammers, plagiarists, System abusers in decentralized social media applications. Everyone is free to do whatever they want with the system. Too much freedom can also usher in other problems.
Costly to startup since it's not suitable for the small would-be a fordable systems applications
This is why dapps normally run fundraisers through the crowd selling their tokens in order to gather enough funds for their development and funding of their initial start-up.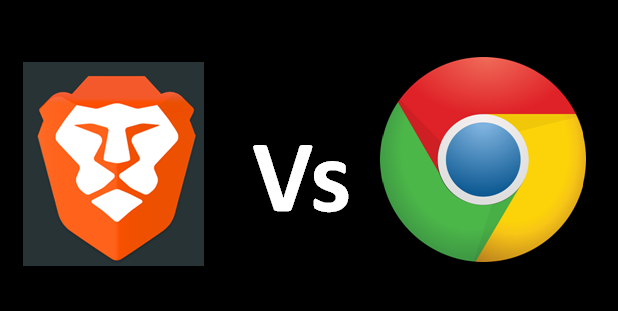 Brave Browser Vs Chrome
Brave Browser is an open-source decentralized web application software built on the Chromium architecture.
Basic Attention Token
Brave Browser has a cryptocurrency token called Basic Attention token that is rewarded to its users for viewing privacy-respecting ads.
Adblocking engine
Brave has the best ad blocking engine that tracks and blocks harmful ads. Nothing can be so annoying to browse the internet and get so disrupted every other time with hundreds of ads on every site you visit. Well has got its users covered with its unique inbuilt ads blocker that smartly keeps a check on the harmful ads.
Speed
Brave browsing is 3x and 6x faster than that of Chrome. This is attributed to the fact that the ads that normally tend to slow down internet browsing are blocked and this makes the brave browsing performance much faster. The web pages load very fast on Brave with no delays due to the inactivated ads.
Privacy protection
Brave puts the user first and cares so much about his privacy. Privacy protection is one of the core purposes of the brave browser. The users ought not to be a product rather they have got to enjoy their freedom while using the internet.
Transparency
Brave is transparent in the way that it provides its users with the entire information about its operation for example the ads revenue that it gets from Companies and organizations that pattern with Brave in a bid to have their ads running on Brave. 70% of the ads income acquired from those companies is shared with the viewers in form of Brave rewards and 30% goes out to the maintenance and sustenance of the Brave browser.
Demerits
Lack of Extensions and Add-Ons
Probably the biggest downside to Brave is its current lack of extensions, add-ons, and plug-ins.
While browsers like Firefox, Chrome, Opera, etc. seem to have extensions for almost everything under the sun, Brave's library is basically limited to password managers, like Dashlane and LastPass, and a handful of other extensions.
Some Features Still in Beta
Brave is still a work in progress, with features like ad replacement and the Tor private browsing tabs still in "beta" (which means they're not finished).
Doesn't Always Work Well with Every Site: There have been occasions where we had trouble using Brave for a site that worked fine in, say, Firefox. But this tends to happen with all browsers, from time to time.
Google Chrome
This is a centralized web browsing application software that is built on the Chromium architecture. It's a very popular browser that is widely used by many people all over the world while browsing the internet. It has a good extensions feature, it's faster than internet explorer and Firefox.
Merits
Syncing across devices
Google chrome allows syncing across all devices. This implies with just a matter of selecting the syncing option, all your browsing history, extensions are transferred to any of your other devices including mobile phones.
High-speed browser
Google Chrome has a high browsing speed compared to that of firefox.
Safe and secure
Chrome is often updated in order to protect its users.
Large extension base
Chrome has a large extension base which enables a user to use it more extensively.
Demerits
Privacy concerns with Google tracking
Chrome tracks every browsing activity of its users and stores all the browsing history and data which it uses to sell to the highest bidding companies.
High Memory and CPU Usage
Google Chrome consumes more CPU and RAM compared to other browsers. Though the browser is lightweight, high memory consumption will impact the use of other applications on your computer in parallel.
Changing Default Browser
Google is only a default browser in Chrome OS. However, on Windows and macOS, you need to change the default browser from Edge and Safari to Chrome. Even that will not solve the problem completely. Whenever you open HTML pages offline, the operating system will try to use the in-built browser. Though you can set up default apps for each file type in Windows, it is a hassle.
In addition, there are no possibilities to remove Edge and IE from Windows and Safari from Mac. So you need to live with multiple browsers to handle the same tasks on your computer.
Inconclusion, though Chrome is a prevalent web browser that is used by many people browsing the internet, Brave is most likely to outcompete Chrome in the near future due to its decentralized model of operation and its innovate feature of sharing ads revenue with its users in form of BAT tokens, which applies to those that agree to view ads on the browser.
Homework Task:
Compare and Contrast between a Centralized and a Decentralized application under any of these categories social media, Browsers, Gaming, Finance, Gambling, file Storage, Trading, Charity, etc.
For example;
Steemit Vs Facebook (Social media category)
Dlive Vs Youtube(Video platforms)
Brave browser Vs Google chrome (Browsers)
EOS racing Vs Need for speed (Gaming)
BitTorrent Speed Vs Google drive(Storage/Filesharing)
E.t.c
Guidelines
I expect you to talk about both the Dapp and its centralized application counterpart. Explain the advantages and disadvantages associated with both applications and give your conclusive remarks on which one you suppose will rule the future.

Post your article in the Crypto academy community

Use the exclusive tag #yohan2on-week3, #yourcountry, followed by other relevant tags

Tag me(@yohan2on) so that I can easily find your article

Your article should be a minimum of 300words

Share your article on Twitter or other social media forums just to help spread the word about steemit.

Homework task runs till 28th/02/2021