Steemit Crypto Academy Contest Season 9 Week 2 - All About The Tron Ecosystem
Introduction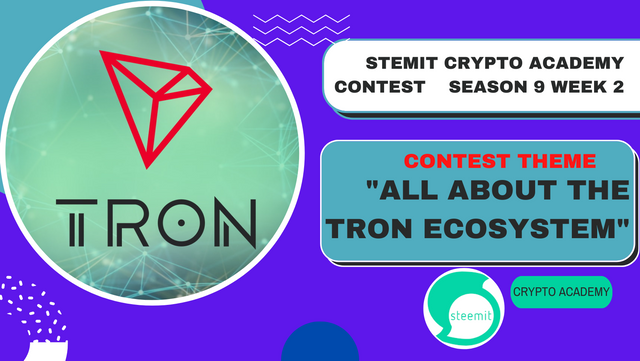 We are delighted in welcoming y'all to this week's Engagement Challenge as we are already into week2. We still have up to four weeks to remain together in the Academy. We hope you will continue to be sharing more of your knowledge about the crypto ecosystem with the audience

All About The Tron Ecosystem
Inside the TRON network, TronLink and Tronscan are the most used application softwares. The most function of the TronLink is to secure funding options, provide users with a complete functions and provide them a convenient experience. Meanwhile Tronscan is the first blockchain browser in the tron community which provides multiple login methods and supports a complete browsing and search option for users. It also enable it's user to look up, confirm and validate transactions on the Tron blockchain.
Since the TronLink functions as a decentralized wallet interface, it serves so many purposes and also integrates with some other dApps and has alot of dApps that can be explored within the TronLink. This TronLink dApp is a crypto asset from Other Categories which is built on the Tron protocol.
Using a TronLink wallet to carry out transactions is very easy, fast and less fee cost since TRC network doesn't requires heavy charges unlike other exchanges.

What is Expected in the Contest?
Explain what you understand by TronLink and Tronscan and their uses

Name and explain some of the different dApps that you explore using the TronLink wallet

How do you verify a transaction status using Tronscan. E.g, it should include the timestamp, bandwidth & energy. Screenshots also needed

Explain the process of initiating a transaction using TronLink wallet. Screenshots and practical examples needed

Contest Guidelines
Post your articles in the Steemit Crypto Academy community. The participation time is between Monday, April 24th, 2023, 00:00 UTC to Sunday, April 30th, 2023, 23:59 UTC.

The article should be at a minimum of 500 words. You can write more. Your article must be free of any form of plagiarism.

Your article title should be Steemit Crypto Academy Contest / S9W2 - All About The Tron Ecosystem . Add the tag #cryptoacademy-s9w2 and other relevant tags.

Participants must be verified and active users on the platform.

The community moderators would be leaving quality assessments on your articles and probable upvotes.

In addition, your article must get at least 10 upvotes and 5 valid comments to count as valid in the contest, so ensure you interact with other users' entries. Do not be involved in vote-buying.
Rewards
SC01 would be checking on the entire 7 participating communities and upvoting outstanding content. Upvote is not guaranteed for all articles. Kindly take note.
At the end of the week, we would nominate top 3 users that had performed well in the contest and they would be eligible for votes from SC01/SC02.
---
Important Notice: The nomination of the top 3 users in our community is not based on good grades alone, it includes their general engagements (quality and quantity of their interactions with other users' articles) to measure the overall performance. Also note that generally, you can only make one post per day in the Steemit Engagement Challenge.

Conclusion
It's a pleasure continuing with y'all in week 2 of the engagement challenge at the crypto academy. We believe that y'all will share to us your ideas on this contest topic and we will get to learn alot from one another. So we hope everyone will have good information to discuss about this topic.
Please always endeavor to stay original and give in-depth analysis to all the required contest questions so as to gain maximum scores. Stay blessed @everyone