Downtember is leaving.. Uptober is coming..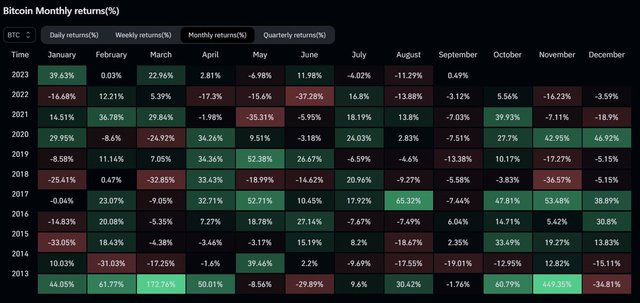 Look at the table representing the Bitcoin(BTC) monthly returns. Septembers have been almost bearish markets. This month this year is also not a good market condition.
However, Octobers have been showing bullish markets. Crypto investors say that October is Uptober. I agree. The crypto market has suffered a correction market condition during the last 3 months. It's boring and tiring. I think the the next month would be better.
The Fed decision date of the Federal Funds Rate is coming. 2 days left. 99% market participants anticipate that it will pause. The time is coming for BTC.
Compared to NASDAQ, crypto investors have had a difficult time due to the decoupling from NASDAQ. Well, while 🇺🇸 American stocks have been showing the powerful market conditions, Now, it's time for the baton touch.