Sugar is an essential ingredient for the body. Our Body needs Carbohydrates to generate energy and to keep us functioning. Carbohydrates get transformed to Sugar in the body and creates energy for us to survive and carry on with our day to day activities in a healthy manner. Energy is very important for the body. No Energy that means No Life. But then Sugar is as equally harmful to the body also. Most of the health problems like Obesity, Diabetes, stress levels, heart diseases are majorly due to Sugar.
There are two types of Sugar: Natural Sugar and Added Sugar or the Artificial & Processed sweeteners.
Natural Sugar - This is the Sugar that we get from the unprocessed foods like the Fruits, where the calorie intake is less and water intake is more. They are good for the body. The Fructose from the Natural sugar sources does not raise the glucose level in the body, but again if taken in too much quantity can be harmful.
Even the most healthiest food if consumed in excess can cause harm to the body so anything that we consume should be in moderation.
The Artificial or the Added Sugar
This is the major culprit for all the problems in the body and it is so tempting that we are not able to resist our urge. It comes in all different forms like the aerated drinks, Chocolates and Pastries, Sugar syrups, chocolate bars, candies and so many more. Most of the packed frozen food has high content of sugar. Where natural sugar forms are full of vitamins, the artificial sugar are full of chemicals. The sugar in the Strawberry and Coke is not the same. So it is upto us to decide. The Artificial sweeteners can have labels like low or no calories but they are all chemical compounds and not real natural food.
The Natural form of Sugar like Honey, Fruits are safe, or going for sweeteners like Stevia which is made from plant or coconut sugar in moderate levels is safe.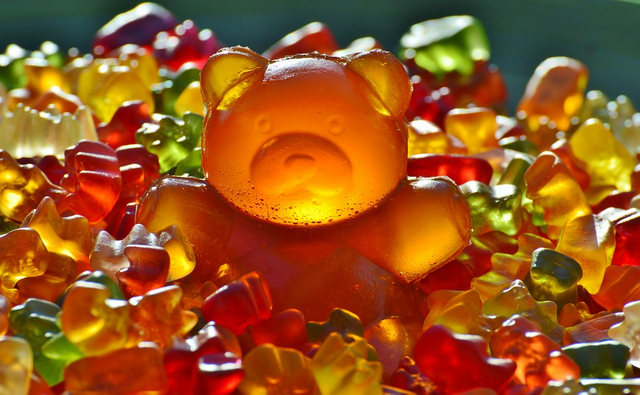 Source
Our body gets Sugar from almost all the meals that we consume like from milk, dairy products, vegetables, barley in all different forms such as Fructose, Glucose, Lactose, Sucrose, hence we need to be mindful about the additional sugar intake that we consume.
When unhealthy sugar is consumed in large quantity it will spike up the Glucose level in the body and create all the possible health issues including the leaky gut which in turn will create Autoimmune disorders in the body.
Once in way treating yourself with Sugar is fine but regular intake of high unhealthy sugar means high cholesterol, diabetes, inflammation, high blood pressure, heart diseases, obesity and what not. Think before your consume; is it beneficial for you?
Thank you for visiting my blog.

GIF Courtesy
@enginewitty
😍😍
My other blogs of Interest
---
---
Member of
---
| | |
| --- | --- |
| Supporting People Who Help Make The World A Better Place @ecoTrain | |
---