Remember that Healthy Book that my son, Jeremiah gave me for Christmas?
It is my #3 New Year's Hopeful.
Here it is: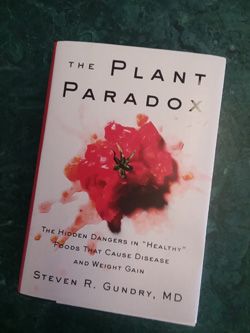 Step #1 – Read the Book.
http://thechalkboardmag.com/what-are-lectins-the-plant-paradox-interiew
So I have been reading the book for the past couple of weeks during down times at work and it is fascinating and kind of goes against everything that I was taught about being Healthy. I went back and had to re-read parts of it to understand it!
I think I have the foundational part of the understanding down, which is important to really be able to apply this to my new healthy lifestyle I am beginning. And it fits my symptoms that I am hoping to get rid of. And it makes Sense!
So I am putting it out there …. I am going to try this.
But PLEASE, NO haters!
I only want positive feedback!
… and if this kind of thing is not for you or you think you know something better, than good for you. I support you. But I really don't want to hear about it. I don't want everyone trying to talk me out of it or debate with me about what they think is good for me to try something different. Only good vibes and support PLEASE!
With that said, I am going to share my journey on my blog so I can keep track of what I am doing and where I have been.
So, like I said above – Step #1 is to read the book!
And I found Dr. Steven R. Gundry's Face book page to help me along with tips and recipes. This is going to be good!! https://www.facebook.com/GundryMD/
Stay Tuned! : )