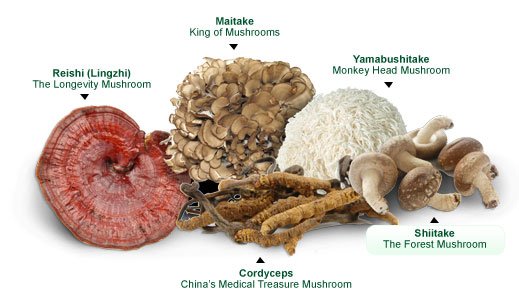 (nootropicsdepot.com)
Medicinal Mushrooms and Western Society
When you tell someone about medicinal mushrooms you are often met with skepticism and disbelief that simply eating more (and the right kind of) mushrooms can have profound health benefits. For reasons that I don't understand and can only speculate on, mushrooms are valued least in the western world as part of a healthy diet. It is particularly confusing when western people generally know about the 1928 discovery of penicillin by Scottish scientist Alexander Fleming when he discovered his staphylococcus bacteria in a petri dish were killed by an accidental fungal contamination. Indeed most antibiotics are commercially produced by bacteria and fungi.
Packed full of a variety of ingredients, certain mushrooms can have powerful and demonstrated health benefits. Unfortunately most of the more potent species are not common in western supermarkets, and thus diets, and the mushrooms that are common are of very little medicinal value. Essentially, button mushrooms are to mushrooms what iceberg lettuce is to leafy greens... basically worthless. Just a cursory list of health effects include:
Lowered Cholesterol Levels
Anti-Allergic/Anti-Inflammatory Activity
Anticonvulsant Effects
Cancer Prevention/Treatment by inducing apoptosis
Antioxidant/Cardiovascular Protection
Diabetes Suppression/Hypoglycemic Effects
Probiotic/Gastrointestinal Health
Liver Health/Hepatoprotection
Immunostimulation
Brain Health/Neuroprotection
Improved Cognitive Ability
Nerve Growth & Regeneration
The Varieties I Grow
Here I'll introduce you to the mushrooms I grow, chosen primarily for their health benefits and ease of cultivation. These are all generally very low maintenance after the initial work and grow from hardwood logs in moist & shady areas.
Lentinula edodes (Shiitake)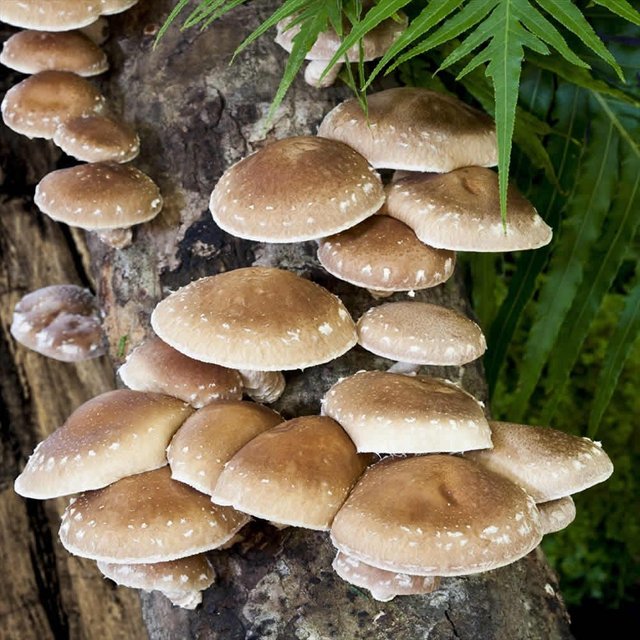 (amazon.com)
Pleurotus ostreatus (Pearl Oyster)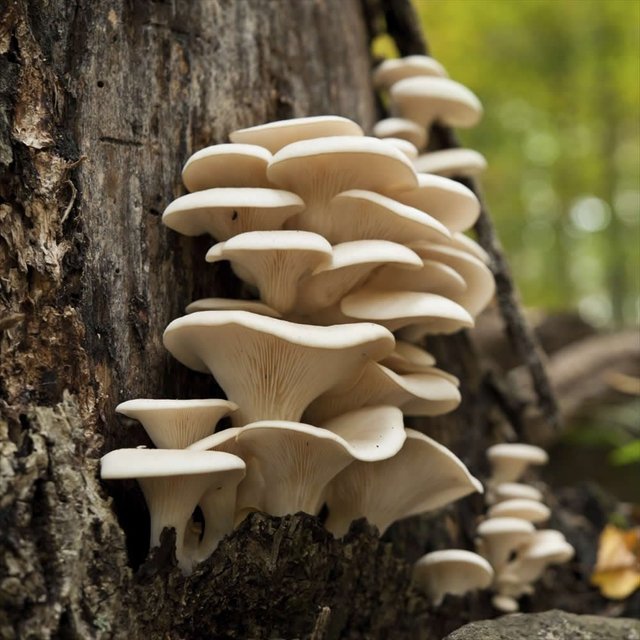 (amazon.com)
Ganoderma lucidum (Reishi)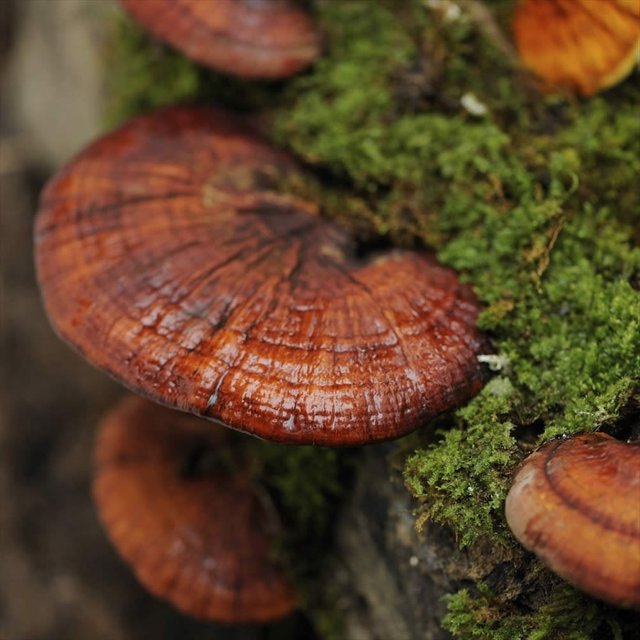 (amazon.com)
Grifola frondosa (Maitake)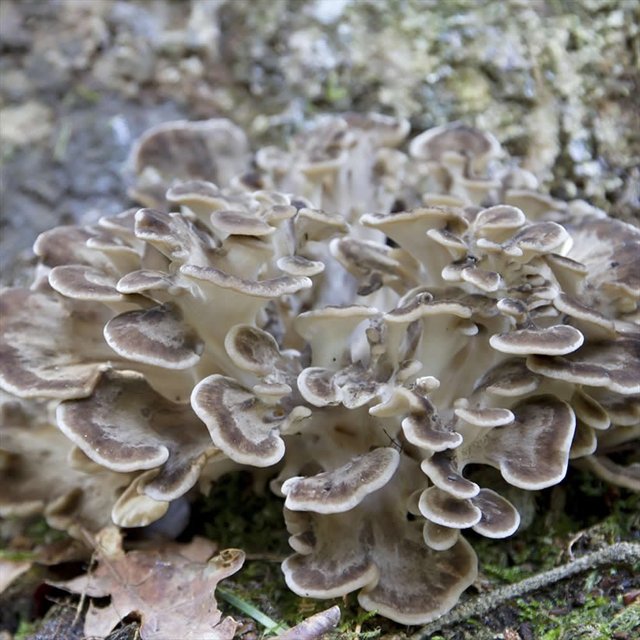 (amazon.com)
Hericium erinaceus (Lion's Mane)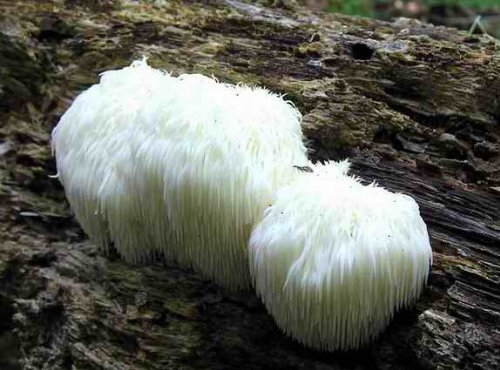 (amazon.com)
Trametes versicolor (Turkey Tail)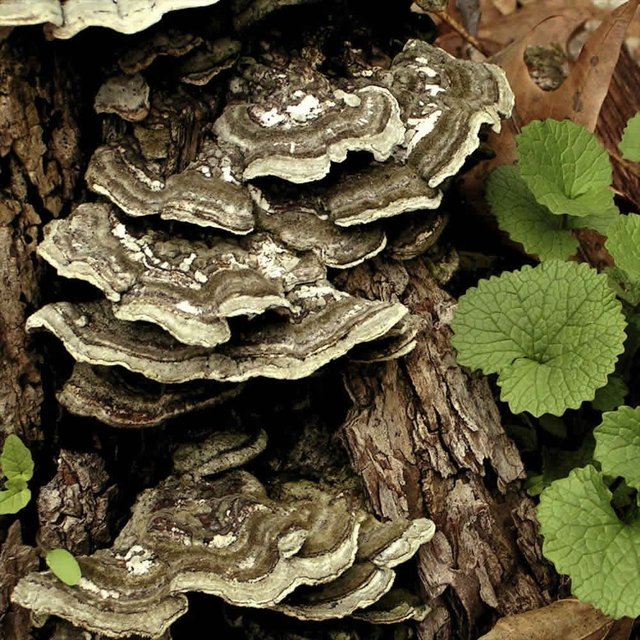 (amazon.com)
How to Grow Them
Out of all the medicinal mushrooms some are easy to grow at home while others are next to impossible... Cordyceps for example, which grow as parasites on insects and other arthropods. Others are able to grow with little to no effort when seeded in common hardwood. For simplicity I focus on the common hardwood varieties as my insect husbandry isn't so good.
You must use fresh hardwood logs (not split like firewood). Also, for these species you cannot use evergreen wood such as pine. Immediately after being cut wood will be attacked by all the varieties of fungi in nature so the logs must be fresh and healthy. You should acquire the live mushrooms of your choice from somewhere like Fungi Perfecti. They come in the form of hardwood pegs already populated with that species of mushroom. This is what they look like: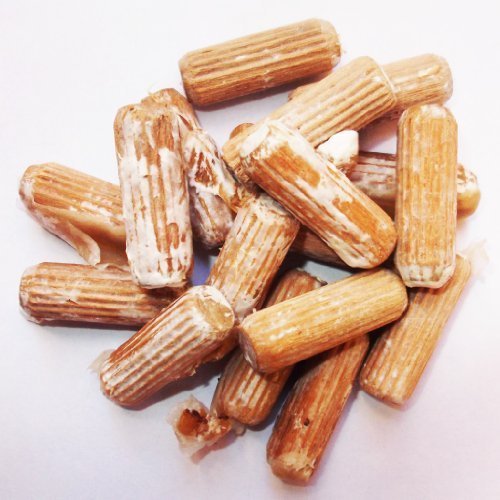 (amazon.com)
Soak the log overnight in clean rainwater or RO/DI water. Never expose the logs to chlorinated or contaminated water as fungi are often quite sensitive to environmental exposure like that. This ensures there is adequate moisture for the fungi. Drill holes and pound in these dowels till they are flush with the log. Using cheese wax or raw organic bees wax, paint over the holes to seal them in. Do not use paraffin waxes as they contain various toxic chemicals (for you or the fungi). I prefer to paint the cut ends of the logs as well but not before engraving an identifier in the end so I know what species a log contains.
Build yourself a rack to place the logs on. PVC works excellent for this as it is cheap, strong, nontoxic, and prevents contamination. You cannot put the logs on the ground or they will be overtaken by other (potentially toxic) species of fungi. Place this rack and your logs in a moist and dimly lit area. Wooded or bushy areas with shade are great. Sit back and wait for a year or two.
When the logs are getting close to full inoculation you'll see mottled patterns appear on the cut ends of the logs. Soon they will fruit and you'll have your clean organic medicinal mushroom source for years until the fungus had consumed the entire log (depending on the climate, your care, and size of the log).
My Shiitake Log From 4Sept2016
Here is my first years fruiting begin on my Shiitake log! Like all produce, they were much more delicious "straight from the vine" than the old shrooms you'll get from the store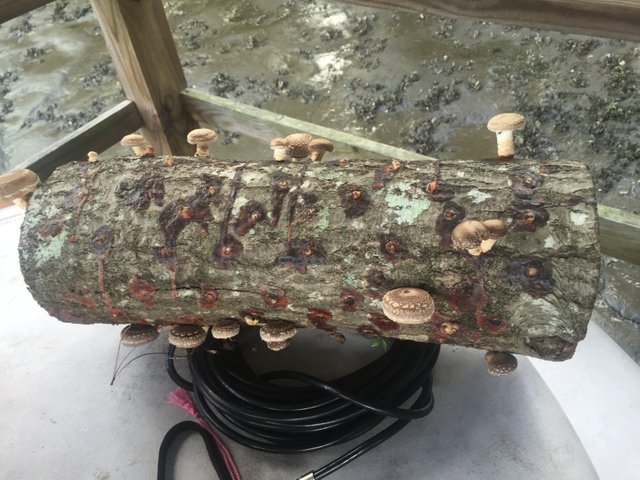 (my own work)
Shiitake and Reishi I grew from bags of woodchips/sawdust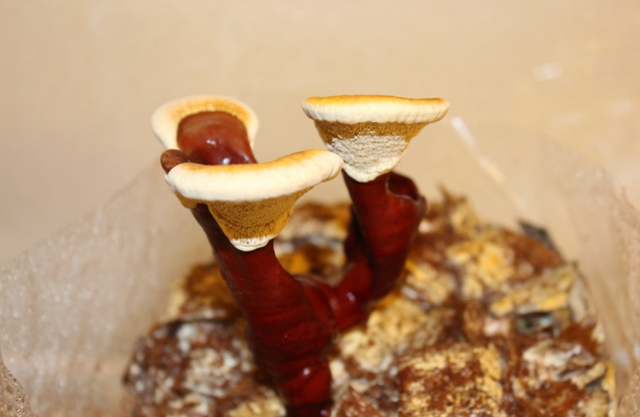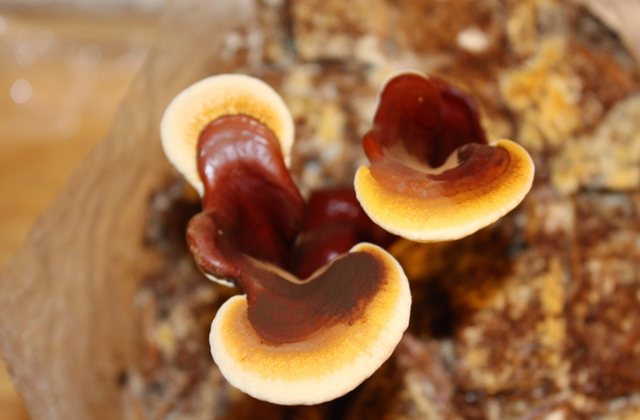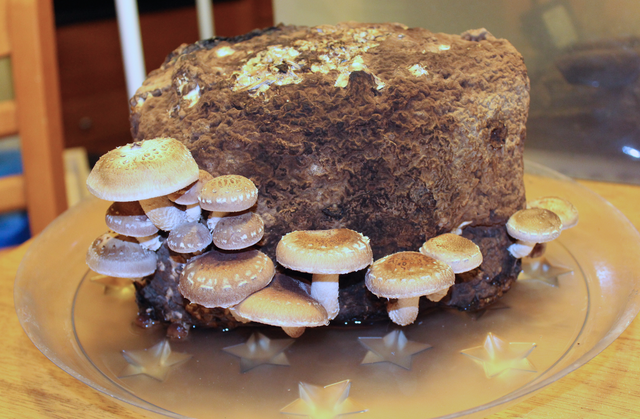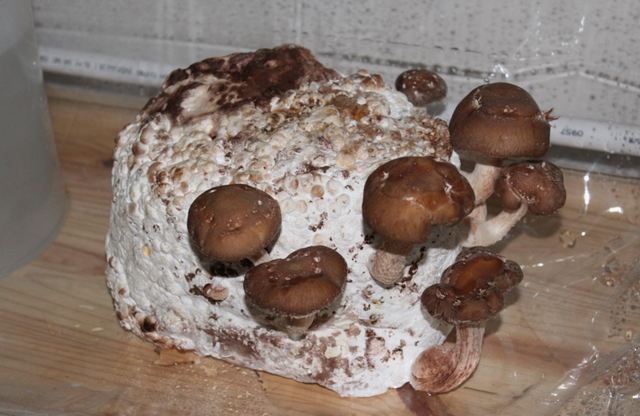 (all my own work)
Update. More photos of mine as requested by @quinneaker!
Taken mere moments ago!
Where my fruiting shiitake resides now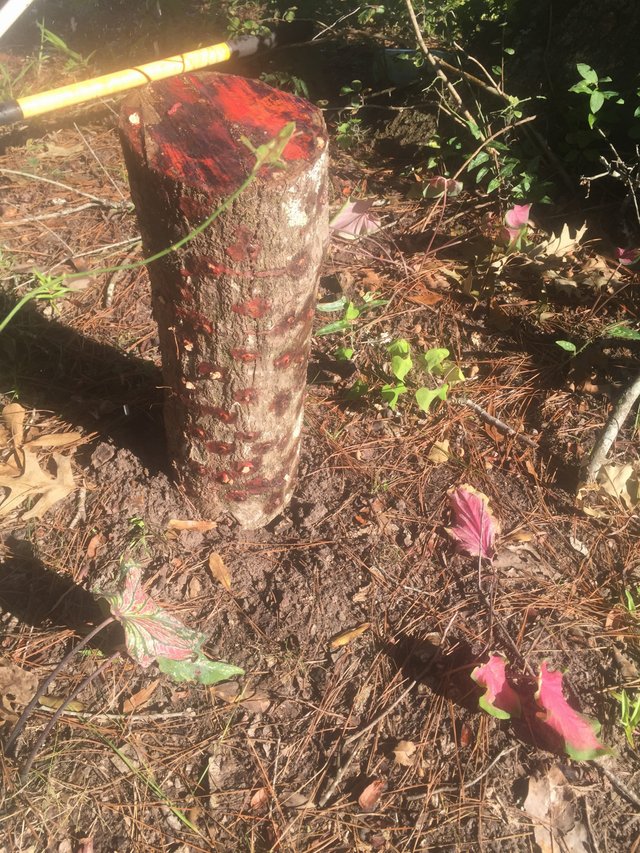 2-3 year old logs totally spent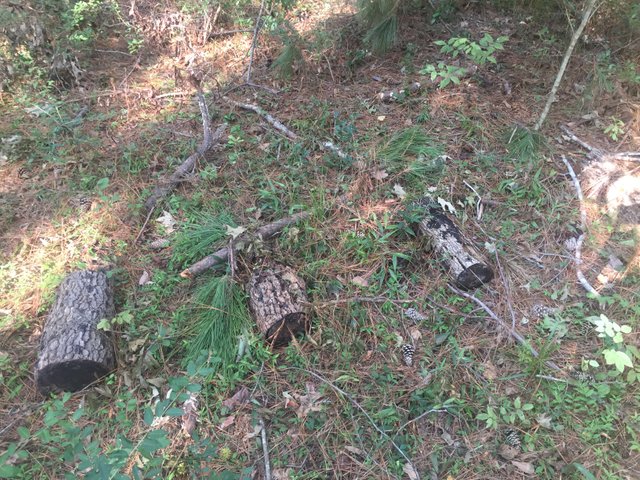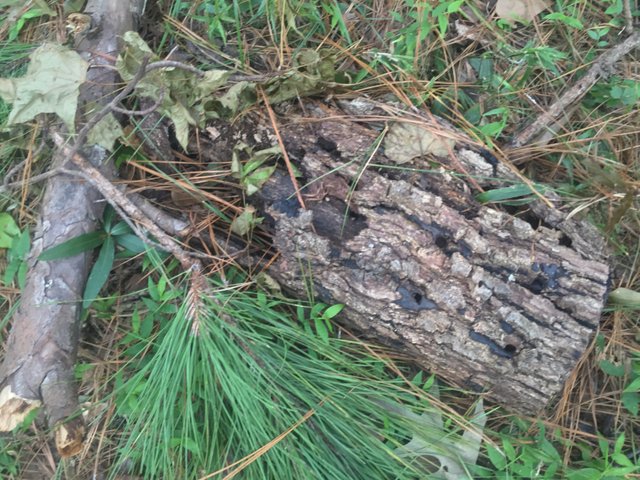 Where this years logs sat for the past 9 months
Presence of native species tell me the location is ideal light and moisture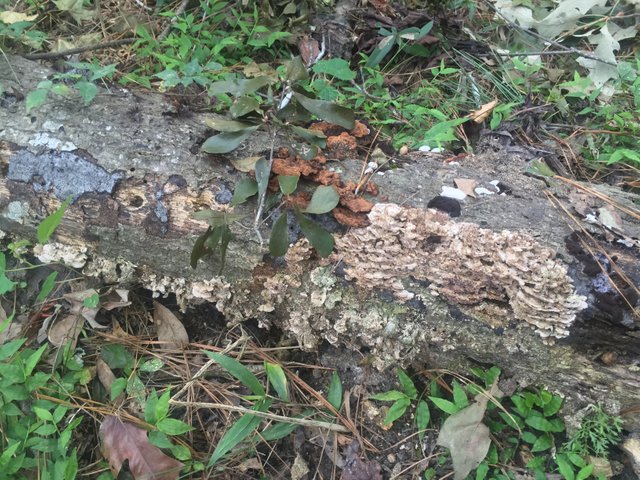 I hope you enjoyed this article! If you liked it give it an upvote. If you loved it follow me @hunterisgreat. If you hated it, provide me some constructive feedback! Thanks and Steem On!