Haturday, evil @grumpycat, and other random stuff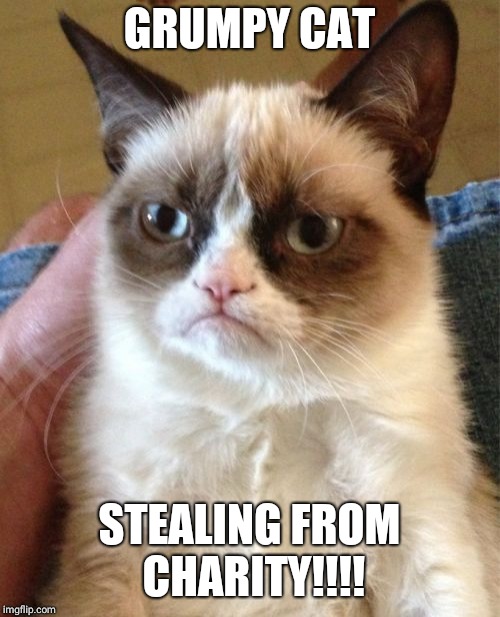 Hi Steemians! I edited this post from the original to bring something to your attention. I want to let you all know about something awful that @grumpycat has done. I'm sure you've heard of @grumpycat but maybe you don't know the specifics. He claims to be on the forefront of combatting bidbot abuse. Fighting bidbot abuse? How would one define abuse? Well I would define it as someone who spits out crappy posts 10 times a day, for no other reason than to use bidbots and make a profit. Posts that have no substance. Posts that add no value to the blockchain. Sounds noble right?
Well here's the thing. @grumpycat is an evil contradiction. He wants all bidbots to adhere to a 3.5 day rule, yet he downvotes posts that are younger than 3.5 days. Not only that, @grumpycat only downvotes quality posts!!
So that poor chap who poured his soul into an article for 3 hours, an article that deserved attention, an article that was worth much more, he scraped together some sbd and paid a bidbot, and the hardworking author is the one that gets downvoted!!
BUT NOW @grumpycat HAS CROSSED THE LINE!!
@grumpycat is taking money from charity!! Let me explain: @sneaky-ninja is a decent and responsible bidbot. Not only does @sneaky-ninja combat bidbot abuse by working with steemcleaners to actively root out spam posts, this bot and its owner @michaeldavid recently announced that a percentage of @sneaky-ninja's earnings will be donated to @youarehope. @youarehope is an amazing organization that helps people in need all around the world, using the blockchain as a means to raise funds. Here is the post that announces this great new initiative. This post was doing well, getting a decent amount, a post in which some of the payout might give food to hungry children, or maybe it will buy mosquito nets in areas where malaria is running rampant...
Well what I wanted everyone to know is that @grumpycat chose to downvote that post by $45!!!
@sircork, the founder of @youarehope, and other kind folks helped to restore some of the value, but even so... this was a heinous act, and something needs to be done. We need to increase awareness about what @grumpycat is doing. Please help spread the word that @grumpycat is essentially stealing from charity here!!
In other news, the love it/shove it challenge is really taking off and I'm so excited!! I love reading everyone's posts! My voting power is only at 37%, 75 hours until full , so I'm not going to vote on any of them right now. If Steemit would let us bottom feeders have a slider, that would be awesome! I don't like using Busy or esteem. Someone once told me you can download a slider, but only with a computer, and I use my phone. Does anyone know this: If I were to go to busy or esteem and adjust the slider, would it stay that way even if I wasn't using the site or app? That way I could vote on all these fantastic posts, restore my voting power, and stay on Steemit...it is my goal is to comment on each love it/shove it post though. ❤ If you've never heard of the love it/shove it challenge, I'll give it to you in a nutshell: write a post explaining 5 things you love, 5 things you dislike, tag other people you'd like to get to know better, and use the tag #loveitshoveit That's it! It's kind of a community building endeavor. If you're interested, anyone can join! Read the original post here if you want more details! https://steemit.com/loveitshoveit/@snowpea/the-love-it-shove-it-challenge
Also, it's #haturday, a tag started by the beautiful @saffisara, so wear your favorite hats and post a pic!!
Here I'm sitting with my favorite little 3 year old! She's such a sweetie! Yesterday her dad asked her, "How much do you love me?" She looked really thoughtful for a couple seconds and said, "Hmm...14" Maybe 14 is a really high number for her.

Today I'll be kinda busy, because I have to take my daughter to the dentist about a half hour away. Other than that I'll have some dumb household chores to do, but I will catch up with everyone soon! 🙂
A few other random thoughts:
I wish smartphones were designed to die at 5%. This way if you weren't near a charger, and the phone was dead, and there was some kind of emergency, you would be able to at least make a phone call.
How high does a bullet go when shot straight up into the sky?
I miss my old cats, Cosmo and Willow. They were best buddies. I want to adopt a couple of cats again. Two when they're kittens, so they'll be friends.
Why doesn't Steemit search remember our searches? It would be useful, instead of having to type the whole thing out again? Why do the suggestions for user names only include some Steemians?
Well, have a great #haturday everyone! Thanks for reading! 😃
Love, snowpea ❤