An in-depth take on Steem's business Model beyond speculation with Introduction of @the1Ramp
It's great to see unique business Initiatives like @steemmonsters coming on the Steem Network. It is exceptionally promising but no matter how attractive these businesses appear, I firmly believe the Ultimate goal of the Steem Blockchain is to enable seamless content Monetization.
Why content monetization?
It's because the Reward pool is designed in that way and it is the heart of the entire system.
I also believe the strength of Steem is directly proportional to the strength of the reward pool.
The perfect business Model for Steem should take the Reward pool above the current speculations. Strengthen and stabilize it and create actual demand for Steem Tokens in a far more tangible way than it is right now.
I really want to thank @aggroed for Initiating this contest and @cryptoctopus for supporting it. I don't know if my entry will qualify for the contest or not but I will take this opportunity to talk about the perfect business model of Steem Blockchain from a very fundamental level which is based on prolonged analysis of the Steem Tokenomics and emerging field of cryptoeconomics.
Creating Tangible demand for Steem Tokens beyond Speculation
I am going to talk about something controversial here. Please bear with me.
And that is Advertising.
Issue 1: I have Interacted with a section of community members on this topic and somehow the perception has traveled to people that Steem is a kind of Anti-Advertising tonic.
Issue 2: Steem is a content monetization Network. For this system to work as desired there needs to be capital in the system. The reward pool itself should be functional over a tangible business model and prevent speculation.
Inspiration to tackle the Issue: Inducing Capital in the System:
Bitcoin is still the spine of the cryptocurrency market. It has been able to provide strength to the entire crypto market because it induced in a lot of traditional capital over last few years.
And the majority of this capital is believed to have came from the Wall Street(Stock Investors), It created a promising funnel through which money from traditional system came in this new emerging system and inflated it.
Solution: There needs to be a similar and more sensible funnel for Steem:
This means, to make the system stable and rewarding, Capital that exists in the traditional Social Media space should flow into the Steem Blockchain. In simple terms the rewards pool should be Inflated but not in a speculative manner but rather in a tangible,stable and use case based approach.
Analysis: Shifting the flow of capital and creating the funnel:
The Capital in the traditional Social Media space is almost entirely from the Advertisement Industry. Facebook's Revenue in 2017 was $40 Billion and out of that $39.9 Billion was from advertisements. Sweet :)
But ads are bad, Right?
There are 10 Million Online businesses globally and if online advertisement vanishes many business owners won't be able to spread their businesses, not even in their neighborhood. Majority of Software and Digital Marketing companies will vanish overnight, Thousands of Artists will lose their bread and butter. Events will go unnoticed. Millions of Restaurants, hotels, travel agencies, online tutors, developers, freelancers will run out of business.
I have a firm belief that if you are talking about a use case like a Social Media you can never ignore Advertising. That's where the gold is.
Advertising has been in a bad light because of the way it has been portrayed in the recent years. It seems Advertising platforms like Social Media companies have exploited the entire human race to to maximize their revenue. They have invaded privacy, sold sensitive content of users, manipulated elections, messed up the content ownership and in the end swallowed all the profits which was actually generated due the hard work of content creators across the world.
Steem Blockchain has the only chance to solve this problem and in-turn create a sustainable business model:
Increase the user base to reach a specific threshold at the Application level on the similar lines as @ned mentioned in his SteemFest talk that we need a breakthrough at the Application level. (Instagram's growth rate started to explode after reaching a threshold of 5 Million Users) but reaching and crossing this threshold means a lot more Steem Accounts are needed (we need to solve that problem as well, I have talked about it in the next section)
Once the account creation problem is sorted and Steem has reached a threshold of users, there should be a robust and advanced Advertising tool in place which can enable advertisers to promote content on the Steem based Platform by using Steem Tokens. They should get Influence on the platform to promote content through the purchase of Steem Tokens.
This use case should create a competitive demand for Steem Tokens on the exchanges which should be fueled through advertisers, it would mean that users can instantly sell their Steem to advertisers at a competitive equilibrium price. This would enable a fair compensation of user's value addition on the platform.
It will be different from traditional social media in a way that on facebook an advertiser will pay the company to promote their content but on a Steem based platform an advertiser will pay a user to purchase steem tokens and promote their content using the Influence bought or simply by delegating Influencers who could help in creating their brand presence.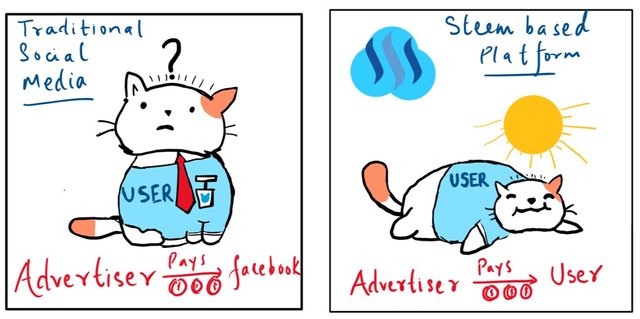 Having an actual use case for Steem Tokens will ensure demand and steer away the token from Speculative pricing.
Solution to the Account creation Problem
The solution is that you shouldn't solve the damn problem.
Steem needs at-least a 100 million accounts to become a Platform of Global household Influence and stand eye to eye to traditional social media platforms. 100 million account is not possible right now, it will make entire Infrastructure go crazy and put a dent on it.
If you can't provide enough of something, make it a luxury.
 Shift the mass focus from complaining about not being able to create a Steem Account to feeling privileged on having one.
How?
I openly advocate for the fact that all Steem based Platforms currently need a hybrid account creation process to keep alive any chances of going mainstream. Enable an engaging system where users can access a part of your platform through a guest account. Identify credible and valuable users through a robust system and 'hold their hands to a seamless Steem Account creation' — In @Andrarchy 's words[From a conversation during SteemFest with him and @birdinc].
Let me put forward an example to show how it's possible, Our plan of doing it.
Online competitions were one of the first use cases of Internet and it is still so popular. Right now there is nothing better than the Steem Blockchain for a use case like online competitions. We have built an automated tool to seamlessly create, run and manage contests right from the 1Ramp app. Users can create contests, get jury members, declare results, automate winner announcement post and prizes.
We are working on the hybrid account creation process in the 1Ramp App where our goal is to drive competition creation and participation from within and outside the Steem Community.
Our target is to enable Instant Steem account creation for contest winners to enable them to leverage the Steem Platform. We have found this to be the best way to on-board quality users. A winner of a photography contest or an art/music/literary contest is definitely supposed to add more value on a platform than an average user.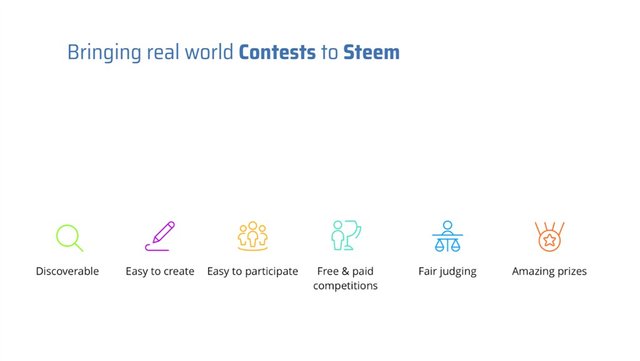 Community based Model
We are not in the year 2005, where everyone was building their online community. Now everyone has a community and you cannot expect them to start over again.
To give you an Idea of the real issue, I got a national bestselling author from India to post one of his blogs on Steem only to get 2 upvotes and 1 cent in earnings. The issue is that he was not part of any community that recognizes him.
Now imagine if i get him to post the same blog on a group of literary enthusiasts what kind of reception this would get.
It took us six months to figure out that Steem needs a community based model, adding a layer of monetization over an existing social media model is not going to create a difference in this space.
Accordingly we are working on an Initiative called #WeAreOne to on-board creative micro-communities based on user Interests.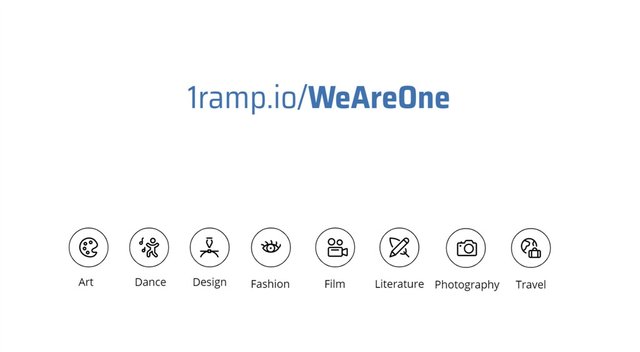 You will be able to see the contest feature and #WeAreOne in full colors before Christmas.
Our SMT Plan(Business Model):
We are working on content Ownership embedded on a non fungible token which is represented through a gamified system of digital collectible cards, which can be traded, sold or gifted. We are really excited about this and exploring this project together with a gaming company. The plan is to Introduce this unique concept for the Artist and creative community.
I cannot share much about this at the moment but will write more, as it progresses.
Team
We are a team of six Computer science engineers/ Developers who are working full time on 1Ramp. We are a Blockchain startup Incubated at Nasscom (Apex body of $154Billion IT-BPM Industry in India) under an exclusive program for emerging tech startups and supported by the Government of Haryana(India).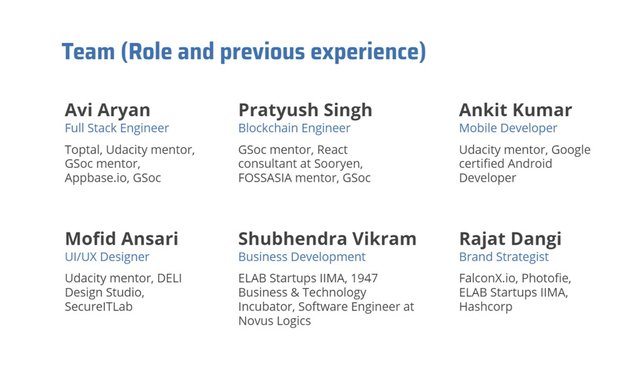 Our Golden Nugget:
We had been working on several blockchain projects. Recently we have turned down a couple of really good projects after the electric #SteemFest to work exclusively on 1Ramp and for the Steem Community. It was a tuff decision as we are a bootstrapped startup but the team believes in the Product and recognises it's time to go forward with all guns blazing. There wasn't a better time than now and there wouldn't be.
Steem On!
---