Please read this one.
After 8 days away from blogging to enjoy, observe & absorb my trip, I decided to make a special post series to personally thank some of those who really took the time to get to know me.
Genuine respect, interest and thoughtfulness mean the world to me, so this is my way to show my appreciation.
I went to Austin to see my friends and make new ones, so Justine's "People are the value..." line says it best.
---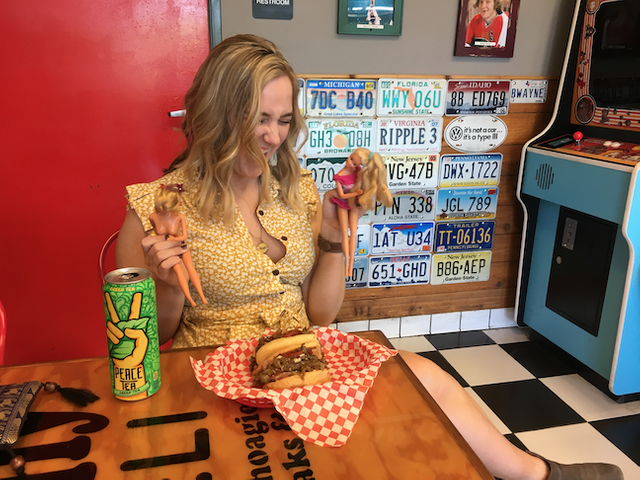 This was us after a solo thrift store training mission and genuine Philly cheese steaks, but there's a LOT more behind it, and a surprise at the end...
---
The Start:
After going to a clothing thrift store with @aggroed, @coruscate, @llfarms, @maryjaney and @aussieninja, on the hunt for clothes (not my speed), they let me drag them to a Goodwill a few minutes up the road for my leg of the journey.
While the Goodwill was huge, I immediately knew the store would be a bust when I saw a section at the front of the store with all of the the good items locked up for an auction. I've never seen this before at any Goodwill across the country, so I was frustrated to not be able to show them some of the ropes via successful snipes.
Regardless, we walked around and some people asked questions/for advice as I tried to salvage my pride. There wasn't anything worth taking that would be practical to bring home on the plane or ship, so I couldn't give them many examples.
Despite this, Mary started tagging along more towards the end as I combed over things with sincere interest to see how I operated naturally. While I wasn't able to score anything worthwhile/transportable, it was nice that she was dialed in to listening and learning. It's hard to get anyone I know to do that where I live, so that alone meant a lot. It doesn't take much for me, just little things like this.
As we wrapped up at the store, I encouraged everyone to go back to catch the bar crawl event while I stayed out to refuse defeat. Just when I was certain I was going to spend the afternoon alone around upper Austin hopping from store to store to salvage my day, Mary said she wanted to join. She wanted to learn more and watch me in action. Shocked because that NEVER happens, I wasn't going to turn down some good company.
---
The others left, and we walked for about 15 minutes in the sun to the next store, a Savers. We had a nice talk on the way and I promised her an iced tea for her troubles.
The store was big and well organized with good pricing. Hope was better here. Shortly after arriving, she said something about her past that froze me because I could immediately connect with it from mine. She told me about something personal that showed a lot of trust, which was no light matter. I offered a bit of personal info about my history to show that her story was safely understood.
We walked around as I tried to share tips and explain my process. After a bit, I decided to flip the script and give her a chance to look for herself, where I'd be her mentor to guide/answer as she needed help. She's thrifted in the past, but not with the intent to resell. She's interested in starting to flip items, so she took the opportunity seriously and paid attention! A+ for effort and for even getting down on the floor to check on the bottom shelves where people hide good stuff.
Here she is looking through a wall full of Barbie dolls she had product knowledge on from her relative's collection. While I glanced over them as newer/low value dolls, she immediately spotted one from 1966! Bingo!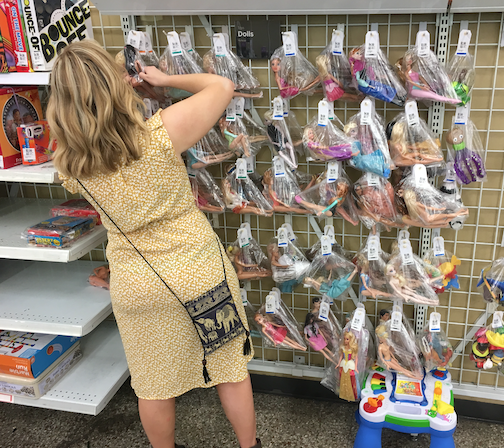 Where there's smoke, there's fire, so we dug through the rest and some more at the front of the store to find one more from 1966! She knew exactly what she was doing and was actually teaching me. Touché! It was nice to see her have some success on her own, making my striking out meaningless now. She wanted to get two others, but I helped her understand that they wouldn't be quite as profitable/worth the effort.
As she went to pay, the dolls were actually half off (surprise win), so she got both for about $6 (almost nothing), and will be able to sell them for ~$60. Not a bad start, especially when she found them on her own and got to experience the rush of finding a vein of potential profit. I'll help her through the rest of the process when she's back home.
---
The next stop was her promised iced tea and a victory cheese steak, at a place that was straight out of Philly, with all of the sandwiches named after Rocky movie characters. It was authentic to say the least.
The sweet taste of victory: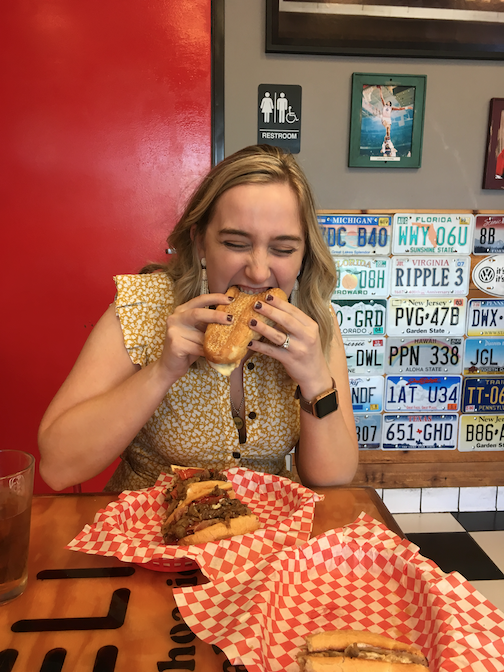 Now the story gets real...
This is where I really want to thank Mary. Over lunch, we got to talking about what she mentioned when we first got to the store. Her openness encouraged me to reciprocate about some heavy personal things I've gone through, so much so that I was admittedly crying at the table. She actively listened through everything with empathy and care. Yea, the cheese steaks were that good.
She then followed with a shocking story to keep the vulnerability going, which had my jaw on the ground. I didn't expect this at all, but respect went from about a 100% to 2,000%. Mary is a warrior.
It was all raw, open, respectful and good for both of us to talk about these things we often get stuck with for valid reasons. We both understood each other in the deepest of ways most won't get.
We exchanged some advice, a good hug, and wrapped up to get back in the sun, before hopping in an Uber to join the rest of the crew. We talked some more about lighter stuff for the ride and got back to relaxing with some drinks by the river.
---
Part 2:
Here's a shot of her playing and singing Snow Patrol's "Run" after I nudged her to play the night before at a two-step bar. As she warmed up on the keys, the world stopped when she started singing. It was simply awesome to see and hear. Her voice is amazing, and self-taught.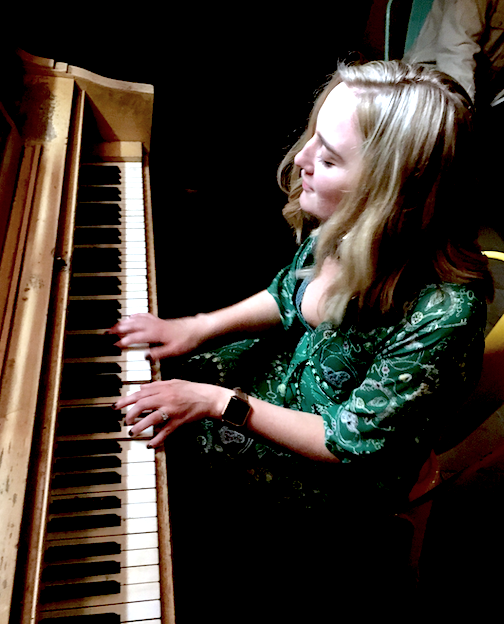 The song's lyrics are powerful and ironically relatable to our pasts. Start playing the song and read on...
So... as a thank you for helping me when I expected an afternoon seeking victory by myself (per usual), and caring to hear what I've had to unfairly go through in recent years, this Thank You begins with my story above, and concludes with this promise below...
I've never EVER deliberately sang for anyone in my life, except two karaoke songs no one really heard, and a voice file I sent to a professional singer/actress I knew for feedback years ago (she gave me a B+ on 40 seconds of Ain't No Sunshine).
Singing for someone else is one of my biggest fears. I don't know if I can sing well, but it's always been a wish of mine. My ex caught me once singing falsetto on her puppy cam and raved about it, and my band mates stopped playing when they heard me singing along to our Coldplay cover two weeks ago, but I have no confidence in it. I've been trying to develop my voice for years late at night, walking the empty city streets with no one around...hoping the practice would make me passable.
SO, to push myself to try to overcome this fear of singing outside of my turtle shell, and not guaranteeing anything good, I'm going to practice and learn Snow Patrol's "Run" to record it for her.
This is where anyone who knows me for my entire life would faint.
I've been singing it all day and will bust my ass for weeks to try to get it to a presentable level to make good on this... and grow as an individual in the process. If it isn't good, I'll live with it, because the meaning behind this will be the perfect note, regardless of how I sound.
Promise made.
::Gulp::
Thank you, Mary,
Matt