135 STEEM ~ Graphics Design Contest: qiibee
Welcome to the Sponsored @MediaWorks Graphics Contest! Status: CLOSED.
Start Time: ~8 AM ET, Friday
End Time: ~8 AM ET, Tuesday
qiibee is sponsoring a graphics design contest here on Steemit!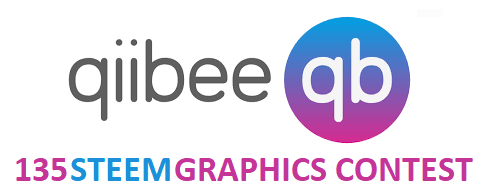 Prizes: 105 STEEM + 30 Bonuses

1st Place: 21 STEEM
2nd Place: 16 STEEM
3rd Place: 13 STEEM
4th Place: 12 STEEM
5th Place: 10 STEEM
6th Place: 9 STEEM
7th Place: 8 STEEM
8th Place: 6 STEEM
9th Place: 5 STEEM
10th Place: 5 STEEM
11th - 40th: 1 STEEM Bonus

Deadline: 96 Hours
qiibee is running a Sponsored OriginalWorks Contest. Feel free to take a look if you want to learn more about them!
qiibee is a blockchain based project aiming to take the loyalty program industry by storm. qiibee will offer businesses the ability to tokenize their loyalty programs, allowing them to be traded amongst each other.
Current Market
The loyalty program market is a large industry. Many businesses now offer their very own loyalty rewards programs that are intended to keep customers coming back. In most cases customers will receive a loyalty card from a gas station, grocery store, brand name clothing store etc, with the promise of being able to receive discounts in the future. They will than use this card at the point of purchase to collect points that allow them to save on their future purchases.
The Good & The Bad The Good
Customers can get rewarded for shopping! This is a great advantage of loyalty programs. Customers have an incentive to continue shopping at their favorite stores, while businesses get a loyal customer.
The Bad
The point system is very rigid. There are places customers shop once a day, and there are places customers shop once a year or once in a lifetime. This means that a lot of potential rewards go unused, leaving loyalty points wasted.
This is where qiibee comes in. qiibee will act as a platform for customers to be able to exchange between various loyalty points. Loyalty points from any of the participating businesses can be traded to QBX and between one another.
With qiibee, customers can shop at any store with confidence, knowing that their rewards can be applied in another location. This will instill confidence in the customer, as well as make the loyalty program more attractive for customers.
qiibee is running an airdrop which can be found here.
They are also running a Steemit exclusive airdrop on top of that!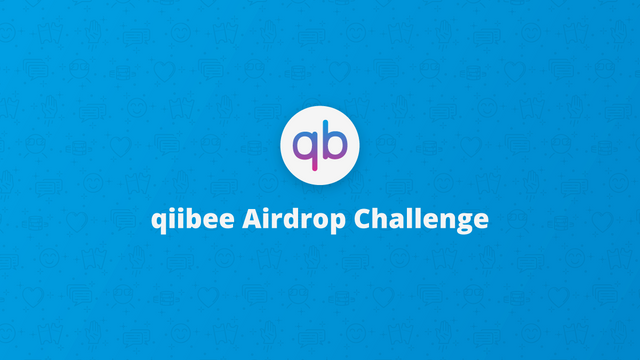 Feel free to partake in this airdrop, as it is only for Steemit users. All you have to do is:
Join the qiibee Telegram group.
Send a memo to @bountyworks containing your Telegram username and ETH address.

Please strictly follow the format above to qualify!
This airdrop will only run until May 30th, at which points all the ETH addresses will be sent over to qiibee. They will make sure that the users are still on Telegram and reward the QBX.
The rewards for the Steemit exclusive airdrop is 50 QBX for up to 2500 people.
Graphic Information
Make a graphic that is relevant to qiibee as well as their goals. These will be images that may be used in their articles, or just to show their followers! Feel free to stick to the color schema of their logo, or create something totally unique. It can be anything! Maybe a graphic of a customer earning loyalty points. Maybe something to represent a unified loyalty marketplace. A flyer, a logo, a comic, or whatever you feel will best represent qiibee in a graphic! As long as it is appropriate and relevant, anything goes. It can be humorous or technical. The most important thing is that your image is creative and original!
Contest Rules & Submission Information

Create a post with the graphic (If you are participating in the @OriginalWorks contest please make sure you make a new post for this contest. They are separate events.)
In the post provide a short description of what qiibee does and why you chose the design (mandatory).
Leave a link to qiibee.
At the end of your article, add the word "qiibeegraphic2018".
Link your post in a reply here.
You will get a reply from @mediabot on your post to confirm that your submission was entered into the contest!


If you don't get the reply, don't worry. The most important thing is to leave a link to your post as a reply here. Feel free to let us know if your article did not receive a @mediabot confirmation, and we will look into it!
More Information & Resources:
Disclaimer: @MediaWorks makes no claims as to the legitimacy or operating procedures of contest topics. @MediaWorks does not offer any sort of investment advice. Please note, in the case that you receive a prize, your images may be used by the contest topic company.
An @OriginalWorks submission cannot be submitted for this contest! It must be a separate post! Good luck to all the contestants!