Gaming Posts of the Week | Alpha | Moar of These, Please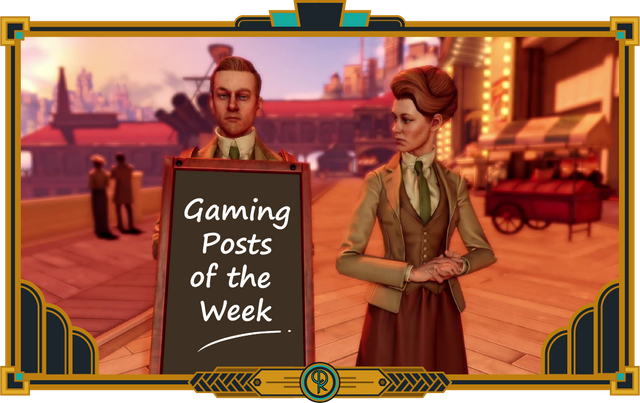 Lutece Twins
Thursday, 5 July 2018.
---
How's it going, Steemian? It's me again in weekly Lutece's Posts of the Week, where you'll find some of the most enjoyable posts to read on Steemit. I hope this post not only can bring more viewers for the mentioned authors, but also help you readers to find some gud stuff to read easier. Now you can sit back, and I hope you'd enjoy these posts as much as I do. Here's this week's some of the best gaming posts...
---

So... I didn't follow this "Gaming Disorder" news, really. But one thing I know is everything that is too much is not good, that is include gaming. This is a long article but it explain why and how gaming can be good for educational purpose, and how you should avoid getting addicted to video game. 
---

This post is... when you're into some game so much you'll see the part of the said game that most people will likely overlook. The message behind the design choices, the philosophical lining of the game, it could be anything from any part of the game. And for me, such thoughtful read is very interesting. I've experienced this train-of-thought before for another game, quite similarly. 

A bit tired of reading? Try to have some rest... with more reading! But you'll have a chance to win a game from today's gaming giveaway hosted by fellow Steemian. Check it out! 
---

Have a trip down memory lane with this post that invites you to discuss a buttload of great games in the past according to the year stated in the title. If you scrolled down the post but don't see your favourite game(s) there, put down your baseball bat! Because the author has made a bag full of this "games in history" posts you can find in this post. 
---

Some people, including me, try to make in-depth game reviews, explaining whatever features and pros and cons the game has. Other, such as this author, made it to capture the entirety of the games in 10 words and trust me, you will like it. So come on, people. Just check this post out, and leave a comment "MOAR OF THIS PLS" because this is what we need.
---
For the mentioned authors, sorry I didn't let you know if you're featured here because I rarely leave a comment. If you'd like your post to be removed, feel free to let me know! For everyone, if you like what you read, don't forget to leave your upvotes to support the authors, and maybe resteem too. Thank you for taking some of your time, Steemian!


OP Gaming is an awesome group of awesome people, too OP to be put down! If you like talking about gaming, writing gaming posts, or if you want to hang out with some awesome gamers, OP Gaming is the place to be! Click the image above to join our discord!

---
Previous Posts:
---
Images credit:
Ghost Story
, and the mentioned authors.
---
DISCLAIMER: All artworks in this post (except for the cited ones) are belongs to me and I don't allow you, your partner, your cassowary, or your waifu to use them without my consent. Think I'm a smug? Fine by me. Happened before. Hate it if it happen again.