Much like G2A and Kinguin, dgameland is a second hand games market, except it only takes SBD and STEEM as payment.
---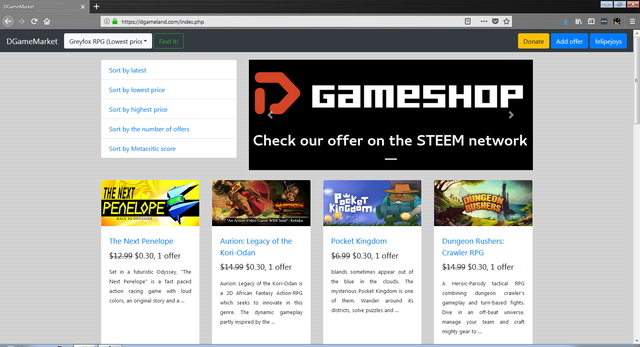 This is what we're presented when we enter the site. You can browse through all offers and sort them by date, price, etc. The number of offers represents how many different copies are being sold at the moment, but it will always show you the lowest offer first.
Trying it out
I thought the names were a bit suspicious so I decided to buy a lower priced game first, just in case. Fortunately for me, everything went well and the key activated 39 Steps and it's now on my Steam library.
Since there are a few unused key codes on my notepad file anyway, I thought I'd put them up since someone else but make better use of them than me, specially when they also drop cards. Actually, the first few games on the front page are being sold by me.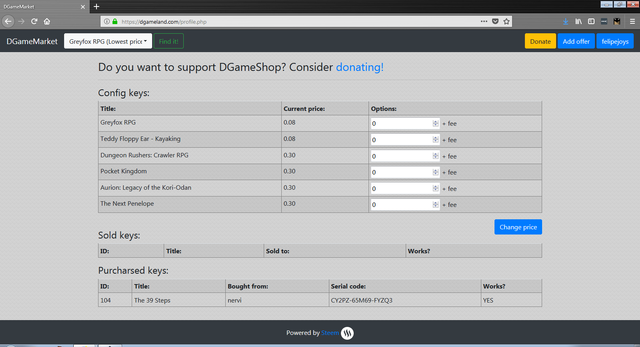 Safe from monitoring
You can see on the image above how the game key shows up to everyone. You get it on your steem wallet, but it's encrypted, so only you can see it if you're already logged in.
Low fees and fast processing are a given, considering it's a steem blockchain project, so you can see the expected fee - at the moment at a fixed US$ 0.05 - which is all the service is charging.
It's a very affordable way to get rid of your incredibly old but still interesting Steam codes. Buying and selling are both very easy, making nothing longer than one screen.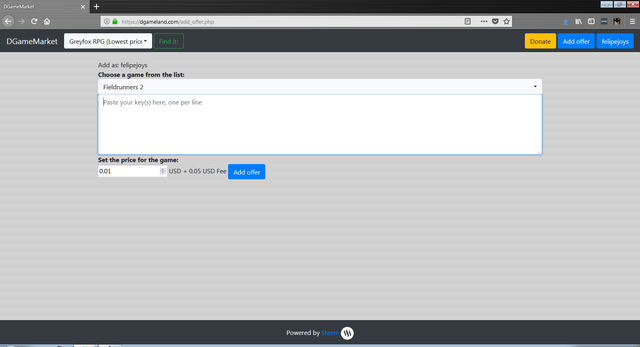 ---
| Tackling oppressive economic and social sutations, a response to @phyllic
| Contest: Tell us what tools every steemit author should know - 5 Steem Basic Income shares as prizes
| Windows/NVidia's forced update screws up my Graphics Card - for the third time
| Sponsor knowledge - The best thing you can do with your Steem Power
| Looking to sponsor: Gaming news off the radar, cc0/cc-by 3.0 image creators, anime reviews
---
Thank you for reading!