Be The First To Explore The Universe! : Parsec Frontier!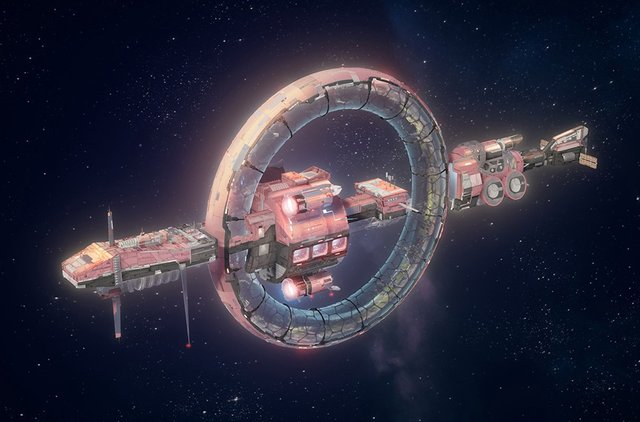 Parsec Frontier announces Ship Auction!
Recently Parsec Frontier has announced a bunch of upcoming updates or events. This time around we will talk about Parsec Frontiers ship auction and marketplace! If you want to be one of the first people to explore the galaxy! The auction will go live the 15th of May 16:00 UTC. this auction will not be done with Etherium but with Parsec Credits (their own Currency).

Why should you get a ship early?
The biggest benefit of getting a ship early is the fact that you will be one of the first people to explore the galaxy and also one of the first people to be able to obtain its riches! that is a huge benefit for a game where the economy is completely player driven! there are more benefits as well and you can see those here
Be the first to explore the galaxy, mapping out your corner of the galaxy.
Find and claim the habitable planets closest to Sol (which we expect will be the biggest trade hubs in the new interstellar society).
Transport the surviving humans to your colony or have someone pay you to take them to theirs.
Get a head start on everyone else, gaining an advantage before the next modules are released.
Own a unique and limited piece of the crypto-collectible game industry

What Is Parsec Frontiers?
ParsecFrontiers is a space MMO that focuses on space exploration, mining, and Player driven economy. ParsecFrontiers will be supported by a blockchain, that means everything you gather trade or fight to achieve will be your property. If you wanted to travel to a faraway galaxy to get some rare and unique materials and then trade them in for parsec credits and use those credits to buy bitcoin or ethereum you are free to do so. This is a very ambitious project and I am happy that I have followed it from the start if you have ever played EVE-Online and want to try an upcoming game that let you own all your assets you grind for ParsecFrontiers is differently something to look out for.

Will I be taking part of the auction?
I will most definitely be keeping an eye on the auction and depending on how expensive the ships are I might purchase a few. I do plan on playing the game when it comes out that means getting a head start would be quite nice. I will make another post in 2 days when the auction goes live and hopefully get some more information from the devs!

Follow ParsecFrontier here!
Twitter: https://twitter.com/parsecfrontiers
Facebook: https://facebook.com/parsecfrontiers
Website: https://parsecfrontiers.com
Discord: https://discord.gg/wpWQgUP
Whitepaper: https://wp.parsecfrontiers.com/whitepaper.pdf